post:
Pretty much all of my co-workers know that I'm a food blogger but I had never busted out the camera before this meal. Pretty much everyone else I know who dines with me knows "no eating until I take pictures!" rule. It was about time the co-workers get broken in on this rule.
My co-workers let me pick the places we dine at, too. As in, I give them three choices and they vote from the three. I've just about exhausted all of the places there are to go in the Mira Mesa/Miramar area, so I felt it was high time we start checking out places in nearby Clairemont – on Convoy Street, specifically. Enter Yakitori Yakudori & Ramen, which is across the street from where I go to visit the chiropractor. It's a little spot with maybe 6-8 tables and a long bar with single seats. The service is fast and the food is pretty good to boot.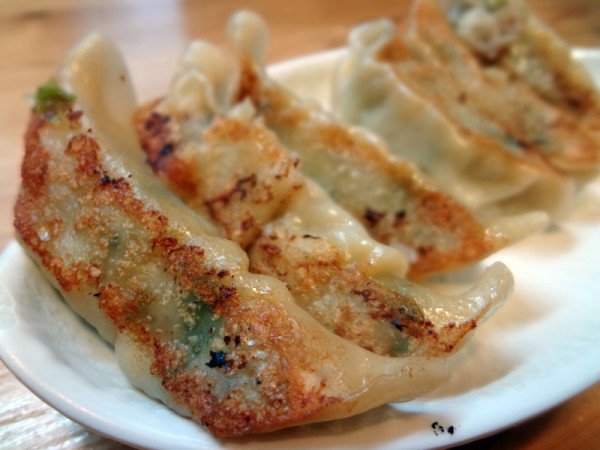 [fried gyoza - $4]
For lunch they only serve ramen, with a few additional specials. One of my co-workers got an order of Fried Gyoza. And since I took a photo of it, I had to eat one.
Totally a new rule.
The gyoza had a nice semi-crust from the pan frying and a good seasoned inside.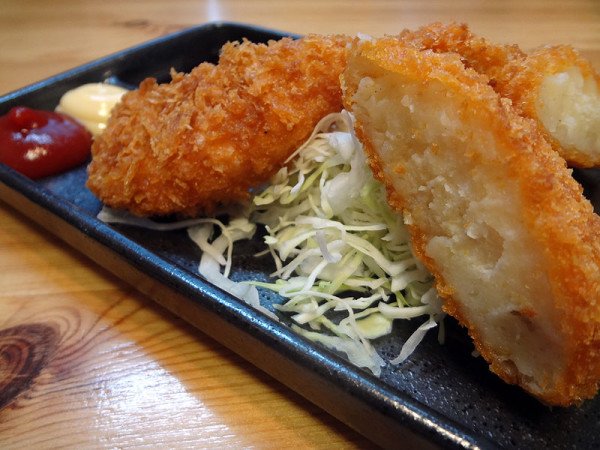 [croquettes - $4.50]
I saw "croquettes" on the menu and my heart went pitter-patter. You get 2 pieces and each piece is cut in half, so it kinda looks like four pieces. There's also some sauces or whatever on the side, but I don't need those. I just need luscious, delicious croquettes, all by themselves!
The inside of the croquette was super creamy – like very finely mashed potatoes – with a thin and super crunchy exterior. It was like of like the bestest hash brown you could ever imagine. I love these so much.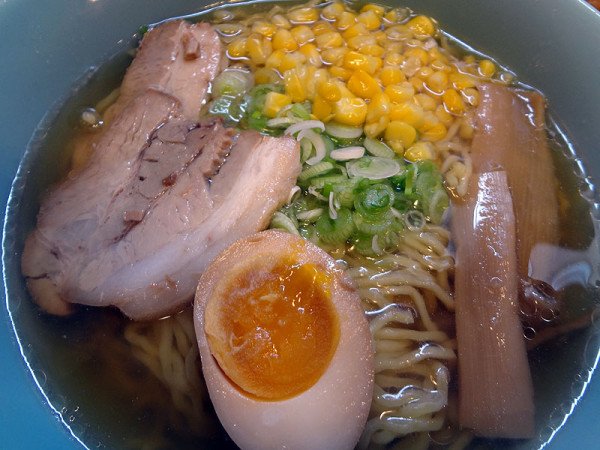 [shio ramen - $7]
This was actually my first time ordering ramen in a restaurant. I picked this one because I like corn. What can I say? Simple things help me decide sometimes.
This bowl was huge and I could not finish eating it – even though it was quite tasty. It was served very hot (a plus in my book) and had BBQ pork (it looked like pork belly to me), green onions, bamboo shoots and a soft boiled egg. The broth was quite tasty – simple and homey, not overly rich. I'm sure not a ramen expert or anything, but I enjoyed the bowl. As much as I could stuff into my belly, anyway.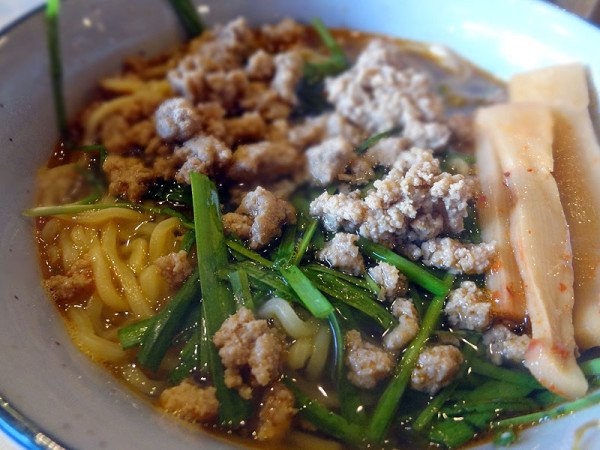 [nagoya ramen - small bowl combo - $10]
On another visit, I stopped in by myself because a) the chiropractic office was closed that day and I didn't realize it and b) I really wanted croquettes again.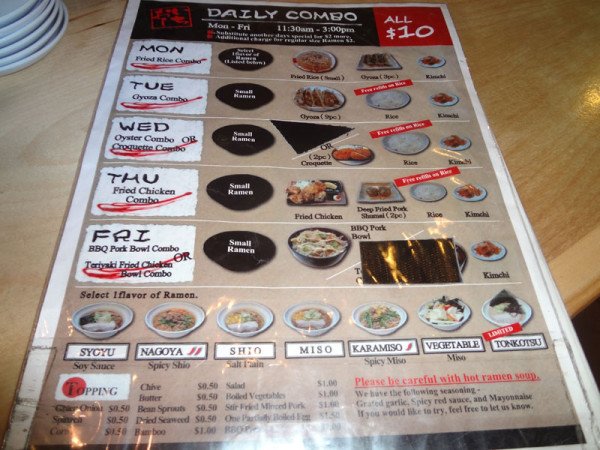 [daily combo menu]
Luckily it was a Wednesday and I was able to get the special $10 deal – which came with a small bowl of ramen, 2 pieces of croquettes, rice and kimchi.
This visit I decided to get the Nagoya Ramen – which has stir fried minced pork, chives and spicy bamboo shoots. This one is listed as "spicy" too – the broth has got that hint of red, as if to indicate that it is angry and hot.
The broth, noodles and minced pork were all really flavorful – and definitely much spicier! I liked the spicy kick for awhile until it got to be a little too much for me and then I stuck to just eating the noodles and pork.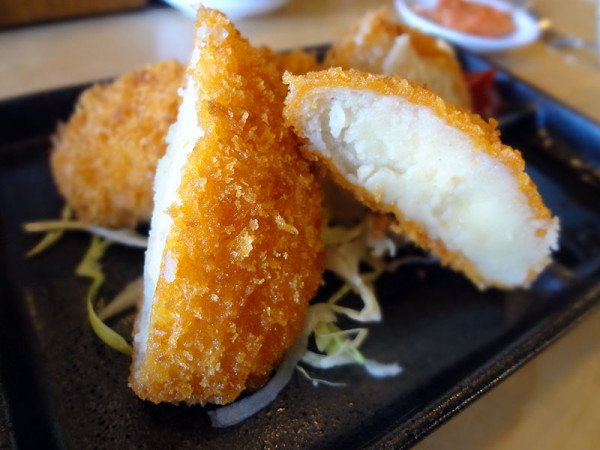 [croquettes again! - part of combo - $10]
There's nothing else to say about the croquettes that I didn't say above. But hey – another shot of them anyway! Mmm, yummy!
Hopefully I'll be posting more of my "adventures in dining with co-workers". I hope they're still feeling adventurous!
Yakitori Yakyudori & Ramen
4898 Convoy St, Ste 101
San Diego, CA 92111
(858) 268-2888
about this site
My name is Mary and I live in San Diego. I've been blogging since 2006 as a hobby - it's my fun, creative outlet! Some random things about me: I'm a front end web developer, I love peanut butter, cookies, warm cupcakes, puppy noses, star gazing, new bags of sugar, sprinkles, cupcake wrappers, egg rolls, eating french fries with ice cream, driving with the windows down, snuggling, wes anderson movies, staying up too late reading a good book and Jake. These are my adventures in all things food. Hope you enjoy the ride.
|
Download Media Kit
recent comments
college area taste 2014 recap (10)

mary: Hi Cynthia! Haha, I totally don't mind being stopped to a chat, if you see me again say hi!! We had our tupperware stored in a backpack for Taste...
cynthia: I saw you guys at Taste of Hillcrest but… I don't know, just didn't want to seem like a weirdo talking to you! haha I didn't...
mary: Hi CC – If we hadn't done the take out box, I don't think we'd have been able to do this many places! The take out box let us...