post:
The first time I ever went to Elidia's Bakery was because of Jake and his love of trying new taco shops. He wanted to check out this place that can be seen right off Fairmount in City Heights. While the taco shop turned out to be nothing special, I did drag us over to Elidia's Bakery first for some treats. We've back a few times since that first time and I finally snapped a few photos on one of my recent visits. (And for the record, we never went back to that taco shop…)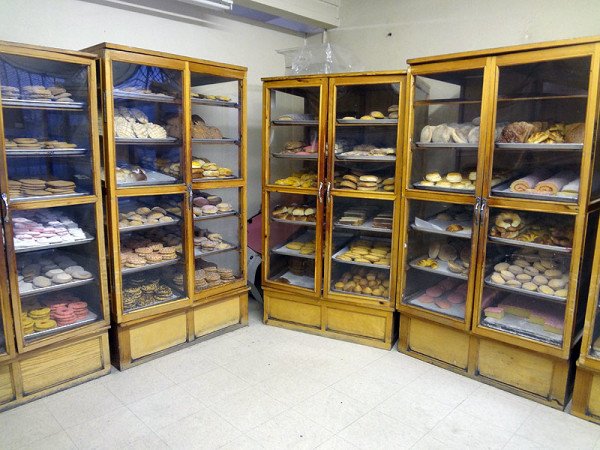 They've got about six cabinets all filled with pan dulces, cookies, rolls, breads and more. I'm not sure what their hours are, but the above was taken on a Saturday evening about 7PM. The cases are still full so they must either make a lot or continually restock during their open hours.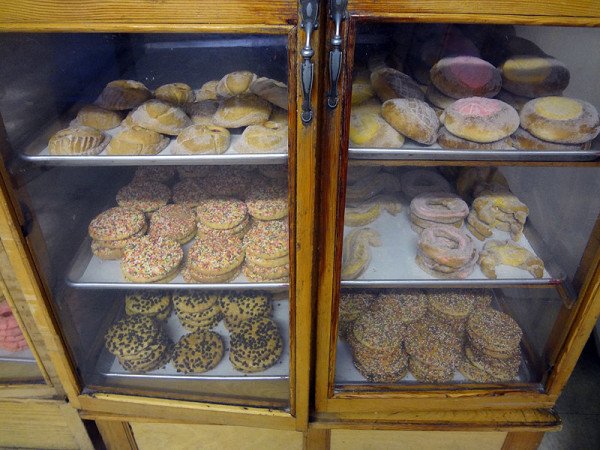 Here's a peek at one of the cookie cases. You can see the cookies studded with chocolate chips and rainbow sprinkles.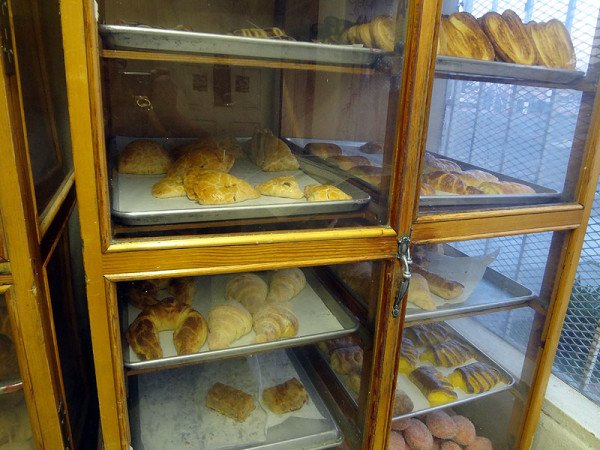 This case had stuff that was filled with creams, jams or other fruit fillings.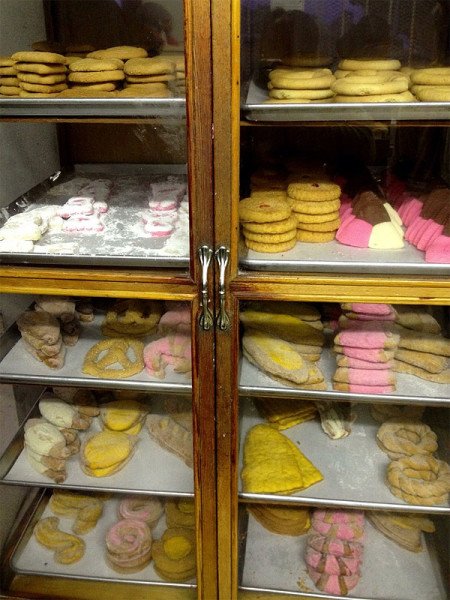 More cookies!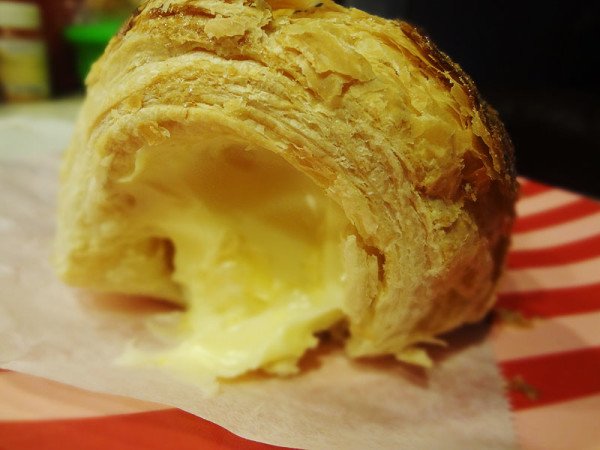 The thing that I'm hooked on and keep coming back for are these luscious cream horns. The outside (the horn part) is a flaky, crispy outside. The inner cream filling is a delicious and creamy vanilla custard. I've had these three times now and they're the same every time – consistency is important and these cream horns are always tasting good.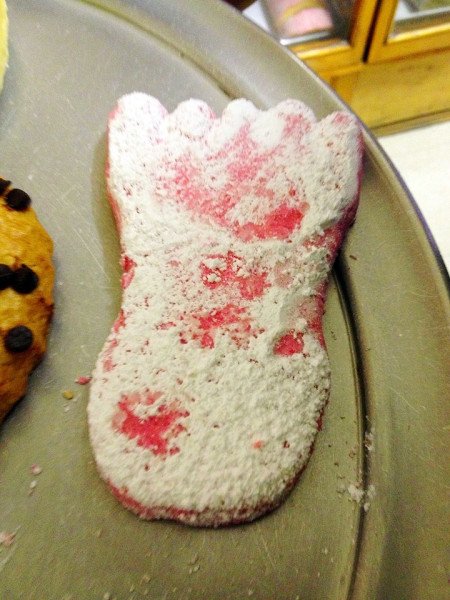 On our first visit I was amused and enamored with these pink foot shortbread cookies. They've got a TON of powdered sugar on them and a crumbly, sugary and almost sand-like texture.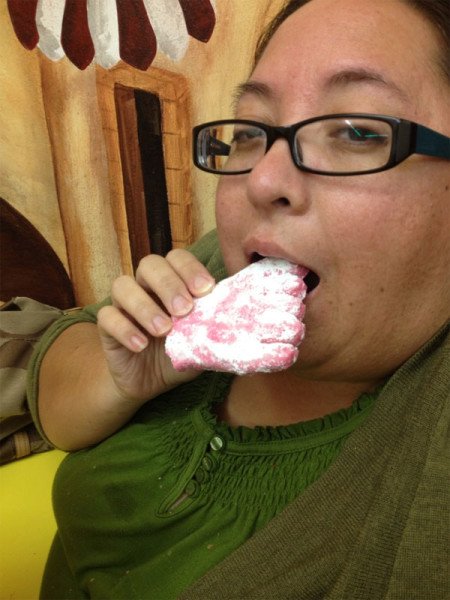 Jake took this photo of me putting "my foot in my mouth". Heh heh.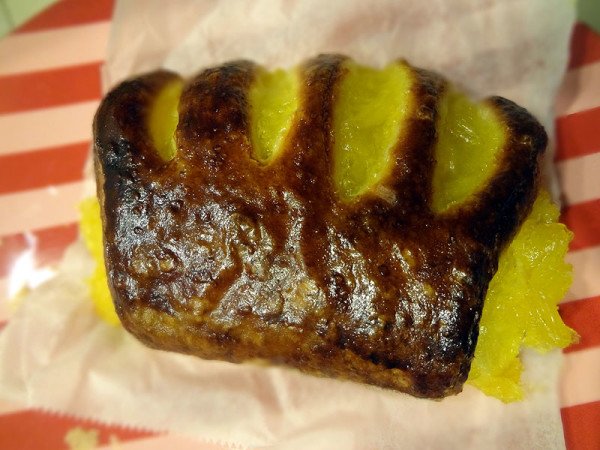 On a more recent visit I decided to try a few other things. This pineapple pastry I actually gave to my mom, so I don't know if it was any good or not.
I love the pink ring inside of this crispy cookie that's covered in white sugar. The outside was a crispy, almost flaky cookie while the pink was more like the foot cookie and more shortbread like and sandy.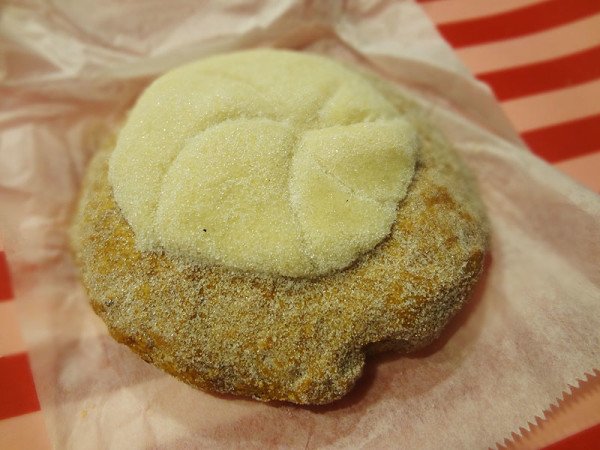 I called these "sand dollar" cookies since the top looks a bit like the sand dollar's you'd find on the beach. The "sand dollar" part was the shortbread-like part and underneath this was a softer spice cookie. I like how they combine the cookies here to create interesting flavors and textures.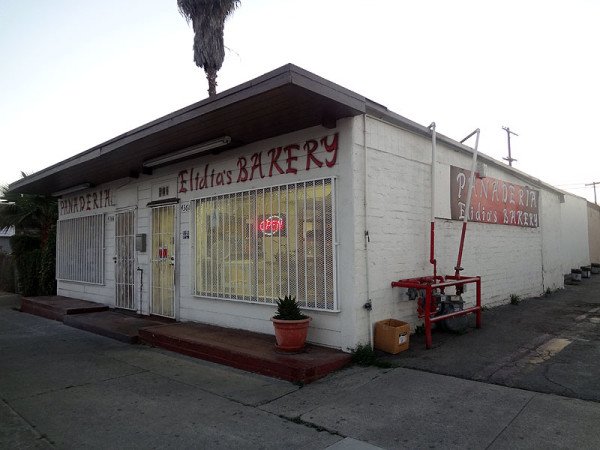 It's a tiny little spot in the middle of City Heights but they've got plenty of sweets and treats. I don't know how much things cost specifically, but we usually spend $3-$4 dollars a visit (getting 3-5 items each time). It's cash only so bring your change, stop by, and pick up a few tasty treats.
Elidia's Bakery
4366 Poplar St
(off Fairmount Ave)
San Diego, CA 92105
(619) 283-4808
about this site
My name is Mary and I live in San Diego. I've been blogging since 2006 as a hobby - it's my fun, creative outlet! Some random things about me: I'm a front end web developer, I love peanut butter, cookies, warm cupcakes, puppy noses, star gazing, new bags of sugar, sprinkles, cupcake wrappers, egg rolls, eating french fries with ice cream, driving with the windows down, snuggling, wes anderson movies, staying up too late reading a good book and Jake. These are my adventures in all things food. Hope you enjoy the ride.
|
Download Media Kit