post:
A couple of months ago, my co-worker (and supervisor!) David mentioned that he'd like to go on a food adventure with me. That's sort of where this whole thing started from – finding an adventure to go on with my co-workers! I've done various food crawls/tastings in the past, such as the Pizza Crawl, the Red Velvet Cupcake Tasting, a BBQ Crawl with bloggers and an End of the World food crawl… so I've got a little experience in putting one of these together. After doing some research online, I made two suggestions for a food crawl – bacon or cheese?
Bacon was the clear winner after I made everyone vote and this weekend our group of eight went on our 5-stop crawl, spanning the neighborhoods of South Park, North Park, Normal Heights, Hillcrest and Little Italy. See the "winners" at the end of this post!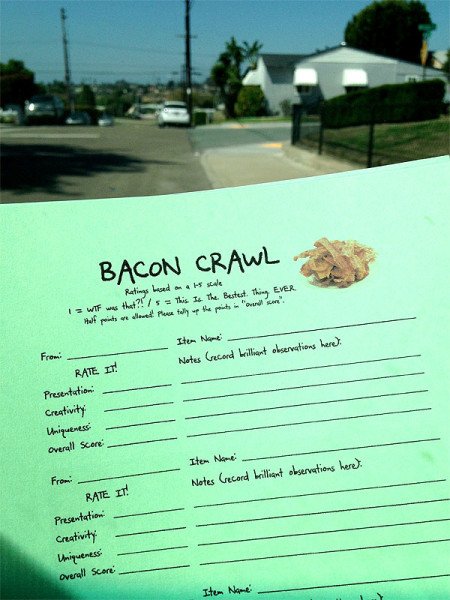 With judging sheets in hand, we tried ten different items on our crawl and judged based on presentation, creativity, uniqueness and taste.
Stop #1: Alchemy in South Park
Item sampled: Maple Bacon Donut (listed as the "Seasonal Pastry")
Cost: $3 each
We started the day with donuts!
Our waitress seemed a bit baffled and maybe even irritated that our large group of 8 only ordered four donuts…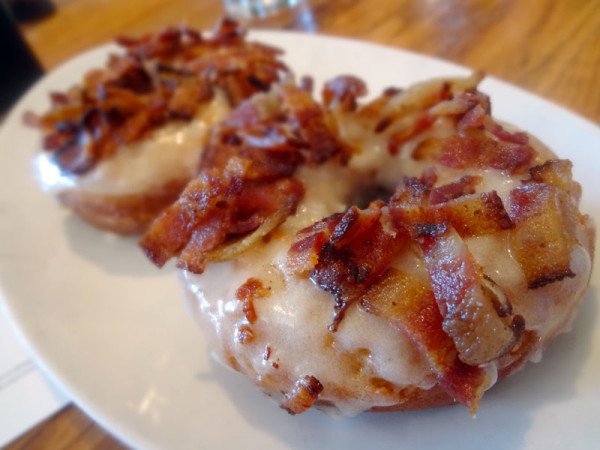 Oh well. We got a few looks and inquiries that day. No matter! Bacon Crawl lives on!
Quotes from the Notes:
"Raised deliciousness."
"Pretty yummy, but not life-changing."
"Excellent amount of bacon to frosting ratio."
"… It's a donut with lots of bacon pieces on top."
"Who do? Voodoo."
"Very light maple flavor (which I liked for not being too sweet!)"
"Bacon nice and thick, not overdone."
Stop #2: West Coast Tavern in North Park
Item sampled: Chicken & Bacon Waffles
Cost: $10.5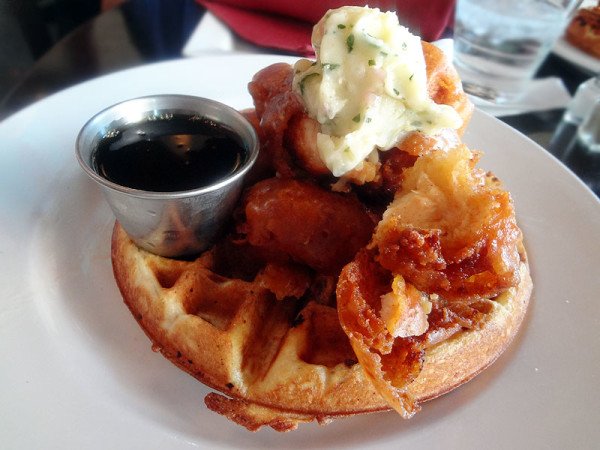 This is the whole plate. We got two to share between us. The chicken was tempura-like. The bacon was cooked into the waffle. Herbed butter was on top.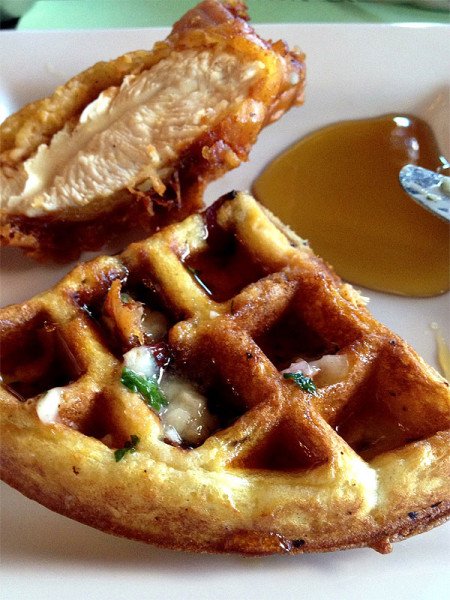 Here's my serving, shot on my iPhone.
Quotes from the Notes:
"Didn't care for the greasy, heavy batter on the chicken."
"The hints of bacon in the waffle went well with the maple syrup."
"Not as good as it looked… not bad though!!! … also has kind of a strange flavor."
"Crunchy chicken! Liked bacon inside the batter/waffle."
"Chicken looked weird in tempura … Bite size bacon bits in waffle."
"Way different from Roscoe's."
"Heap o' the fried dish. The Don Rickles of waffles – salty, rude and only slightly palatable."
"Waffle was good but would have liked more bacon."
Stop #3: Sabuku Sushi in Normal Heights:
Items sampled: Bacon Avocado Roll and When Pigs Fry
Cost: $10 | $14
At Sabuku Sushi, they have a whole page full of bacon rolls – seven of them! We just tried two of the rolls – two pieces each!
The bacon avocado roll had: 2 slices of bacon, red onion and avocado with sweet mandarin & spicy ginger aioli sauces and topped off with scallions and shiro goma.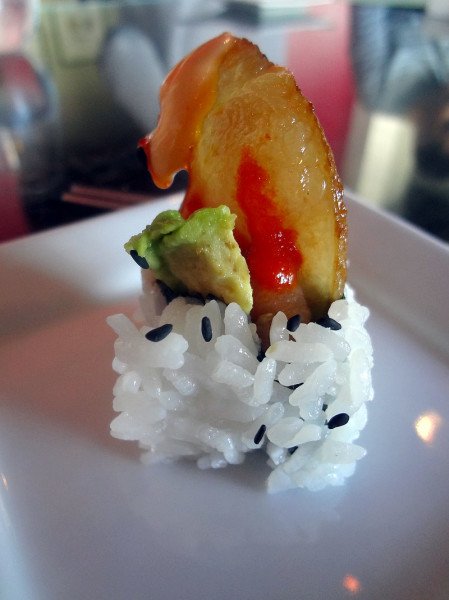 Everyone was shy about taking the end pieces that had the extra bacon in them. But I wasn't.
Quotes from the Notes:
"Bacon avocado roll tastes like a caterpillar roll with bacon it in. Tastes good but not amazingly different."
"Not expecting anything at all… pleasantly surprised."
"Bacon in sushi is delicious."
"Not bad, considering I don't like avocado."
"Liked the texture of the bacon. Light & fresh, loved the green onion."
"White guys makin' sushi! I got the big piece of bacon! Good overall flavor with a slight spiciness."
"Never seen bacon in sushi before, mmm … Would return for more!"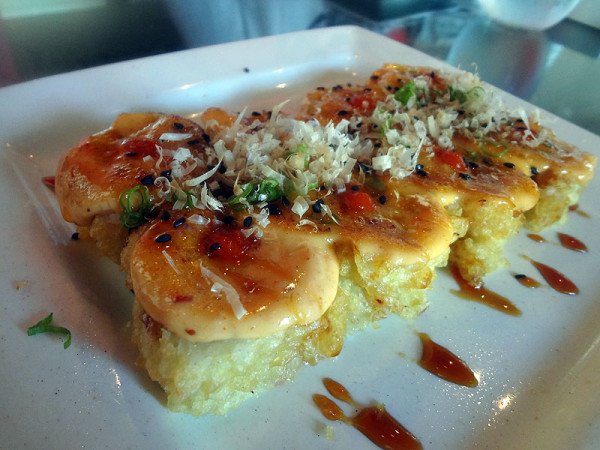 When Pigs Fry rolls had: 2 slices of bacon, spicy tuna and asparagus then tempura battered & fried. Glazed bacon garlic aioli, sweet mandarin and sriracha sauces and topped off with bonito flakes, scallions and shiro goma.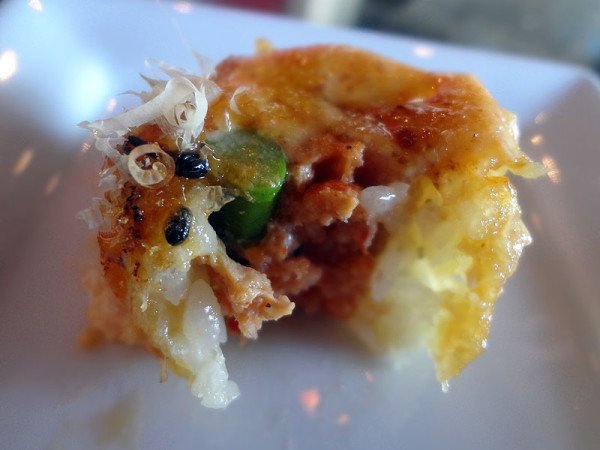 After I bit into a piece.
Quotes from the Notes:
"Like the idea, love the name… not a fan of the tuna part."
"Def. unique-tastic!"
"Too many flavors with this one."
"Did not like the tuna, very strong fish flavor. Very heavy 1000 island-type sauce with it."
"Tempura + bacon is a great combination."
"Liked the crunchy taste best."
Stop #4: D Bar in Hillcrest
Items sampled: Shrimp Poppers, Crue Fries, Bacon Wrapped Dates, Bacon Macaroni and Cheese
Cost: $10 | $9 | $7 | $10
D Bar was actually a last minute addition because Carnitas Snack Shack's rotating menu did not have the item I wanted for us to try that day (the pulled pork poutine). Turned out this was a really great addition to the crawl…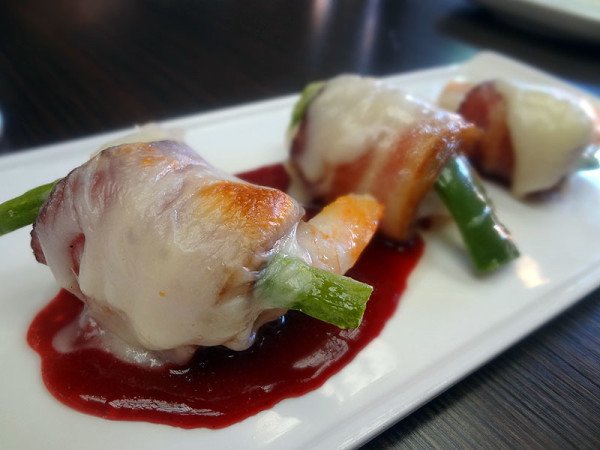 Shrimp Poppers: charred jalapeno, queso oaxaca, vanilla bacon & cherry preserves
Quotes from the Notes:
"Clean & pretty presentation."
"Loved the cheese with the bacon! Cherry sauce very yum."
"Pretty, like the red sauce! Pretty unique but not my favorite at D Bar."
"Had huge shrimp, cheese was nice and melted."
"Shrimp went great with a sweet cherry sauce."
"Well packaged to make it look appealing … great complementing flavors."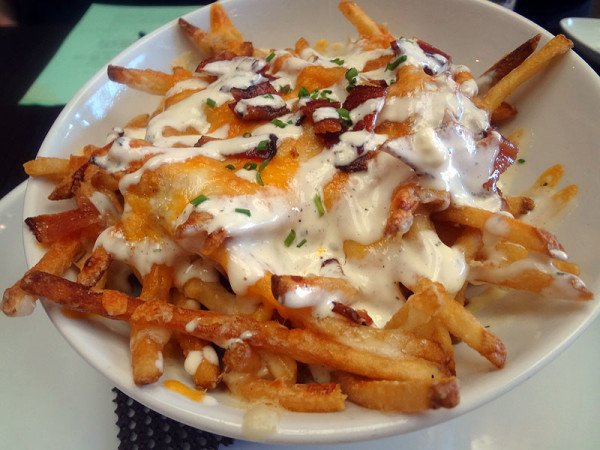 Crue Fries: garlic parmesan fries, mac sauce, melted cheddar jack, apple wood smoked bacon, ranch & chives
Quotes from the Notes:
"Amazing taste with the ranch, mac sauce & bacon."
"Bowl is fancy. Not unique. Delicious combination."
"The yum was in the bowl. Yummy cheesy creamy fries!"
"You  can't beat the classics. The fries were amazing – a loaded baked potato in fry form."
"Fries were crisp and very well matched with the mac cheese & bacon."
"Skinny fries! More cheesy than bacony, but yummy."
"Fries were great!"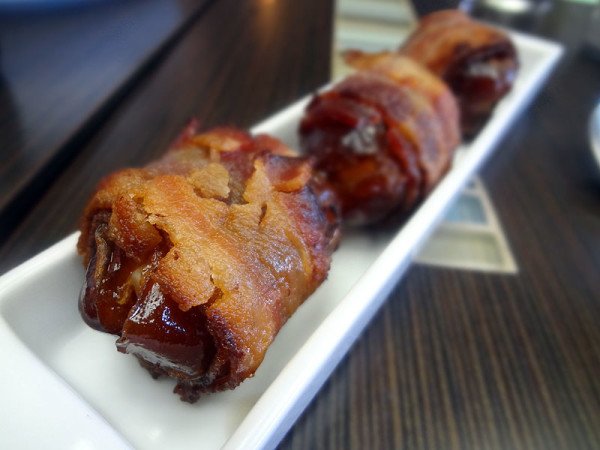 D Bar Dates: organic local medjool dates, marcona almond, manchego, apple wood smoked bacon
Quotes from the Notes:
"Sweet date works well with the bacon. Nice crunch provided by almonds. It's like eating bacon wrapped candy."
"Bacon makes dates delicious. Sweet & salty."
"Surprising combination of ingredients. Yummerz."
"Roasted dates are the perfect combo of savory and sweet."
"Candy wrapped bacon, mmm."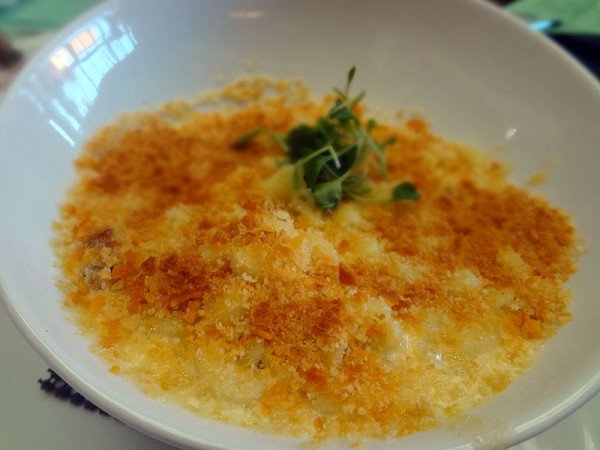 Mac & Cheese:  4 cheese mac · applewood smoked bacon · cheese nips & panko crumbs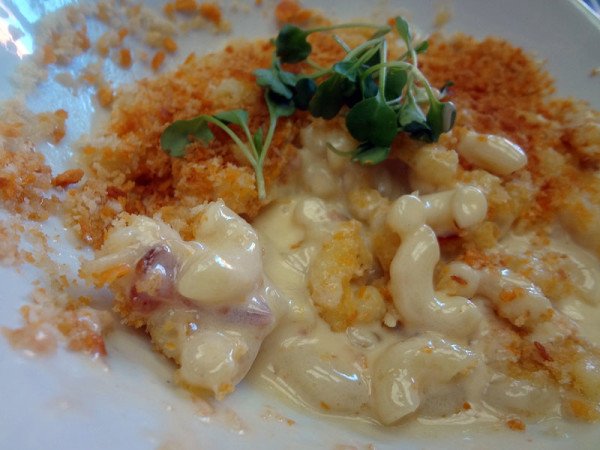 Now you can see the bacon!
Quotes from the Notes:
"Mac and cheese and bacon… awesome comfort food, done very well."
"Bacon mac – happy to have a mac n cheese place again!"
"Mac & cheese topping was excellent and clever."
"OMG Cheese Nips in the topping?! Whaaaaat."
"Subtle bacon mixed in. So creamy and melt in your mouth."
"Creamy with a crunch."
"More yums in a big white bowl! Nothing unusual… not unique… but yum = yes!!"
While we were at D Bar, Chef Keegan Gerhard stopped by our table to say hi to us and ask us about the bacon crawl. We had originally just ordered the Shrimp Poppers and Crue Fries and he treated us to two more bacon items on the menu – the dates and the mac & cheese!
My favorite thing Chef Keegan said was, "America's full of so many crappy cheeses!" after we talked to him about the macaroni and cheese. He proceeded to tell us all about Mozza in LA and I've decided that I absolutely must visit. He was so nice and friendly and I was excited to meet him after seeing him so many times on Food Network Challenge.
We kinda felt like rock stars since he took our photo and posted it on D Bar's Facebook!
Stop #5: Craft and Commerce in Little Italy
Items sampled: Corn Dogs, Devils on Horseback
Cost: $12 | $8
Craft and Commerce did not have two of the three items I was expecting! They hadn't kept their website up to date and the Bacon Cracker Jacks and Bacon Ice Cream Sandwiches were gone! I was mad and let down about that. We subbed in the corn dogs at the last minute since there was a mention of bacon…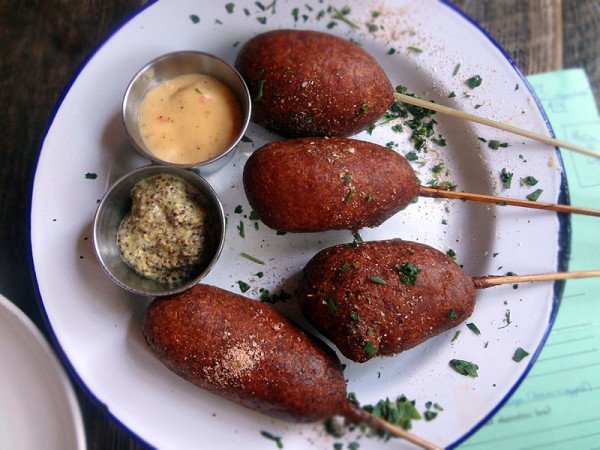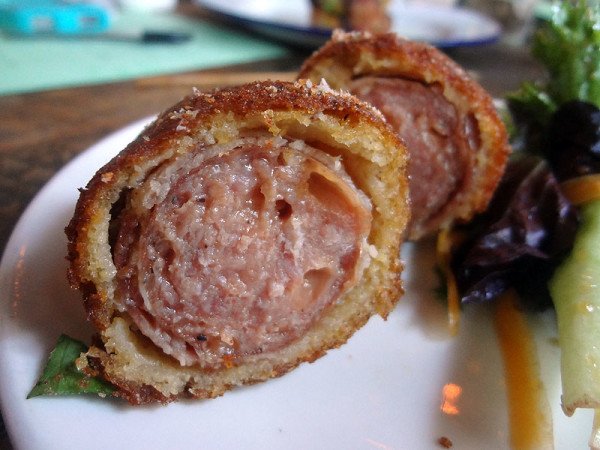 See. Bacon. It's wrapped around the hot dog inside.
Quotes from the Notes:
"Corndogs, what! Really good, one of my favs! Crispy, yummy, just like the fair but bacon!"
"Crisp + tasty breading on corn dog, hot dog/sausage was a little bland, breading stood out more to me."
"Sausage popped! A little too small for the price. Cheese sauce was not good, very creamy but not much flavor."
"Loved the mini-ness! But maybe not the price."
"The cornmeal outside was well done – crispy & light, but the sausage was nothing special."
"Can't see bacon. Bacon taste is subtle."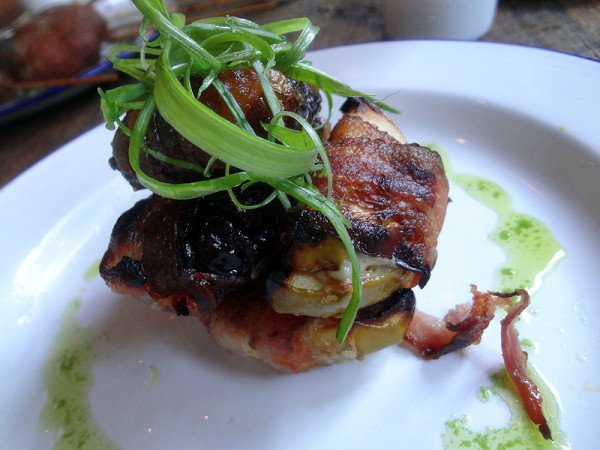 Devils on Horseback is actually two appetizers in one, both wrapped in bacon: bacon wrapped dates stuffed with pepper jack and bacon wrapped apples stuffed with bleu cheese.
Quotes from the Notes:
"Pretty pile o' popums! Very delicious, would definitely get more poppers!"
"Very sweet, soft date. Could not taste the bleu cheese on the apple one. Bacon around the date was very fatty, not much meat and undercooked."
"Date very creamy. Apple + bleu cheese surprisingly good and savory with a nice kick of bleu cheese."
"Needed some substance to it since everything was soft."
"Unique idea to wrap apple in bacon & stuff with bleu cheese. Very thick bacon."
Bacon Crawl Winners
Everyone voted on each item on a 1-5 scale 1 being "WTF" and 5 being "This. Is. The. Best. Thing. Ever."
After tallying everything up… here are the winners!
Winner for Presentation:
Shrimp Poppers from D Bar (Winner!)
Crue Fries from D Bar (2nd place)
Mac & Cheese from D Bar (3rd place)
Winner for Creativity:
Shrimp Poppers from D Bar (Winner!)
Bacon Wrapped Dates and Crue Fries both from D Bar (2nd place tie)
When Pigs Fry from Sabuku Sushi (3rd place)
Winner for Uniqueness:
Shrimp Poppers from D Bar (Winner!)
Bacon Avocado Sushi from Sabuku Sushi (2nd place)
Bacon Wrapped Dates from D Bar (3rd place)
Winner for Taste:
Bacon Wrapped Dates from D Bar (Winner!)
Bacon Macaroni & Cheese from D Bar (2nd place)
Crue Fries from D Bar (3rd place)
Overall Winner:
Shrimp Poppers – D Bar (Winner!)
Crue Fries – D Bar (2nd place)
Bacon Wrapped Dates – D Bar (3rd place)
Bacon Macaroni & Cheese – D Bar (4th place)
Bacon Avocado Sushi – Sabuku Sushi (5th place)
Devils on Horseback – Craft & Commerce (6th place)
When Pigs Fry – Sabuku Sushi (7th place)
Corn Dogs – Craft & Commerce (8th place)
Maple Bacon Donut – Alchemy (9th place)
Chicken and Bacon Waffles – West Coast Tavern (10th place)
Winner for Best Notes:
Lauren! For her doodling.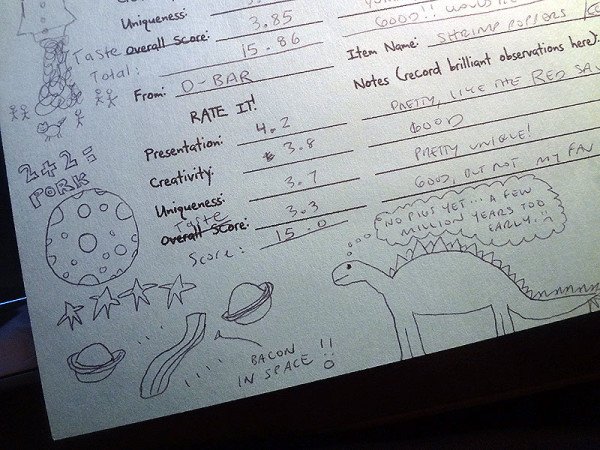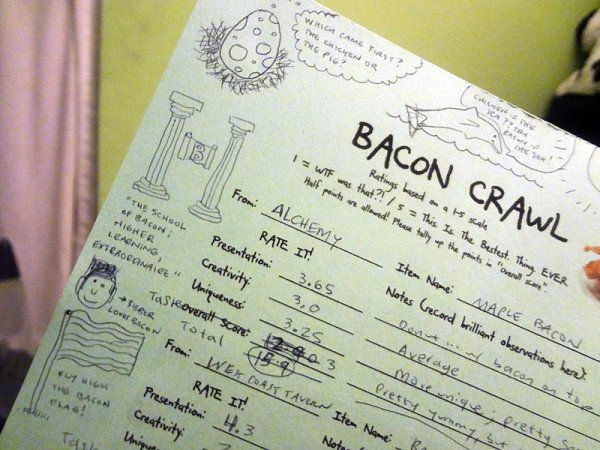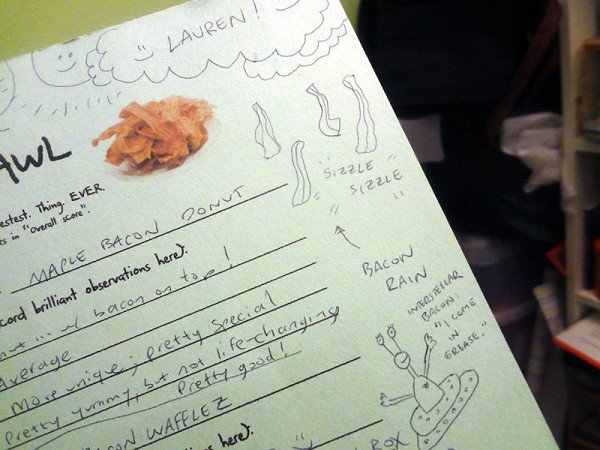 There were really no "losers" here – everything was different and fun to try and it made for a great afternoon of hanging out and eating delicious food. Who could say no to an afternoon like that?
« Previous Post - [recipe] carrot cake m&m cookies
|
[product review] plum amazins baked goods from sunsweet bakery - Next Post »
subscribe to this tasty life
recent comments
desert road trip preview (4)

caninecologne: Wow, I thought that was a different dog because I usually think of Maya as having...
Faye: Is that Maya in the first photo?! Her fur looks like it got a tan

happy blogiversary! (14)

Jinxi: Happy blogiversary Mary!! I love that first photo hehe. So happy that we got to meet thru...
caninecologne: Happy Blogaversary Mary! Our blogs are both 9 now. Almost a decade! I love that...
Lynn @ Oh-So Yummy: I can't believe that 4-5 posts a week is slowing down. I can hardly...