post:
I used to frequent Big Joy Family Bakery back in the day but hadn't been there in quite some time. To be honest, I kind of forgot about it. Until I saw these beautiful, brightly colored french macarons on CC's (one of many posts!) and CAB's blogs, reminding me all about this place!
Course, it took me awhile to finally make it over here. But so glad I did!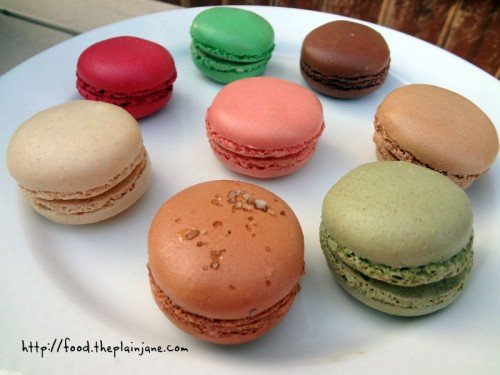 I love, love, love the colors on these beautiful little airy cookies.
Let's see if I can remember the flavors (from the top, on the red one, clockwise): Red Velvet, Pistachio, Chocolate, Mocha, Green Tea, Sea Salt Caramel, … I don't remember (Almond, I think) and in the center is a Strawberry one.
I got one of every flavor that had that day since I couldn't decide. I don't remember the prices exactly, but I know the Red Velvet cost extra (in the $2 range) while the rest cost $1.75.
I love the crunch of the exterior of macarons. And then that chewy, light, airy center. And the fillings! Macarons are just a lovely dessert to have whenever you can get your little hands on them.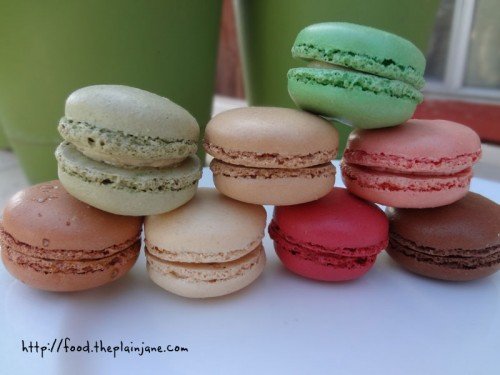 They also make for some really pretty picture taking.
My favorites? The pistachio was my top. Then the red velvet and the sea salt caramel. The only ones I didn't really care for was the Green Tea and the Mocha. The mocha was just "okay" and I didn't enjoy the flavor of the Green Tea one at all.
That's about all I have to say about these for now.
You should go get some! They are good for the belly.
Big Joy Family Bakery & Cafe
4176 Convoy St
San Diego, CA 92111
(858) 627-0888
about this site
My name is Mary and I live in San Diego. I've been blogging since 2006 as a hobby - it's my fun, creative outlet! Some random things about me: I'm a front end web developer, I love peanut butter, cookies, warm cupcakes, puppy noses, star gazing, new bags of sugar, sprinkles, cupcake wrappers, egg rolls, eating french fries with ice cream, driving with the windows down, snuggling, wes anderson movies, staying up too late reading a good book and Jake. These are my adventures in all things food. Hope you enjoy the ride.
|
Download Media Kit
recent comments
college area taste 2014 recap (10)

mary: Hi Cynthia! Haha, I totally don't mind being stopped to a chat, if you see me again say hi!! We had our tupperware stored in a backpack for Taste...
cynthia: I saw you guys at Taste of Hillcrest but… I don't know, just didn't want to seem like a weirdo talking to you! haha I didn't...
mary: Hi CC – If we hadn't done the take out box, I don't think we'd have been able to do this many places! The take out box let us...