post:
For your birthday, Rubio's offers up to $7 off the cost of your meal for your birthday. It's a good free birthday food deal and one of the deals that has not changed as the years have passed. Kudos to you, Rubio's!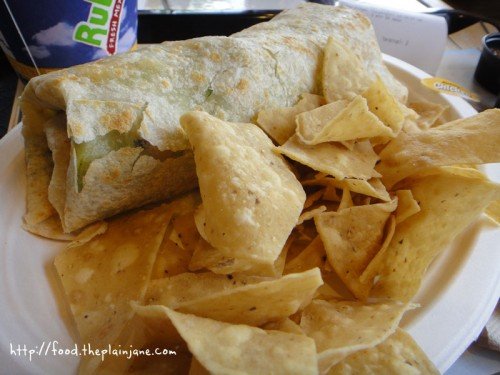 In year's past I usually get some kind of shrimp taco for my meal. But a quick look over of the menu showed me getting what I've had before would put me past the $7 limit and I wanted to stay under budget and not spend any extra money on this meal.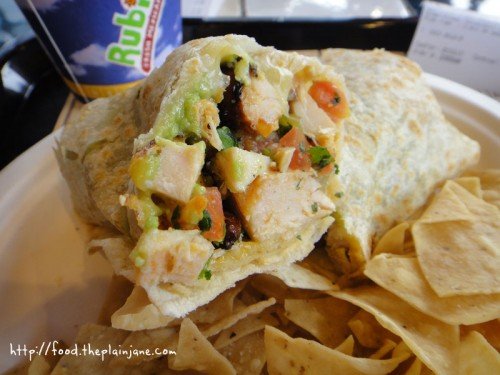 [Baja Grill Chicken Burrito]
I opted to get the Baja Grill Chicken Burrito (steak also available) for $5.99. Plus tax this kept me safely under the $7 mark and I didn't have to spend an extra dime. The burrito came with a side of chips plus access to their salsa bar.
I cut the burrito in half to see the inner burrito workings – Grilled chicken, guacamole, cheddar cheese and salsa fresca. The chicken in the burrito was just okay – nothing really special but it wasn't terrible. In retrospect, I wish I had gotten the Burrito Especial for the same price and it came with black beans, rice, sour cream and a chipotle sauce. The Baja Grill burrito was kind of lacking something in my mind – another element of flavor that could have brought it over the top.
But, in any case, it was a decent meal that was totally paid for just cause it's my birthday. Can't complain tooooo much, right?
Get your free birthday meal from Rubio's Beach Club.
about this site
My name is Mary and I live in San Diego. I've been blogging since 2006 as a hobby - it's my fun, creative outlet! Some random things about me: I'm a front end web developer, I love peanut butter, cookies, warm cupcakes, puppy noses, star gazing, new bags of sugar, sprinkles, cupcake wrappers, egg rolls, eating french fries with ice cream, driving with the windows down, snuggling, wes anderson movies, staying up too late reading a good book and Jake. These are my adventures in all things food. Hope you enjoy the ride.
|
Download Media Kit
recent comments
college area taste 2014 recap (10)

mary: Hi Cynthia! Haha, I totally don't mind being stopped to a chat, if you see me again say hi!! We had our tupperware stored in a backpack for Taste...
cynthia: I saw you guys at Taste of Hillcrest but… I don't know, just didn't want to seem like a weirdo talking to you! haha I didn't...
mary: Hi CC – If we hadn't done the take out box, I don't think we'd have been able to do this many places! The take out box let us...