post:
For your birthday, Rubio's offers up to $7 off the cost of your meal for your birthday. It's a good free birthday food deal and one of the deals that has not changed as the years have passed. Kudos to you, Rubio's!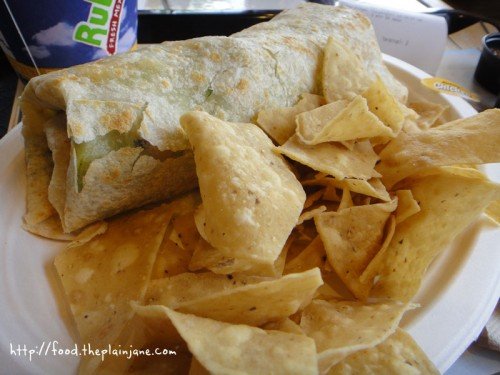 In year's past I usually get some kind of shrimp taco for my meal. But a quick look over of the menu showed me getting what I've had before would put me past the $7 limit and I wanted to stay under budget and not spend any extra money on this meal.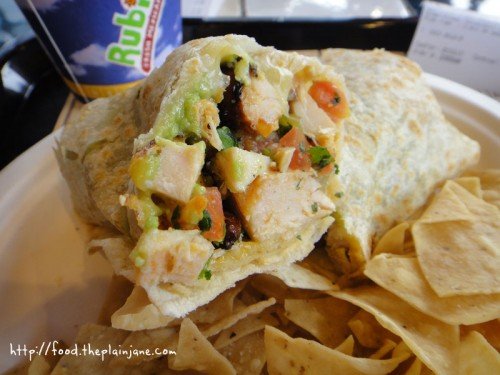 [Baja Grill Chicken Burrito]
I opted to get the Baja Grill Chicken Burrito (steak also available) for $5.99. Plus tax this kept me safely under the $7 mark and I didn't have to spend an extra dime. The burrito came with a side of chips plus access to their salsa bar.
I cut the burrito in half to see the inner burrito workings – Grilled chicken, guacamole, cheddar cheese and salsa fresca. The chicken in the burrito was just okay – nothing really special but it wasn't terrible. In retrospect, I wish I had gotten the Burrito Especial for the same price and it came with black beans, rice, sour cream and a chipotle sauce. The Baja Grill burrito was kind of lacking something in my mind – another element of flavor that could have brought it over the top.
But, in any case, it was a decent meal that was totally paid for just cause it's my birthday. Can't complain tooooo much, right?
Get your free birthday meal from Rubio's Beach Club.
recent comments
la dumpling crawl (6)

Lynn @ Oh-So Yummy: What a fun mission! How did you come up with the list of where to go?...
Kirbie: This post is making me hungry. I've never been to Hui Tou Xiang. Interesting that...
leanne: Your food crawlers have the best comments and notes on the dumplings! I think my favorite...

hanna's gourmet / university heights (4)

caninecologne: Was Hannah there when you went? She is such a nice lady! That's cool you...
Lauren: Berry ricotta pancakes?! Sign me up! Anything with ricotta is a-okay in my book. Those...