post:
For your birthday, Rubio's offers up to $7 off the cost of your meal for your birthday. It's a good free birthday food deal and one of the deals that has not changed as the years have passed. Kudos to you, Rubio's!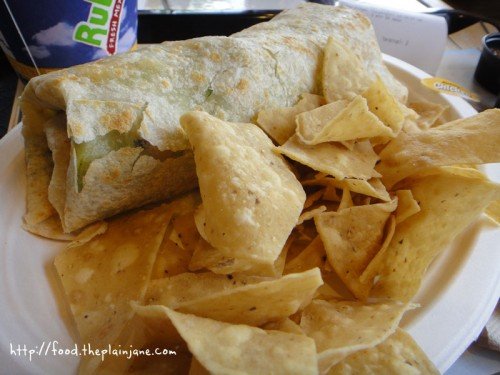 In year's past I usually get some kind of shrimp taco for my meal. But a quick look over of the menu showed me getting what I've had before would put me past the $7 limit and I wanted to stay under budget and not spend any extra money on this meal.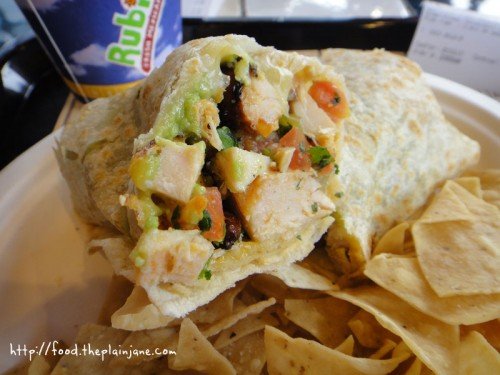 [Baja Grill Chicken Burrito]
I opted to get the Baja Grill Chicken Burrito (steak also available) for $5.99. Plus tax this kept me safely under the $7 mark and I didn't have to spend an extra dime. The burrito came with a side of chips plus access to their salsa bar.
I cut the burrito in half to see the inner burrito workings – Grilled chicken, guacamole, cheddar cheese and salsa fresca. The chicken in the burrito was just okay – nothing really special but it wasn't terrible. In retrospect, I wish I had gotten the Burrito Especial for the same price and it came with black beans, rice, sour cream and a chipotle sauce. The Baja Grill burrito was kind of lacking something in my mind – another element of flavor that could have brought it over the top.
But, in any case, it was a decent meal that was totally paid for just cause it's my birthday. Can't complain tooooo much, right?
Get your free birthday meal from Rubio's Beach Club.
« Previous Post - islands – free birthday dessert / mira mesa – san diego, ca
|
Restaurant at the Pearl – free birthday food / pt. loma – san diego, ca - Next Post »
subscribe to this tasty life
recent comments
birthday pizza crawl for jake (10)

caninecologne: Awwww, you're the best Girlfriend EVER! Lucky Jake! How fun this must...
Jinxi: Aww cute! Happy birthday to Jake! Also, I totally get weirded out by parallel parking on...
J.S. @ Sun Diego Eats: This was so cute. You get a million extra points for hand drawing the...
Lynn @ Oh-So Yummy: i agree with faye – you're the best date ever. one of these days,...
Faye: Oh man. I want to date you and have you do little surprises like this for me. That was the...