post:
For this post, I'm only posting about the free portion. I fully intended to go to Islands, get a bowl of soup and my free birthday dessert and that was it. But I was tempted and got a chicken sandwich and fries instead. Oh well.
My waiter didn't even take the printed out coupon I brought. He told me I could keep it and use it later and just told the staff that it was my birthday and got me the dessert. No candles or singing, either. Score.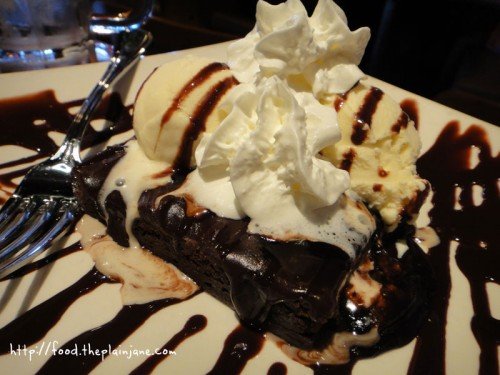 [Chocolate Lava - Fudge brownie, topped with vanilla ice cream, chocolate syrup, whipped cream, roasted almonds & a cherry]
The retail price on one of these suckers is $5.99. Not too bad. Way too much for one person to eat. I think my eyes might have popped out of my sockets when my waiter placed it down before me. The first few bites were heavenly – very warm and tasty. Their brownie is fudgy and gooey and with the chocolate frosting on top, it makes it totally decadent. I ate a little less than half before pushing all the ice cream off, drying it off with a napkin and taking it home for later.
It doesn't seem like it's necessary to sign up for this, but you can by joining the Islands Tiki Link for a free dessert for your birthday.
about this site
My name is Mary. I love: peanut butter, cookies, warm cupcakes, puppy noses, star gazing, new bags of sugar, sprinkles, cupcake wrappers, egg rolls, eating french fries with ice cream, driving with the windows down, snuggling, wes anderson movies, staying up too late reading a good book and Jake. These are my adventures in all things food. Hope you enjoy the ride.