post:
I don't remember where I first read about Bronx Pizza, but I'd been wanting to go there for awhile. Last Friday on what I've dubbed our "Pizza Nights" we headed over to Hillcrest to try out their thin crust, NY style pizza. I wanted to get a Whitestone Pizza ($15) – all cheese with garlic and no tomato sauce. Jake, who loves tomato sauce on pizza like no other (he usually orders pizza's with extra sauce), wasn't sure about the all-cheese decision and ordered the pizza with half tomato sauce.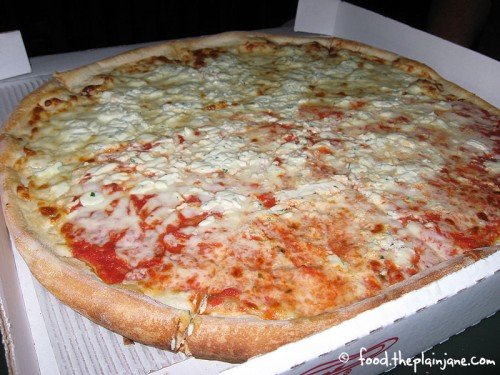 When I first took a bite of a slice with the tomato sauce, it didn't taste too bad. But then I ate just a slice of the cheese with no sauce – which has mozzarella, ricotta, garlic and parmesan. The all-cheesy slice is super, awesomely good. I love ricotta on pizza, too, and it was spread thin across the whole pie, giving it a slightly creamy, sweet flavor. After eating a regular slice, eating another with the pizza sauce on it just kills the pizza. Jake even agreed, which I found surprising, since he's such a sauce guy. He admitted this was the first pizza he's had with no sauce on it, but he liked it so much he wanted to go back again last weekend (we didn't, but we will go again soon I'm sure).
The crust was nice, too – thin, slight crisp, and foldable (like most NY style pizzas are). Really good and simple.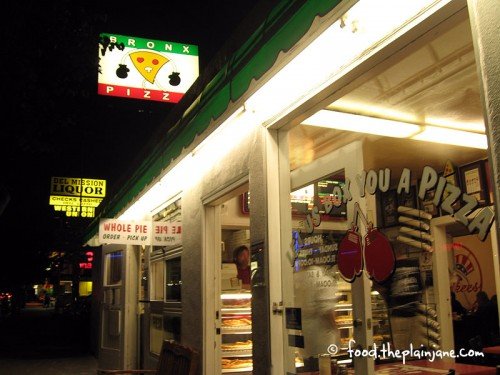 They've only got 1 size of pizza (18″ – 8 slices), only have certain toppings available, and only take cash. There's seating in the back as well if you can't wait to eat it and they also sell by the slice (and have calzones).
We will be back for more deliciousness!
Bronx Pizza
111 Washington St
(between 1st Ave & 3rd Ave)
San Diego, CA 92103
(619) 291-3341
about this site
My name is Mary and I live in San Diego. I've been blogging since 2006 as a hobby - it's my fun, creative outlet! Some random things about me: I'm a front end web developer, I love peanut butter, cookies, warm cupcakes, puppy noses, star gazing, new bags of sugar, sprinkles, cupcake wrappers, egg rolls, eating french fries with ice cream, driving with the windows down, snuggling, wes anderson movies, staying up too late reading a good book and Jake. These are my adventures in all things food. Hope you enjoy the ride.
|
Download Media Kit
recent comments
college area taste 2014 recap (10)

mary: Hi Cynthia! Haha, I totally don't mind being stopped to a chat, if you see me again say hi!! We had our tupperware stored in a backpack for Taste...
cynthia: I saw you guys at Taste of Hillcrest but… I don't know, just didn't want to seem like a weirdo talking to you! haha I didn't...
mary: Hi CC – If we hadn't done the take out box, I don't think we'd have been able to do this many places! The take out box let us...