post:
Fiji Yogurt is one of the many plethora of yogurt shops that have popped up all over San Diego in the last few years. I think there might almost be as many yogurt shops here as there are Dunkin Donuts in Boston…. hmm. Well, maybe.
The reason for the visit to this particular chain is thanks to a stellar Groupon deal. Groupon has helped me discover many a great restaurant, so my hats off to you, Groupon. This coupon let me treat myself, Jake and the kids to an afternoon of luscious yogurt bliss (and I still have some leftover for another visit!).
Fiji Yogurt had a ton of yogurt flavors available that day, plus little cups available so you can sample the yogurt before filling up a cup or cone. If you get a waffle cone, it'll cost you $3.50 flat – otherwise, getting a cup you pay by the ounce. The have a ton of different toppings – cereal, nuts, fruits, candies, cheesecake and more. I tried to get what I could into my cone, combing chocolate and peanut butter related flavors since c&pb is my absolute favorite ice cream flavor ever.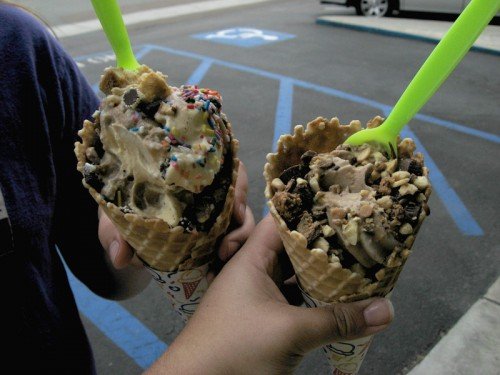 My concoction is on the right – smooth and creamy with peanut butter and chocolate delights. It's hard to believe the yogurt itself is fat-free – of course, it doesn't stay fat-free with some of the topping choices, but you can be quite good and just go for all fruit. I got vanilla, chocolate topped off with Reese's peanut butter cups, nuts, and peanut butter chips. This is a great place for the kids, too, since they get to pick their toppings and create their own. The cones were a good way to go with the flat price since the kids really loaded up their cones as much as they could!
All in all, not a bad little shop. Fiji Yogurt has 4 different locations in San Diego to fill up your sweet tooth cravings.
Fiji Yogurt
Multiple Locations
10450 Friars Road
San Diego, CA
(619) 284-3454?
Open Daily – 11A-11P
recent comments
la dumpling crawl (6)

Lynn @ Oh-So Yummy: What a fun mission! How did you come up with the list of where to go?...
Kirbie: This post is making me hungry. I've never been to Hui Tou Xiang. Interesting that...
leanne: Your food crawlers have the best comments and notes on the dumplings! I think my favorite...

hanna's gourmet / university heights (4)

caninecologne: Was Hannah there when you went? She is such a nice lady! That's cool you...
Lauren: Berry ricotta pancakes?! Sign me up! Anything with ricotta is a-okay in my book. Those...