post:
As I posted last year, Daphne's Greek Cafe offers a free plate (any plate!) for birthday celebrators once you join their Pita Points e-club. No purchase necessary. No max value. Any plate!
I got the gyros and crispy shrimp combo with greek salad and rice ($8.79).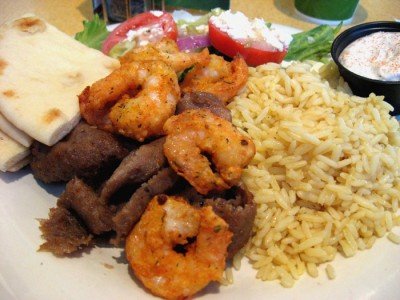 I don't have much to say about this, except that it is one tasty, free lunch. I had never had the shrimp before, and I must say, I surprised that it was that good. I was expecting it to just be "meh", but it's something I would order again. Yay birthdays!
Daphne's Greek Cafe
Multiple Locations
« Previous Post - free birthday food – benihana
|
free birthday food – rubio's - Next Post »
subscribe to this tasty life
recent comments
desert road trip preview (4)

caninecologne: Wow, I thought that was a different dog because I usually think of Maya as having...
Faye: Is that Maya in the first photo?! Her fur looks like it got a tan

happy blogiversary! (14)

Jinxi: Happy blogiversary Mary!! I love that first photo hehe. So happy that we got to meet thru...
caninecologne: Happy Blogaversary Mary! Our blogs are both 9 now. Almost a decade! I love that...
Lynn @ Oh-So Yummy: I can't believe that 4-5 posts a week is slowing down. I can hardly...