post:
As I posted last year, Daphne's Greek Cafe offers a free plate (any plate!) for birthday celebrators once you join their Pita Points e-club. No purchase necessary. No max value. Any plate!
I got the gyros and crispy shrimp combo with greek salad and rice ($8.79).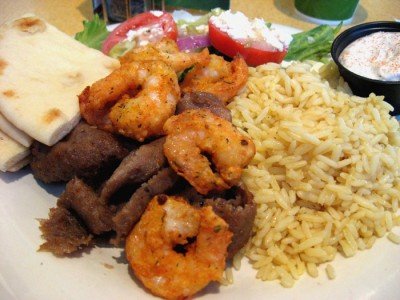 I don't have much to say about this, except that it is one tasty, free lunch. I had never had the shrimp before, and I must say, I surprised that it was that good. I was expecting it to just be "meh", but it's something I would order again. Yay birthdays!
Daphne's Greek Cafe
Multiple Locations
about this site
My name is Mary and I live in San Diego. I've been blogging since 2006 as a hobby - it's my fun, creative outlet! Some random things about me: I'm a front end web developer, I love peanut butter, cookies, warm cupcakes, puppy noses, star gazing, new bags of sugar, sprinkles, cupcake wrappers, egg rolls, eating french fries with ice cream, driving with the windows down, snuggling, wes anderson movies, staying up too late reading a good book and Jake. These are my adventures in all things food. Hope you enjoy the ride.
|
Download Media Kit