post:
As I posted last year, Daphne's Greek Cafe offers a free plate (any plate!) for birthday celebrators once you join their Pita Points e-club. No purchase necessary. No max value. Any plate!
I got the gyros and crispy shrimp combo with greek salad and rice ($8.79).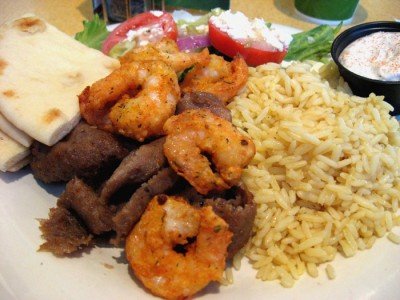 I don't have much to say about this, except that it is one tasty, free lunch. I had never had the shrimp before, and I must say, I surprised that it was that good. I was expecting it to just be "meh", but it's something I would order again. Yay birthdays!
Daphne's Greek Cafe
Multiple Locations
« Previous Post - free birthday food – benihana
|
free birthday food – rubio's - Next Post »
subscribe to this tasty life
recent comments
birthday pizza crawl for jake (10)

caninecologne: Awwww, you're the best Girlfriend EVER! Lucky Jake! How fun this must...
Jinxi: Aww cute! Happy birthday to Jake! Also, I totally get weirded out by parallel parking on...
J.S. @ Sun Diego Eats: This was so cute. You get a million extra points for hand drawing the...
Lynn @ Oh-So Yummy: i agree with faye – you're the best date ever. one of these days,...
Faye: Oh man. I want to date you and have you do little surprises like this for me. That was the...