post:
The College Area Taste is coming back for it's 4th year on Sunday April 13th! I have heard about the event in the past but have not managed to make it before. 22 restaurants in the College Area are participating offering up samples and treats! It's a fun day of eating and walking around the neighborhood.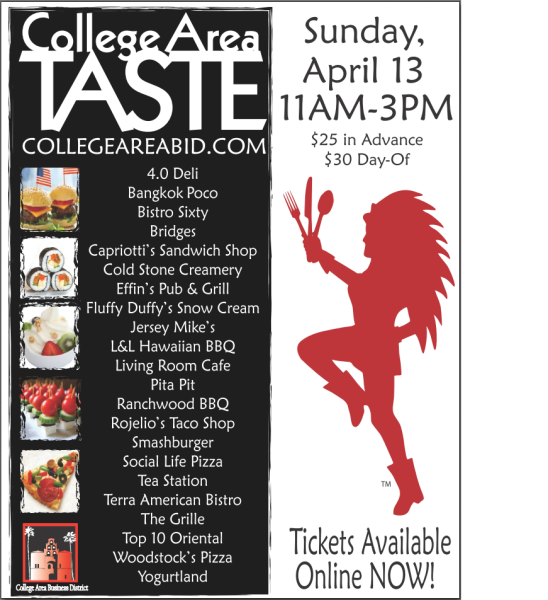 Some of the restaurants on the self-guided tour are a little far apart but the Old Town Trolley will be there to assist when you need a lift from one area to the next without having to re-park your car over and over again.
I've got a pair of tickets for one lucky reader to attend the College Area Taste with their best foodie buddy! Here's how you can enter – tell me in the PromoSimple Box – what restaurant do you want to hit up first?
There are plenty of additional ways to enter – just fill in the question first and the rest will pop up for you! Contest runs through Tuesday April 8th at 9:00PM PST. Winner will be placed on the Will Call list for two guests. Even if you don't win, you can purchase tickets online for $25 or $30 on the day of the event.
Disclaimer: Tickets are provided by McFarlane Promotions. I am receiving a pair of complimentary tickets in exchange for this giveaway.
recent comments
la dumpling crawl (6)

Lynn @ Oh-So Yummy: What a fun mission! How did you come up with the list of where to go?...
Kirbie: This post is making me hungry. I've never been to Hui Tou Xiang. Interesting that...
leanne: Your food crawlers have the best comments and notes on the dumplings! I think my favorite...

hanna's gourmet / university heights (4)

caninecologne: Was Hannah there when you went? She is such a nice lady! That's cool you...
Lauren: Berry ricotta pancakes?! Sign me up! Anything with ricotta is a-okay in my book. Those...