post:
Jake's oldest son, T, celebrated his 15th birthday in August! Goodness. Fifteen. Where has all the time gone?!
His birthday request? A pistachio cake. Apparently this idea sprung from these pistachio cookies I made 2 years for Christmas. I guess he's been thinking about them ever since and has really wanted me to make something else with pistachios.
I've never made a pistachio cake before so I looked up a few recipes and did one the "easy" way (aka with boxed cake mix). It turned out really well though and everyone really liked it, so score.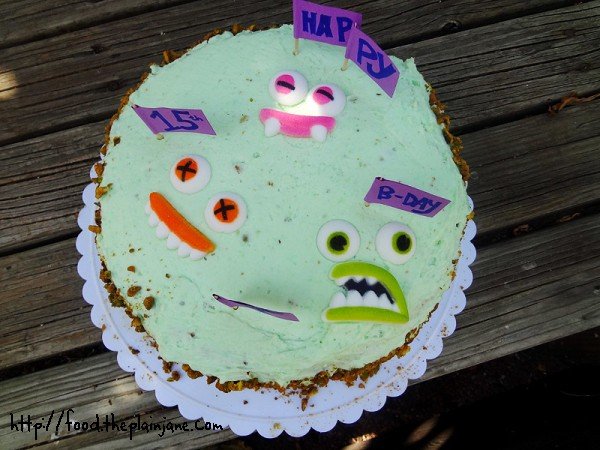 Here's the top of the cake. He didn't request a theme so I just picked up these silly monster faces at Do It With Icing for a little extra decor.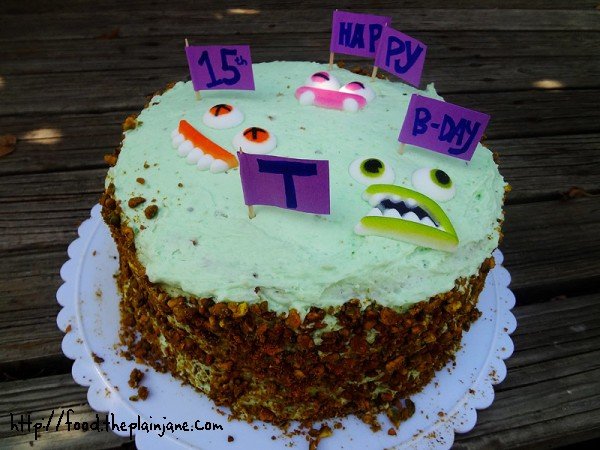 I made the little flags out of post-it note paper and toothpicks. And of course there are partially ground up pistachios all around the edge.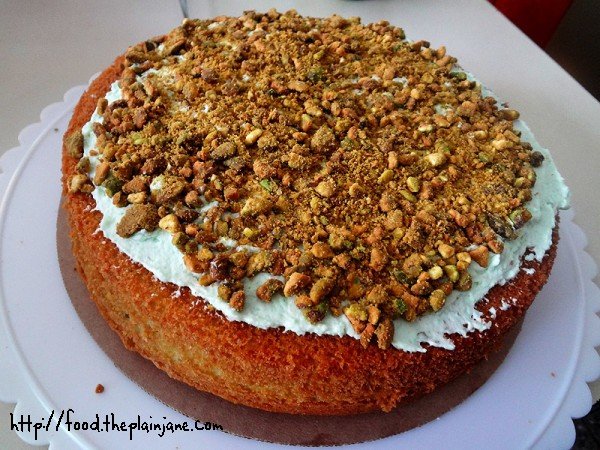 As well as the inside of the cake!
Personally, I thought the inside was a little too intense – it either needed more filling or less pistachios or both. But the birthday boy loved it and thought it had a good salty-sweet mixture – which it did – but a little too heavy on the salty side for my tastes.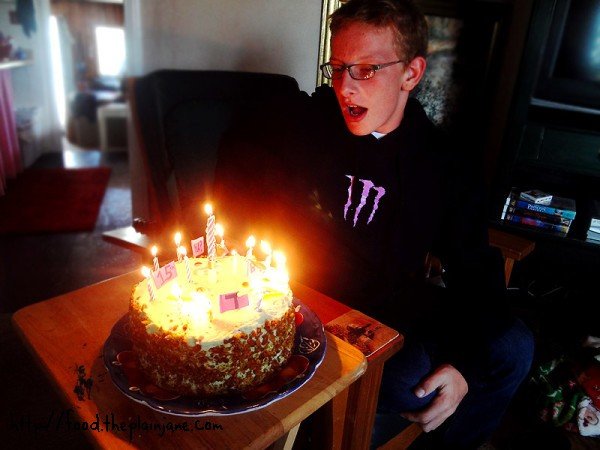 Here's the birthday boy about to blow out the candles.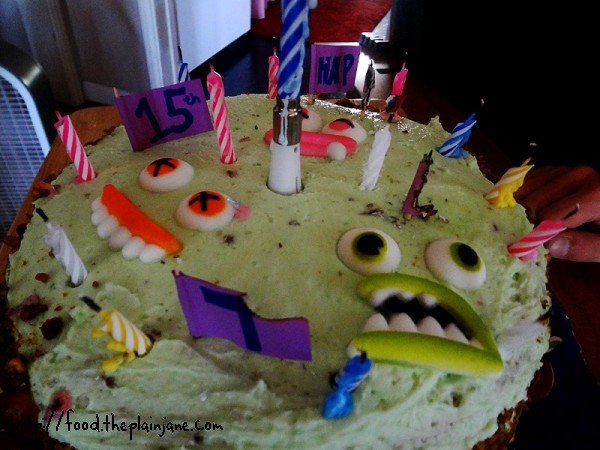 There was a little destruction from the candles, heh heh. A few of the flags burned down! Happy birthday, T!
Pistachio Cake
2013-09-08 20:41:14
For The Cake
1 box white cake mix
1 (3.4 oz.) box instant pistachio pudding
3 eggs
1 cup oil
1 cup almond milk
For The Frosting
1 and 1/2 pints heavy whipping cream
1 (3.4 oz.) box instant pistachio pudding
Pistachio oil/extract (optional)
For the cake
Preheat oven to 350 degrees. Prepare cake pans with butter and flour to prevent sticking. I use 8 inch cake pans and wrap them with Bake Even cake strips to help get high, leveled cakes. It totally works. It's like magic.
Mix together white cake mix, pistachio pudding, eggs, oil and almond milk. Beat for 3 minutes on medium speed and pour evenly into two pans (I like to use measuring cups to help me even out the batter).
Bake per package instructions for your cake pan size.
Let cakes cool completely before frosting.
For the frosting
Whip your heavy whipping cream to soft peak stage. Add pistachio pudding mix and a few drops of extract (if desired). Top cake with frosting and additional pistachios if you want to get super pistachio crazy.
Adapted from The Country Cook
this tasty life - a san diego food blog http://food.theplainjane.com/
about this site
My name is Mary and I live in San Diego. I've been blogging since 2006 as a hobby - it's my fun, creative outlet! Some random things about me: I'm a front end web developer, I love peanut butter, cookies, warm cupcakes, puppy noses, star gazing, new bags of sugar, sprinkles, cupcake wrappers, egg rolls, eating french fries with ice cream, driving with the windows down, snuggling, wes anderson movies, staying up too late reading a good book and Jake. These are my adventures in all things food. Hope you enjoy the ride.
|
Download Media Kit