post:
The best thing about these cupcakes is that my co-workers all thought they were really snow cones.
How awesome is that?!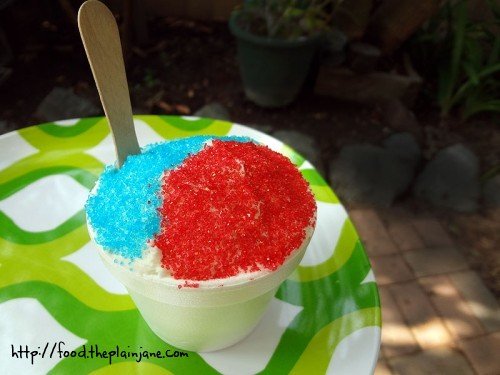 I saw the idea for this on justJENN's blog and just tweaked it a little for my liking! I only used two colors and I didn't add the straws – the spoons were good enough! The trickiest part of these cupcakes were trying to find the little styrofoam containers – I ended up getting them at Smart & Final for less than $2! You need the 4oz food container size – the cupcakes will fit in there perfectly after you bake them. The wooden spoons I just bought on Etsy from the Lemon Drop Shop.
Recipes I used: white chocolate strawberry mousse (skipping the last two steps) and these vanilla cupcakes.
Okay, onto decorating!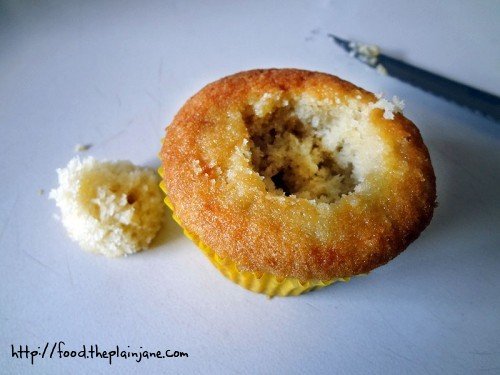 I used the same "cut a hole in it" technique that I used for the caramel cupcakes. Nothing fancy. Just use a knife to cut out a good sized hole.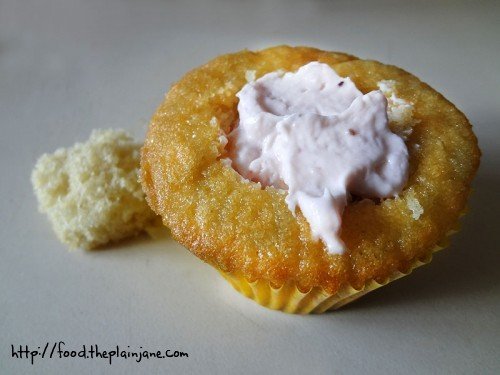 Then stick the filling in! These were vanilla cupcakes with white chocolate strawberry mousse.
Yes. It is as delicious as it sounds.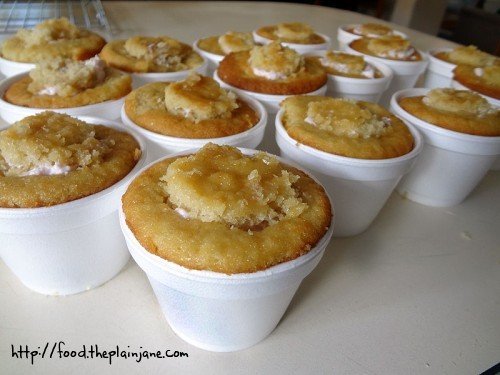 Stuff the tops back on and then place the cupcakes in the styrofoam cups.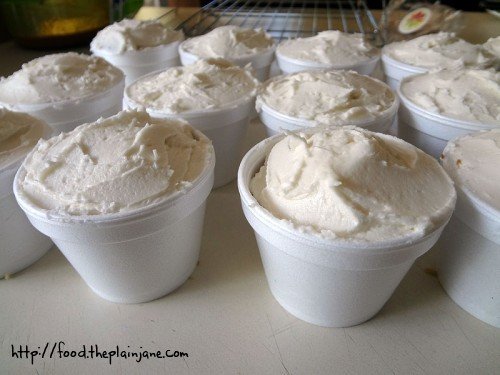 Then, frost! I always use this buttercream frosting from the repressed pastry chef. It's my favorite buttercream recipe – it always turns out so creamy and delicious. I should have made extra frosting for these – but I wasn't sure how much frosting I needed! A little extra is good for you can make a nice dome shape with your frosting.
A few of mine looked a little flat… but I don't think anyone noticed except for me.
Get your battle station ready.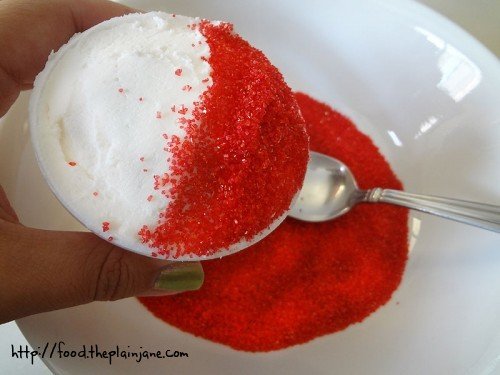 I poured my sanding sugar into separate bowls. This way I can catch all those little pesky grains of sugar.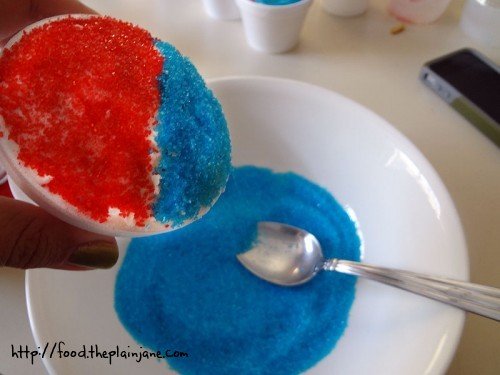 Using a spoon, I carefully poured sugar onto each side of the cupcake, dusting off any extra and re-spooning sugar until the frosting was completely covered up.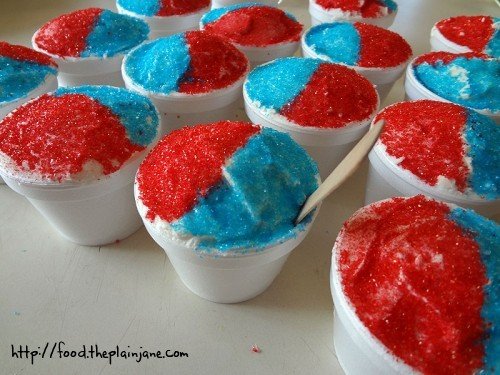 Adding the spoon really makes it look authentic!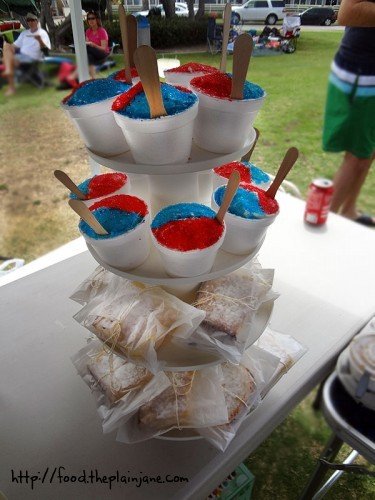 Here's my full display for the my work's summer party. Snow cone cupcakes on top and lemon bars on the bottom.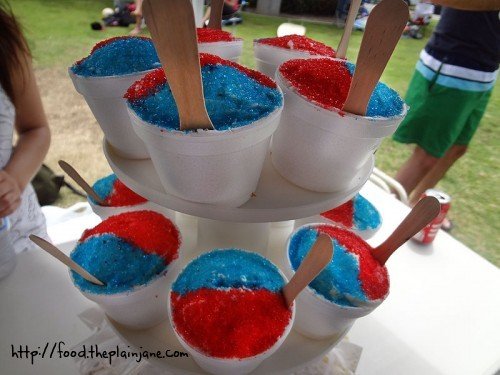 I loved when people tried to figure out why the snow cones weren't melting. Heh heh.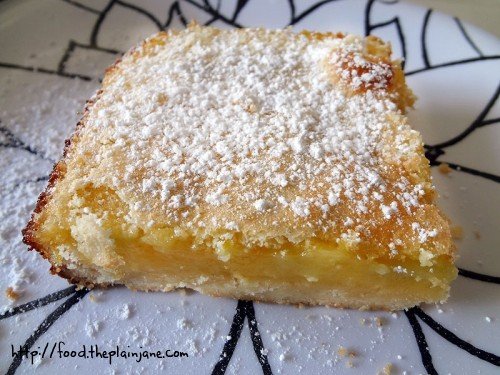 Also: lemon bars. My lemon bars rock because I use fresh meyer lemons from our crazy hybrid tree (that grows lemons, limes and oranges). Meyer lemons are the bestest lemons ever. Trust me.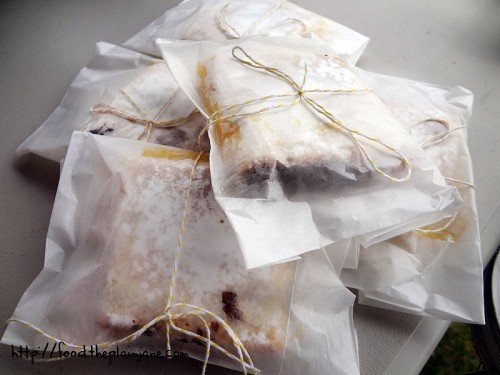 All tied up and pretty! The string and glassine bags are also from Lemon Drop Shop.
I just want to package up more things in pretty wrappers and make more cupcakes!
about this site
My name is Mary and I live in San Diego. I've been blogging since 2006 as a hobby - it's my fun, creative outlet! Some random things about me: I'm a front end web developer, I love peanut butter, cookies, warm cupcakes, puppy noses, star gazing, new bags of sugar, sprinkles, cupcake wrappers, egg rolls, eating french fries with ice cream, driving with the windows down, snuggling, wes anderson movies, staying up too late reading a good book and Jake. These are my adventures in all things food. Hope you enjoy the ride.
|
Download Media Kit