post:
I don't remember at what point in my life I started to eat calamari. I know there was a time where I wouldn't eat it. My experience had only been tough, chewy, overcooked calamari and I thought it was all the same – flavorless and unappetizing. Some bright, beautiful and shining day I had it again and was hooked, knowing that cooked correctly it could delicious, crunchy and appetizing once again.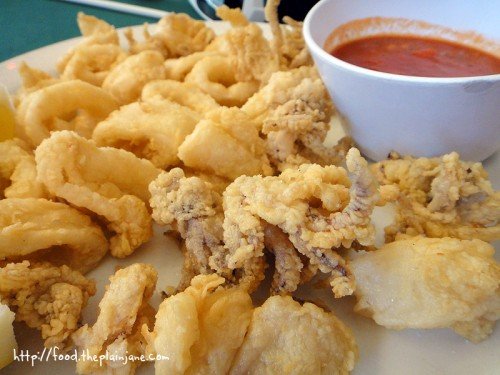 The calamari at Volare Italian Restaurant is very good. They use the whole squid (tentacles and all!) in a light batter and warm marinara sauce. It's simple. Not overcooked. Fried just enough to be perfectly crisp. Not a trace of chewiness – just hot, delicious calamari – all for $6.50 a plate! Not the fanciest (or priciest) in town, but if you've got a craving for calamari, this will fix it!
There are plenty of places serving up this classic appetizer but I love it here at Volare because it's delicious, fresh, and affordable. YUM.
If you eat calamari, are you into eating the tentacles or does it give you the heebie-jeebies?
about this site
My name is Mary. I love: peanut butter, cookies, warm cupcakes, puppy noses, star gazing, new bags of sugar, sprinkles, cupcake wrappers, egg rolls, eating french fries with ice cream, driving with the windows down, snuggling, wes anderson movies, staying up too late reading a good book and Jake. These are my adventures in all things food. Hope you enjoy the ride.