post:
I didn't think it would be hard to spend $25 at VG Donuts, but it was.
I've been sitting on this coupon I got for VG Donuts for quite some time. I kept debating on when I should go. Should I go and bring some stuff down when Jake has the kids? Should I have used it when Chris was here visiting us and bring some stuff down then? Time got away from me and one morning I woke up kind of early on a Sunday morning and I thought, "Boy, I sure do feel like having a donut." I jumped in the car with Maya in tow and we went for a nice morning drive up to VG Donuts.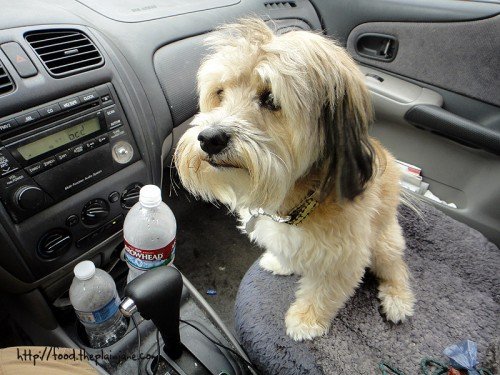 She's become a much better car companion. As long as she gets to stick her head out of the window. She was irked I left her in the car when I went into VG Donuts though. I left the windows partly rolled down and it was overcast so I wasn't worried about her being left in the car for a little bit.
This place was packed for early Sunday morning (it was probably around 8AM). There was a bit of a line and plenty of donuts glistening in the counter. They had other stuff, too: bagels, cookies, pastries, bear claws, breads and more. I started eyeing the goods and wondering how I was going to spend $25 here. I got into line and ordered a bunch of stuff only to find that I was still under! I ended up grabbing a blueberry loaf and some potato rolls and was still under a little but just let it go. One can only buy so many donuts in one day. In hindsight, I should have bought more bagels.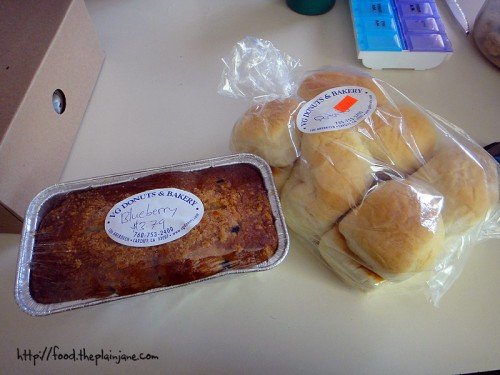 Here's the Blueberry Loaf  ($3.79) and Potato Rolls ($3.29). We ended up using the potato rolls as buns for some homemade slider burgers. They were really excellent for this. The perfect size and it held up really well as a bun (didn't get soggy, held its shape and was nice and soft). The blueberry loaf we kept around for a couple of days until we started eating it – it had a good amount of blueberries, had a nice sweetness to it (not overly sweet) and was very moist for a loaf bread. Really good!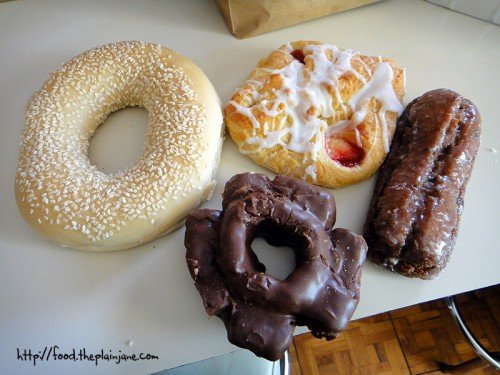 My dad loved these Sesame Seed Bagels. They were soft, chewy, and light. I liked them a lot, too. I also really liked the blueberry bar (far right) – it's like an old fashioned donut with blueberries in it and glazed in icing. Each bite had a crispiness to it from the outer donut which I loved. I don't think I actually got to try the Strawberry Danishes. Huh. At least they're pretty. The chocolate dipped old fashioned was also pretty good, but not my favorite.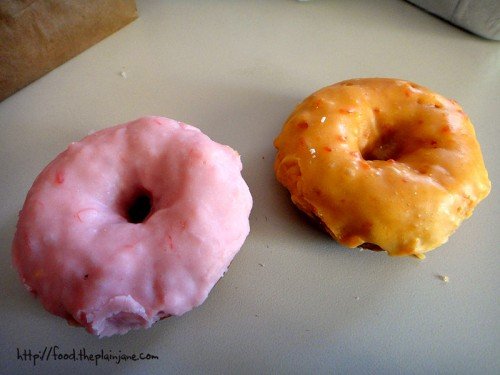 Pretty much the other things I got were cake donuts. I love a good cake donut. The orange frosted one was totally my favorite but I couldn't tell you what flavor it was exactly. It was eluding me that day, but I loved the flavor of it and the crispness of the donuts.
They still didn't have my absolute favorite, which is the French cruller, but most donut places don't carry those since apparently they're a pain in the ass to make. That just makes them more lovable to me, I guess.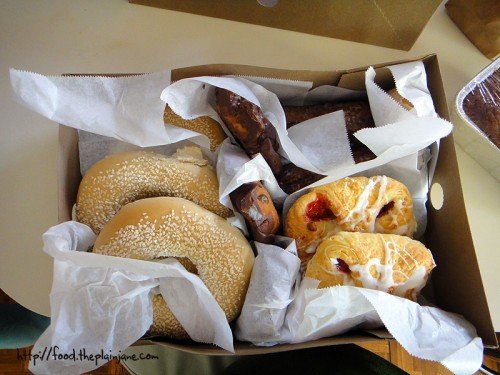 I'm definitely getting more bagels the next time I go. And cake donuts. And a blueberry bar. And maybe I'll a try cookie and hope I don't go into a sugar coma.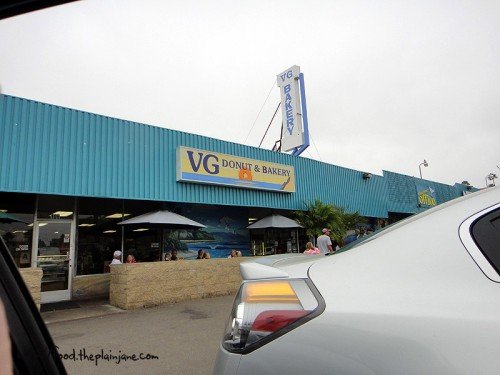 This is my "I'm too lazy to get out of the car and properly take this photo" shot. Hey, it was Sunday after all. I have the right to be extra lazy on a Sunday!
VG Donut & Bakery
106 Aberdeen Dr
Cardiff By the Sea, CA 92007
(760) 753-2400
about this site
My name is Mary and I live in San Diego. I've been blogging since 2006 as a hobby - it's my fun, creative outlet! Some random things about me: I'm a front end web developer, I love peanut butter, cookies, warm cupcakes, puppy noses, star gazing, new bags of sugar, sprinkles, cupcake wrappers, egg rolls, eating french fries with ice cream, driving with the windows down, snuggling, wes anderson movies, staying up too late reading a good book and Jake. These are my adventures in all things food. Hope you enjoy the ride.
|
Download Media Kit
recent comments
college area taste 2014 recap (10)

mary: Hi Cynthia! Haha, I totally don't mind being stopped to a chat, if you see me again say hi!! We had our tupperware stored in a backpack for Taste...
cynthia: I saw you guys at Taste of Hillcrest but… I don't know, just didn't want to seem like a weirdo talking to you! haha I didn't...
mary: Hi CC – If we hadn't done the take out box, I don't think we'd have been able to do this many places! The take out box let us...