post:
You like free stuff, don't you? Check out the information below: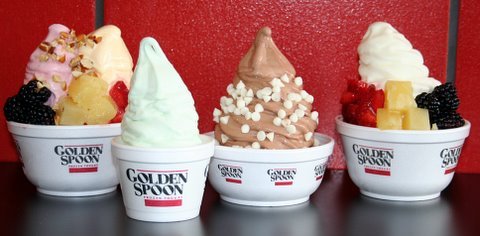 In honor of being selected as the best frozen yogurt in Orange County, all 27 Golden Spoon Frozen Yogurt locations in the county and several in surrounding counties will give away one free yogurt to each of its loyal fans during a special customer appreciation night on Tues., Oct. 12, from 6 p.m. until closing.
A special celebration will be held on Oct. 12 at the Orange, Calif., store across from The Village of Orange, at 2139 N. Tustin St.  In addition to free yogurt, the location will hold a yogurt-eating contest, local high schools will compete in a special Golden Spoon "Cheer-off" competition for the best Golden Spoon cheer, as well as a Martial Arts demonstration by Hidden Tigers, an appearance by Miss Orange 2011, door prizes, and music by DJ George.
The list of Golden Spoon locations participating in the giveaway includes 32 stores: all 27 in Orange County, plus three stores in Long Beach, and one each in Whittier and La Habra.  Stores in Orange County include those in: Aliso Viejo, Anaheim Hills, Brea, Buena Park, Corona del Mar, Costa Mesa, Cypress, Foothill Ranch, Fullerton, Huntington Beach (2), Irvine (5), Laguna Beach, Laguna Niguel (2), Lake Forest, Mission Viejo (2), Orange (2), Rancho Santa Margarita, San Clemente, and San Juan Capistrano.
There are also some San Diego Golden Spoon Locations which will also be giving away one free yogurt on Oct. 12th as well – those store locations are: Escondido, Oceanside,  S. Carlsbad,  N. Carlsbad,  Solana Beach,  La Costa, Del Mar, La Jolla, Poway,  Rancho Bernardo, Rancho Penasquitos.
Get out there and get some free yogurt!
about this site
My name is Mary and I live in San Diego. I've been blogging since 2006 as a hobby - it's my fun, creative outlet! Some random things about me: I'm a front end web developer, I love peanut butter, cookies, warm cupcakes, puppy noses, star gazing, new bags of sugar, sprinkles, cupcake wrappers, egg rolls, eating french fries with ice cream, driving with the windows down, snuggling, wes anderson movies, staying up too late reading a good book and Jake. These are my adventures in all things food. Hope you enjoy the ride.
|
Download Media Kit