post:
I'm not a sushi person, but in the interest of being a good food blogger, I feel I should still tell you all about awesome deals. And about upcoming contests. Check it out below: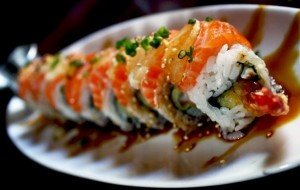 Harney Sushi $2 Menu
Harney Sushi will celebrate two years in Oceanside with a $2 Anniversary Menu for a limited time from September 20-26th. This is a perfect opportunity to sample new menu items such as Sweet Potato Frites, Smoked Tofu, and Harney's Caesar Spring roll. Here's a peek at the complete $2 menu:
Harney Sushi Oceanside $2 Anniversary Menu
Edamame
2 piece Harney Caesar Spring Rolls
½ order Sweet Potato Frites
California Handroll
½ order Spicy Tuna Roll
2 piece O'side Drumsticks
½ order Smoked Tofu with Housemade Kimchee
Small Hot Sake
2 piece Chocolate Gyoza
Another thing that's coming up that is the Aetna Healthy Food Fight:
The Aetna Healthy Food Fight occurs in multiple locations, and it's coming to Southern California: the Inland Empire on October 30-31 (deadline to sign up is October 13), San Diego on November 6-7 (deadline to sign up is October 20), and Los Angeles on November 13-14 (deadline to sign up is October 27). We are looking for any cooks out there to submit healthy food recipes online. The top 48 healthiest recipes will move on to the competition. The celebrity guests throughout the contest will be Bobby Flay, Sunny Anderson, Sara Moulton, and Cat Cora. Please check out this website for more information, www.healthyfoodfight.com
Okay, now I am off to enjoy the rest of Sunday – have a good rest of the weekend, folks!
« Previous Post - i made a good homemade pizza – yay!
|
five guys burgers and fries / liberty station | san diego, ca - Next Post »
subscribe to this tasty life
recent comments
desert road trip preview (4)

caninecologne: Wow, I thought that was a different dog because I usually think of Maya as having...
Faye: Is that Maya in the first photo?! Her fur looks like it got a tan

happy blogiversary! (14)

Jinxi: Happy blogiversary Mary!! I love that first photo hehe. So happy that we got to meet thru...
caninecologne: Happy Blogaversary Mary! Our blogs are both 9 now. Almost a decade! I love that...
Lynn @ Oh-So Yummy: I can't believe that 4-5 posts a week is slowing down. I can hardly...