post:
Five Guys is a national chain fast food restaurant – but without the drive-thru windows. I liken it to In-N-Out in that they have a limited menu and only sell a few things (no chicken sandwiches, nuggets, tacos or other crazy things here). Our friend, Chris, from Florida recommended this place to us after he found out that we actually had one in San Diego. I had been meaning to go, but previously thought the only restaurant was on NAS North Island. I did consider bugging my dad to take me on base to go, but I never did. Then a few weeks ago, I saw a review for Five Guys on Darlene's blog and realized I didn't have to go on base after all to check this place out. With the urging from Chris (re: lots of text messages), Jake and I took the kids out to Liberty Station to try out Five Guys.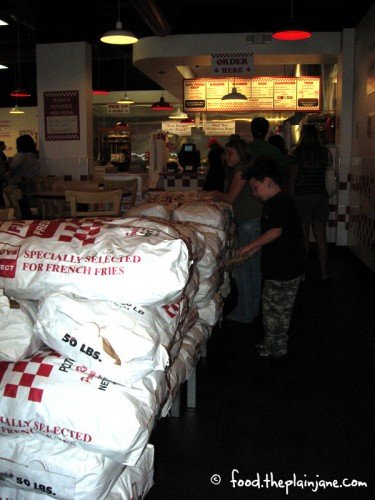 When you first walk in, there's a big pile of 50lbs. bags of potatoes, with a sign telling you where the potatoes are from that day.
This place is pretty spacious, much bigger than any In-N-Out I've ever been too, with outdoor seating to boot.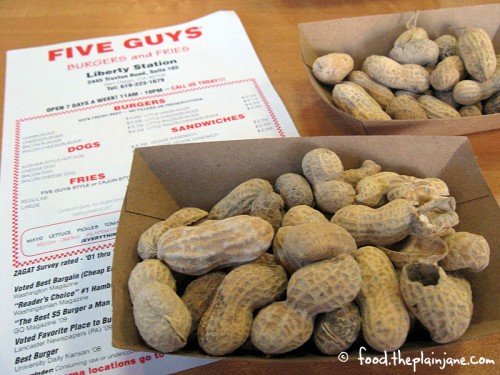 There's also free peanuts for you to snack on while you wait for your order to come up. The kids feasted on the peanuts like there was no tomorrow. I ate a few, but mostly I wanted my "real" food to come out.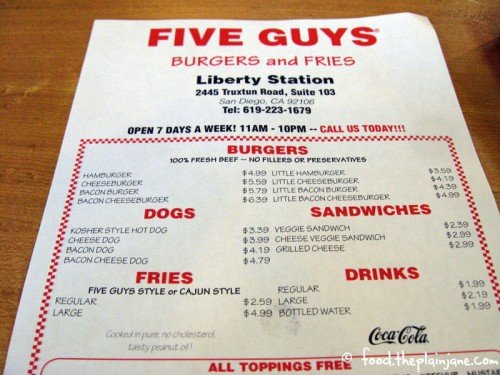 Jake and I got "regular" sized burgers for ourselves and "little burgers" for the kids. I really, really wish they had listed on their menu the difference between a "regular" burger and a "little" burger. A regular burger comes with 2 patties and a little one only has one patty. I would have preferred to have had the little burger, but … little sounds… well, mini sized! I suppose we should have asked, but I felt kind of duped.
The cool thing about Five Guys is the ability to choose your own toppings – which are all "free" – and you have 15 different toppings to choose from. I went with: Mayo, Ketchup, Mustard, Lettuce, and Onions (in addition to bacon and cheese).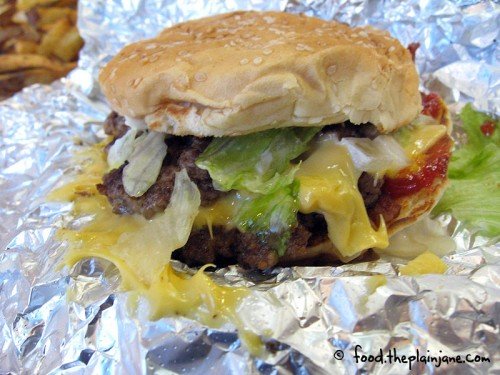 I got the Bacon Cheeseburger ($6.39). The burger comes wrapped in foil on a sesame seed bun and slathered with all of the ingredients. I thought it was a bit too much having 2 patties. I didn't really like the cheese on this burger (Jake reminded me that I don't like American cheese, which is true for the most part) and I really didn't like this bun. The bun was like any old thing I could buy at the grocery store and it wasn't warmed up or anything. Very sad. Also, I know there was bacon on it because I saw it, but I don't really remember tasting it. Maybe I had too many toppings? The burger itself was juicy and thick and cooked well, but overall I didn't really care for the burger.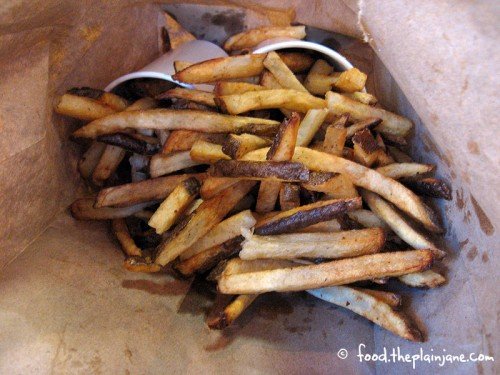 This above is 2 orders of the Regular Sized French Fries ($2.59). It took up about half of the paper bag. Mind you, when I ordered these, I thought I had ordered the large and realized later when I saw my receipt that I had only gotten 2 regulars. I can't even imagine what a large sized order would look like, as this was plenty of fries to share between 2 adults and 3 kids.
I really liked the french fries – they reminded me somewhat of Boardwalk Fries that used to be in Horton Plaza. Crispy, skin on fries are what I like (though I needed to add salt to them so they could have some seasonings).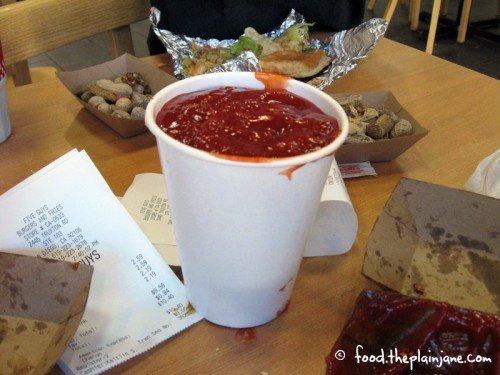 Jake's younger son has this thing about getting stuff for other people – and he tends to overdo it a lot. This is what he came back with when he "went to go get more ketchup". I call it the "Cup O' Ketchup". I don't like ketchup on my fries, so I didn't touch this, but Jake and his 2 younger kids love ketchup. A lot.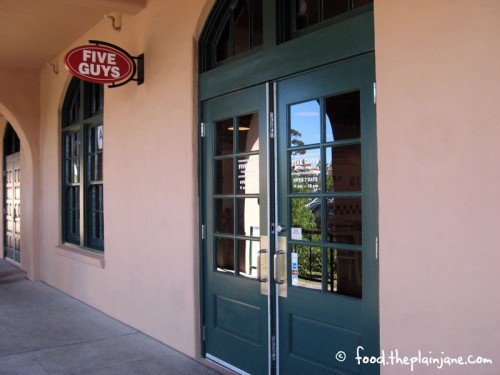 Oh, Five Guys. I'm sorry I didn't really dig your burger. I liked your fries, though. You really should put somewhere that the regular burger is 2 patties. It would be the nice thing to do. But you know. Whatever.
Five Guys Burgers and Fries
2445 Truxtun Road, Suite 103
(in Liberty Station, near Vons and Trader Joe's)
San Diego, CA 92106
(619) 223-1679
Hours:
7 days a week, 11am-10pm
« Previous Post - $2 Sushi Menu / Healthy Food Fight Recipe Contest
|
Camp Blogaway - Next Post »
subscribe to this tasty life
recent comments
birthday pizza crawl for jake (10)

caninecologne: Awwww, you're the best Girlfriend EVER! Lucky Jake! How fun this must...
Jinxi: Aww cute! Happy birthday to Jake! Also, I totally get weirded out by parallel parking on...
J.S. @ Sun Diego Eats: This was so cute. You get a million extra points for hand drawing the...
Lynn @ Oh-So Yummy: i agree with faye – you're the best date ever. one of these days,...
Faye: Oh man. I want to date you and have you do little surprises like this for me. That was the...