post:
Chef John's Fish and Chips is  tucked in on the other side of Broadway in Lemon Grove, a little bit away from the main drag and the famous giant lemon. It kind of looks like it's in an old Arby's or Long John Silvers, but I don't know for sure if that's what it was – my days of venturing into Lemon Grove are a bit sparse these days.
Jake and I opted to share a few items to get a feel for the food here. Our order was taken by a very nice Asian lady and was passed onto an Asian chef – I assume Chef John – to make. We could see him making our food to order while we waited in one of the booths.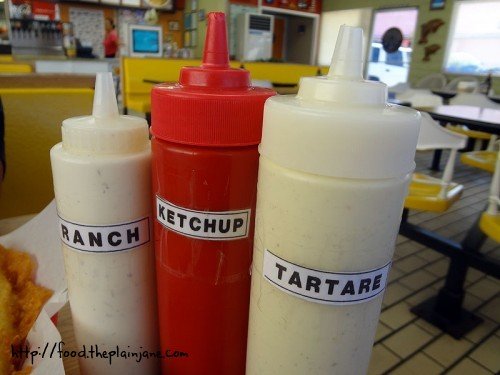 [squeezy sauce bottles]
We were brought these squeezy bottles full of sauce along with our food. I was amused that they were labeled. I think of lot of places would just make you guess and probably not even bring you ranch unless you asked for it.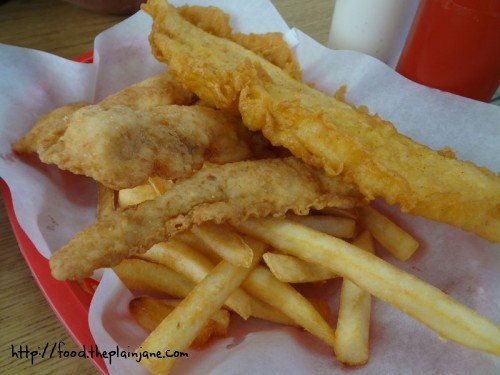 [fish and chicken strips combo - $7.99]
We got the fish and chicken basket. Jake is normally not a seafood eater, but he does like fish and chips… go figure. Fried fish though generally doesn't taste super fishy though, so I get that train of thought at least.
The chicken strips were pretty good for what they were. Nice strips of white meat, not too overly greasy. Lightly seasoned and tasty.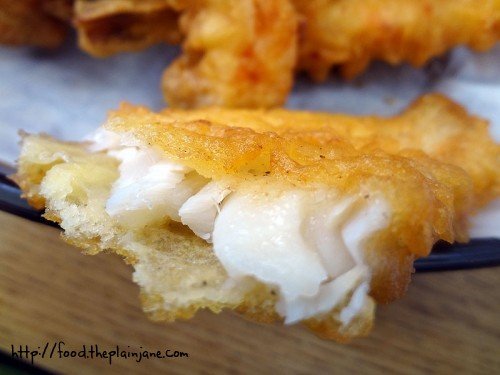 [fried fish inside]
The fried fish was made with cod. It was hand battered and fried to a nice crisp – not super greasy, either. The fish was very tender and came apart pretty easily. I especially liked the crispness of it – nice and crunchy but still retaining the fish flavor. Jake thought this was one of the best pieces of fried fish he's had.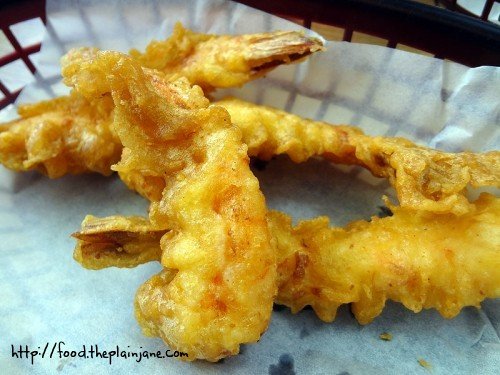 [side of fried shrimp - $3.99]
I also got a side of fried shrimp, which turned out to be tempura battered. These shrimp were just okay. They needed a little more seasonings (or something) to give it a little bit of extra flavor to stand on their own. They didn't taste really plump or delicious – just average, as far as shrimp go.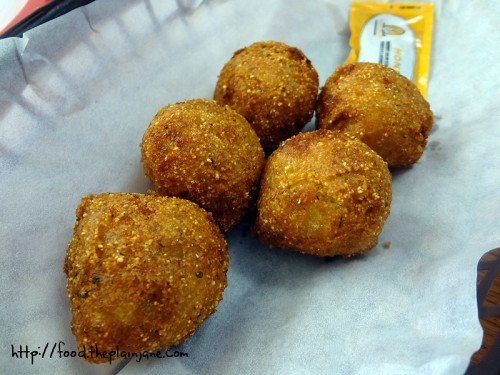 [hush puppies - $2.49]
The hush puppies, on the other hand, were delicious. Most of the time when I order hush puppies, they come to me way overcooked and almost black – but these were cooked to a perfect golden brown, resulting in a lighter, more moist hush puppy. The balance of flavor and seasonings with the cornmeal was perfect here and Jake and I wolfed these down with a daub of honey on every bite.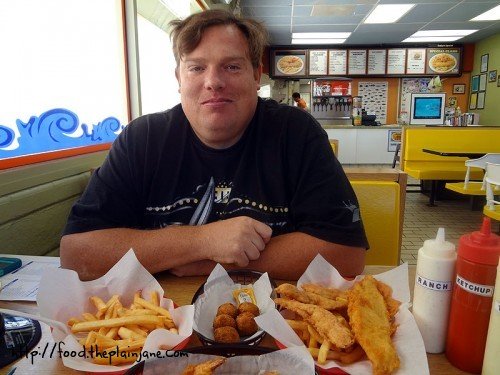 [not gonna smile... not gonna smile...]
Here's Jake, being a goof and refusing to smile for me. Geez.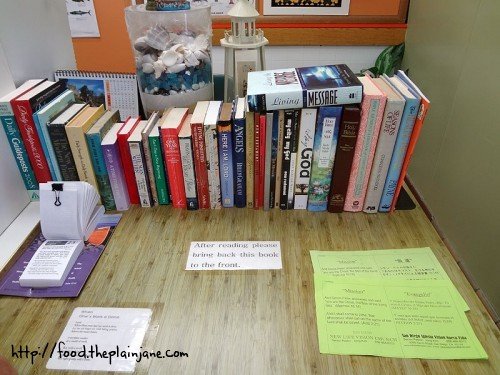 [religious book corner]
Up at the counter, you can also brush up on your religious reading, if you so desire. Fried fish + religion, who would have thunk?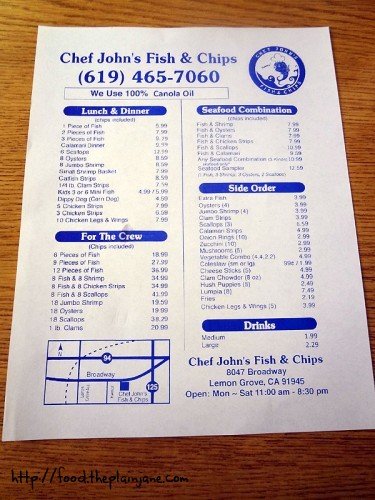 Here's their own whole menu, if you're interested!
Chef John's Fish and Chips has been serving the community of Lemon Grove for about 8 years. It's good food for a fair price!
Chef John's Fish & Chips
8047 Broadway
Lemon Grove, CA 91946
Hours: Monday – Saturday, 11AM-8:30PM
about this site
My name is Mary and I live in San Diego. I've been blogging since 2006 as a hobby - it's my fun, creative outlet! Some random things about me: I'm a front end web developer, I love peanut butter, cookies, warm cupcakes, puppy noses, star gazing, new bags of sugar, sprinkles, cupcake wrappers, egg rolls, eating french fries with ice cream, driving with the windows down, snuggling, wes anderson movies, staying up too late reading a good book and Jake. These are my adventures in all things food. Hope you enjoy the ride.
|
Download Media Kit
recent comments
college area taste 2014 recap (10)

mary: Hi Cynthia! Haha, I totally don't mind being stopped to a chat, if you see me again say hi!! We had our tupperware stored in a backpack for Taste...
cynthia: I saw you guys at Taste of Hillcrest but… I don't know, just didn't want to seem like a weirdo talking to you! haha I didn't...
mary: Hi CC – If we hadn't done the take out box, I don't think we'd have been able to do this many places! The take out box let us...