post:
The Lemon Grove Deli is a little restaurant that's nestled in the heart of Lemon Grove. It's in amongst the many little shops and businesses in Downtown Lemon Grove, near the trolley station. The Lemon Grove Deli serves up some mean breakfast and then also does sandwiches in the afternoons. You can stop by on Sunday and get breakfast until 2PM – which is what Jake and I did on a recent weekend.
This is one of my "adventures in groupons!" posts – I had a coupon for 2 breakfast and 2 drinks for one price. It was just the two of us for breakfast that morning and we sat outside on the patio to enjoy the beautiful summer day. There was a slight wait in getting someone to see to us, but we were in no kind of rush. When our waitress did come by we asked for some coffee while we continued to look over the menu.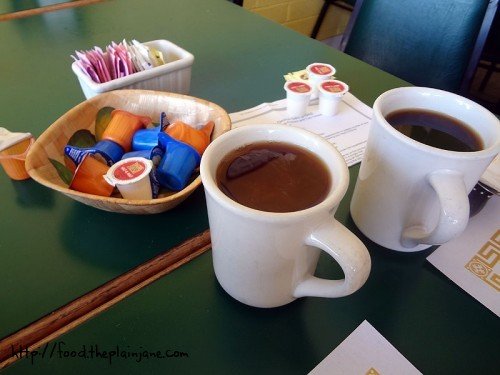 [coffee & creamers - $1.95]
The coffee was pretty good for a standard cup. Not too strong but strong enough to have a nice, distinct flavor. I also enjoyed that they had a little bowl of different flavored creamers. They had vanilla, hazelnut and plain and I chose to dump a couple of hazelnuts in mine.
Hazelnut + coffee = a match made in heaven to me.
[breakfast menu at the lemon grove deli]
Here's a peek at their breakfast menu. There's a really good amount of options and you get a TON of food for the price.
[our breakfast, from above]
See that plate of biscuits and gravy? And the pancakes? Both side dishes for each meal.
So. Much. Food!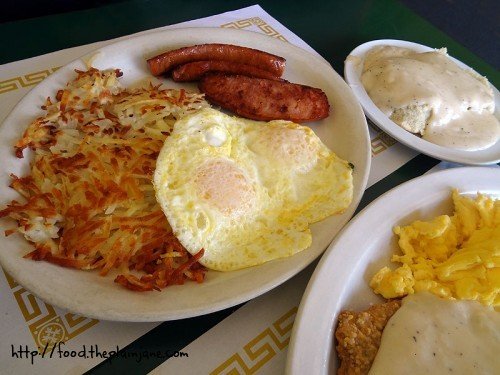 [grilled kielbasa and eggs with a side of biscuits & gravy - $8.75]
Jake decided to grab the kielbasa and eggs breakfast with a side of biscuits of gravy (and of course it also comes with hash browns, because, well, why not).
We've been doing the "share all of our food" thing ever since Vegas and it pretty much applies to everything now. I gave him some of mine and I got to have half of the kielbasa as well. The kielbasa was nicely grilled. I also had some of the biscuits and gravy. The gravy was a nice, basic white gravy with a good amount of seasonings. Very basic, but still quite good and very filling.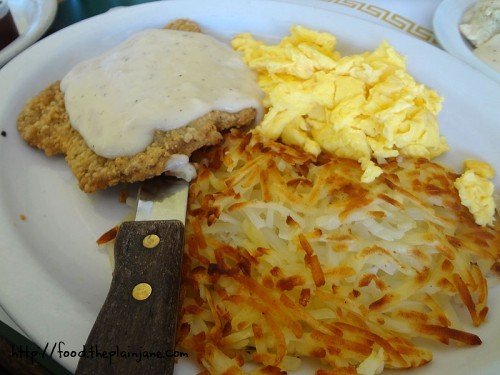 [chicken fried steak, eggs and hash browns - $9.25]
I choose the chicken fried steak with a side of pancakes.
I can't believe you get a whole stack of pancakes on the side in addition to the rest of your meal. Unreal.
The chicken fried steak is a solid one with the same type of gravy found on the biscuits. This is a pretty basic chicken fried steak – breaded and fried with a crisp, outer coating and a good douse of gravy. Not too greasy, the steak was done well and kept it's rich flavor intact.
The hash browns here are good – nice, crispy exterior with a slightly creamy middle – though not as good as the Huddle's hash browns.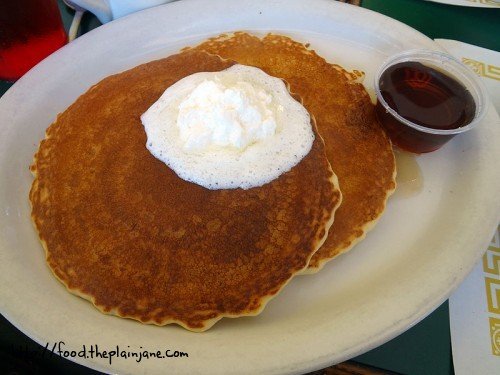 [with a side of pancakes]
The pancakes are light and fluffy and evenly browned. A good dose of butter comes on top with warmed maple syrup on the side. Very tasty and very fulfilling.
All in all, Jake and I enjoyed our breakfast a whole lot. It's very simple, down to earth food – nothing frilly or fancy here, just basic, good eats. There's a lot of options available and we really felt like we could have gotten just one plate of food to share – all of the extra sides and fixings make for a very hearty and satisfying meal.
Lemon Grove Deli
7860 Broadway
Lemon Grove, CA 91945
(619) 464-2928
about this site
My name is Mary and I live in San Diego. I've been blogging since 2006 as a hobby - it's my fun, creative outlet! Some random things about me: I'm a front end web developer, I love peanut butter, cookies, warm cupcakes, puppy noses, star gazing, new bags of sugar, sprinkles, cupcake wrappers, egg rolls, eating french fries with ice cream, driving with the windows down, snuggling, wes anderson movies, staying up too late reading a good book and Jake. These are my adventures in all things food. Hope you enjoy the ride.
|
Download Media Kit
recent comments
my favorite childhood treat: pocky! (3)

caninecologne: My favorite pocky flavor besides the original is the "Men's" pocky. it's covered in dark and slightly bitter...
mary: The Matcha Pocky was on sale at Mitsuwa yesterday for $1.49 a box. The prices there ranged from $1.49 to $2.39 a box, depending on which flavor you...
Faye: My sis and I grew up on Pocky too. We adored it (just the regular ones dipped in chocolate). I've wanted to try the Matcha Pocky but it's...

dressing rehersal at whole foods market encinitas + holiday ideas + a giveaway! (2)

mary: I bought the dried porcini so it was a little less expensive. I didn't need a ton of it either, so I just looked through them all until I found...
Faye: That mushroom salt is a killer idea! I love it. I've seen their dried mushroom section in the Del Mar location but it was soooo expensive. I...

bella vista social club & caffé / la jolla – san diego, ca (6)

mary: Oh I forgot you went here too! It's not super close to my work but close enough! I'll have to ask about the desserts sometime.
caninecologne: Yay! I wish my work was close to this place! I'd be there like everyday! I like how open the restaurant it. Nice sparse decor too. We...