post:
This is the first time I've ever announced or decided to celebrate – but this blog is now SIX years old. It's weird to me to think the blog has been around this long. The first two years hardly count though since 2006 had only 5 posts and 2007 had only 6 posts (ooo, one more than the year before). 2008 is when posting started to happen regularly.
It makes me cringe a little to read the old posts and see the old photos, like this one: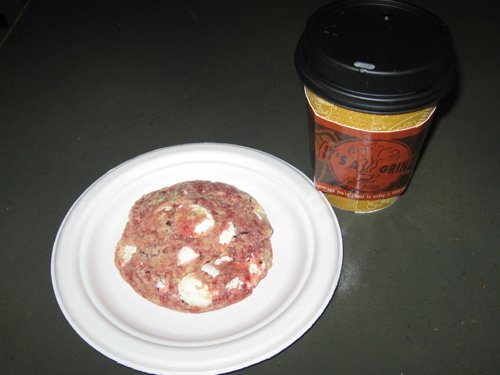 The pink cookie looks pretty washed out. Actually… now I kind of want to try making some pink cookies. Hmm.
Even after six years there's still so much to learn and so many ways to improve. There are still so many more places to visit and so many more desserts to bake!
Thank you for reading my little blog and joining me on this journey. As a thank you I'm doing a little giveaway!
In the spirit of adventure, I am giving away a $30 gift card from Gift Rocket to be used at your favorite restaurant (or that hole in the wall that you've passed by a thousand times and are curious about but have never actually gone in there).
To enter:
1. Leave a comment about what restaurant you'd like to try out with the Gift Rocket gift card.
2. For an additional entry, "Like" This Tasty Life on Facebook
3. For another entry, post about this entry on Twitter (or, follow me on Twitter @kyten).
4. For a final entry, follow this blog via your favorite RSS feed (note: if you already follow, that's okay! Just leave as a separate comment).
Please leave a separate comment for each of the above. Giveaway ends next Tuesday, May 29th at 8PM PST. Good luck and thanks for reading

about this site
My name is Mary. I love: peanut butter, cookies, warm cupcakes, puppy noses, star gazing, new bags of sugar, sprinkles, cupcake wrappers, egg rolls, eating french fries with ice cream, driving with the windows down, snuggling, wes anderson movies, staying up too late reading a good book and Jake. These are my adventures in all things food. Hope you enjoy the ride.

recent comments
blogiversary week + giveaway to big bite bacon fest (11)

mary: Thanks, CC! OMG, my blog is growing up too fast!
mary: Thank you, Kirbie!
mary: Sadly I haven't since I have not been to Portland (yet). Someday!
Hannah v: Mmmmm asparagus wrapped in bacon. Enough said…unless you mention bacon dipped in milk chocolate.
caninecologne: Happy Blogaversary to you!!!! You blog is in 2nd grade now! As for bacon, i love baking it in the oven slathered with maple syrup and a...
Lauren: Homemade potato salad with bacon in it….I have dreams about it.
stacey: My family (Mom's side) makes a non-creamy bacon coleslaw that I could downright eat myself sick on!