post:
My love of quick breads continues!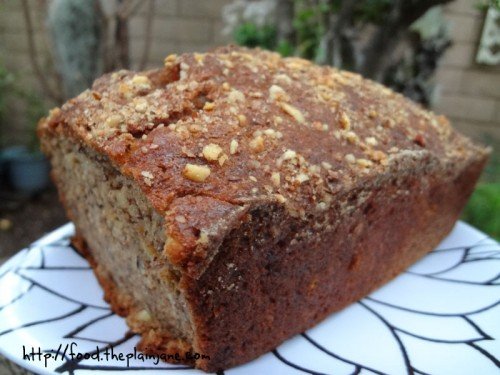 Bananas get eaten quickly in our house. Not by me. I only eat bananas because I know they're good for me. The texture makes me feel icky. But ripe bananas are excellent in quick breads and become an acceptable form of banana eating in my book.
I recently bought two big bags of almonds from Ralphs – they were hiding back in the clearance section. I thought they'd come in handy for something. I was right – they were really handy in this Banana Almond Bread!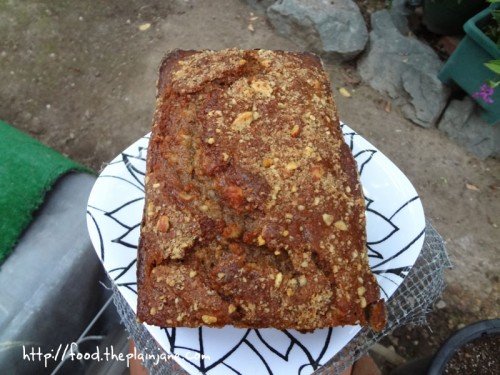 I used our Vitamix blender to chop up the almonds. Sometimes it does it's job just a little too well. The bottom almonds were ground a little too fine, so I ended up sprinkling those on top of this bread.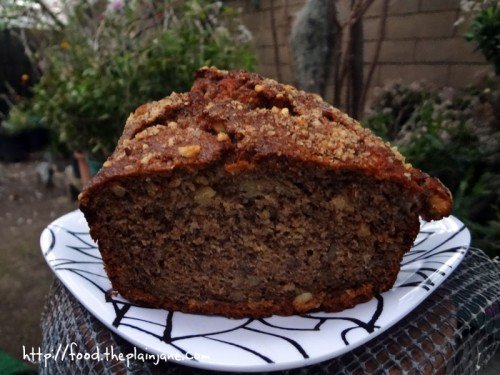 Makes the bread look all nutty and delicious, I think.
I also used a mish-mash of recipes (like I usually do). This loaf ended up higher and fluffier than past breads with the additional leavening agents (both baking powder and baking soda were in the mix this time).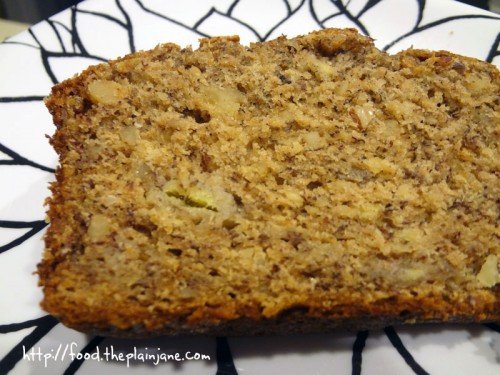 Lookit all of those almonds! Ohhh, this is a good bread. I hope you try it!
Banana Almond Bread
1/2 cup brown sugar
1/2 cup white sugar
1/3 cup canola oil
2 large eggs, beaten
4 mashed, ripe bananas (mash with a fork until smooth)
2 teaspoons vanilla extract
2 cups all-purpose flour
1 teaspoon baking soda
1 teaspoon baking powder
1 teaspoon salt
2 teaspoons cinnamon
1/2 teaspoon nutmeg
1/4 teaspoon ground cloves
1/4 cup milk
1 cup chopped almonds
1/4 ground almonds
Mix together sugars and oils until well blended. Add in beaten eggs. Then add in mashed bananas and vanilla.
In another bowl, sift together the flour, baking soda, baking powder, salt, cinnamon, nutmeg and cloves. Add to the wet mixture.
Add in milk and chopped almonds. Mix well. Add mixture to a greased and flour loaf pan. Sprinkle ground almonds on top of the loaf.
Bake for 1 hour in a preheated 350 degree oven. Cool on a rack.
about this site
My name is Mary. I love: peanut butter, cookies, warm cupcakes, puppy noses, star gazing, new bags of sugar, sprinkles, cupcake wrappers, egg rolls, eating french fries with ice cream, driving with the windows down, snuggling, wes anderson movies, staying up too late reading a good book and Jake. These are my adventures in all things food. Hope you enjoy the ride.

recent comments
blogiversary week + giveaway to big bite bacon fest (11)

mary: Thanks, CC! OMG, my blog is growing up too fast!
mary: Thank you, Kirbie!
mary: Sadly I haven't since I have not been to Portland (yet). Someday!
Hannah v: Mmmmm asparagus wrapped in bacon. Enough said…unless you mention bacon dipped in milk chocolate.
caninecologne: Happy Blogaversary to you!!!! You blog is in 2nd grade now! As for bacon, i love baking it in the oven slathered with maple syrup and a...
Lauren: Homemade potato salad with bacon in it….I have dreams about it.
stacey: My family (Mom's side) makes a non-creamy bacon coleslaw that I could downright eat myself sick on!