post:
Could this place be an acceptable substitute for my favorite Gagoline Brothers? You'll just have to read on to find out!
I'm always on a quest to find good Philly Cheesesteaks. Gagoline Brothers has been my favorite place to get one for a long time and it's hard to compete with that place.
I recently obtained a coupon to try out the Philly Grill, a little place in North Park. It's not in the heart of North Park but rather a little ways down University Ave.
Jake, T and I stopped in for lunch one day to check the place out. This place is TINY. There are three tables inside and two outside and it's quite cramped inside. When we arrived a party was already using all of the indoor tables and so we had to scoot outside for a bit. We moved back inside when the other people left.
There was a bit of confusion when we ordered our food. The cook was the only one in the place and she got a bit confused and flustered with our coupon and had to go next door to the liquor store to get the owner to come over and work the register. This happened with pretty much all of the customers that came in after us. I hope that it was just a fluke, that someone was out sick that day or something, because I found it kind of annoying.
Our food also took a really long time to make. There was only one couple ahead of us ordering so I'm not sure why there was such a long wait. But despite these setbacks, I have to say that I did enjoy the food. The cook did offer to give us double meat on our sandwiches to make up for the delay in getting our food and she apologized more than once, which I did appreciate.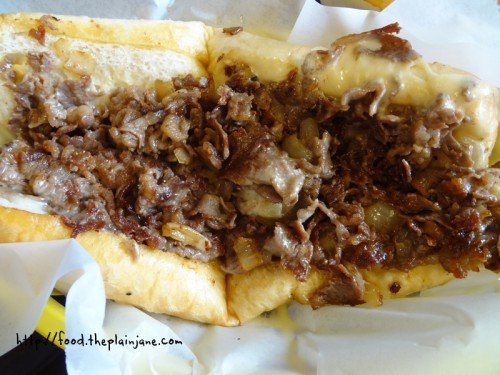 [Original Philly - 9" / $6.49]
Jake and I both got our philly cheesesteaks with white american cheese and onions. T got his with wiz and no onions. The cheese choices here are Provolone, Swiss, White American, Wiz and I always go with White American now. I used to get Provolone, but I've found that I prefer the sharpness and flavor of the White American much better.
This cheesesteak was quite good – well seasoned meat, good amount of cheese that was properly mixed and melted into the meat and the perfect amount of onions on the cheesesteak. The only thing I didn't like was that the bread wasn't toasted, but that's a minor thing. I also didn't really believe that my sandwich was double meat, which had less than the one above (which was Jake's sandwich). Oh well.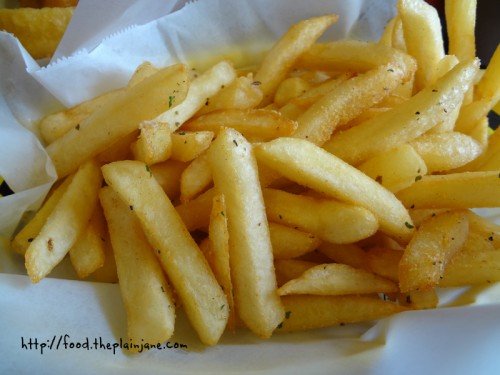 [Basket of French Fries - $1.99]
The fries had a little bit of herbs sprinkled on top and I really liked that. Just a little touch. Perfectly fried and golden.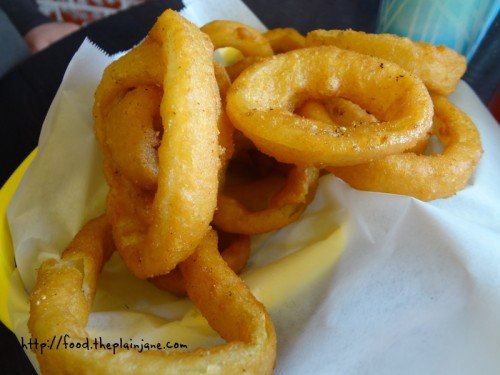 [Basket of Onion Rings - $2.49]
I'd pass on getting the onion rings again. While they were good, they were a little too greasy for my tastes. These are the typical beer-battered style rings you find in most spots.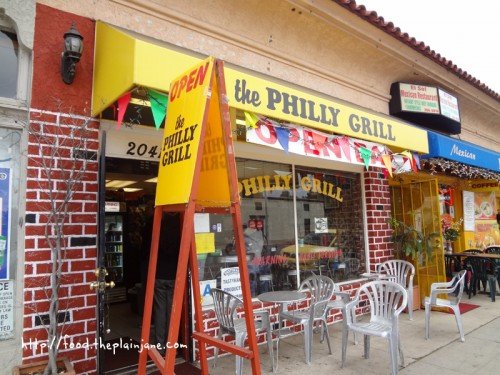 [The Philly Grill]
The taste of the sandwich, while still not quite as good as Gaglione Brothers, is a good 2nd place choice. If they could fix up their customer service and wait time I'd be quite a bit happier with the place. Hopefully my visit was just a fluke though – I'll have to revisit and see how it goes a second time around!
The Philly Grill
2041 University Ave
(between Alabama St & Florida St)
San Diego, CA 92104
(619) 688-9437
about this site
My name is Mary. I love: peanut butter, cookies, warm cupcakes, puppy noses, star gazing, new bags of sugar, sprinkles, cupcake wrappers, egg rolls, eating french fries with ice cream, driving with the windows down, snuggling, wes anderson movies, staying up too late reading a good book and Jake. These are my adventures in all things food. Hope you enjoy the ride.