post:
One rainy evening I was on my own for dinner.
Since it was just me, I didn't feel like dirtying up a whole kitchen just to feed myself. All I wanted to do was sit inside in pajama's and read all night. But I still needed to eat, so I trekked out to an old haunt for some fresh and tasty comfort food. Comfort food seems to taste better on rainy days, don't you think?
I headed out to the Chicken Pie Diner out in good old Poway. I used to spend lots of time in Poway, going to the dog park there and trying out a bunch of different restaurants.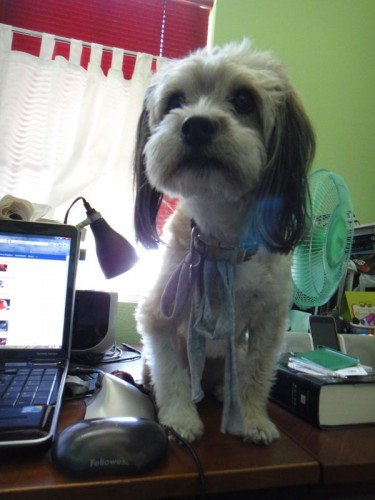 Now I don't Maya to the dog park very much anymore and I'm sure it makes her sad, but I think she forgives me.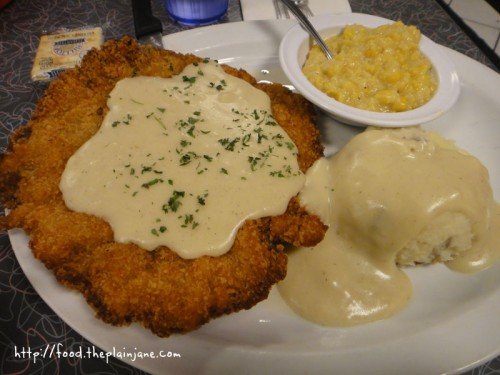 [Chicken Fried Steak dinner with mashed potatoes and creamed corn - $11.99]
Nothing says comfort food quite like a big old chicken fried steak and a pile of mashed potatoes and gravy. This is no wimpy steak, either. It's took up half of my plate with it's delicious crunchiness! It was cooked perfectly with that lovely golden crust and some gravy smothered on the top. The mashed potatoes are also the real kind – chunky in places with that tasty gravy. The creamed corn was also a delight that evening, a lovely sweet addition to my plate.
Dinners also come with coleslaw but I substituted it for a bowl of their corn and clam chowder soup for an additional 99 cents. Totally worth it.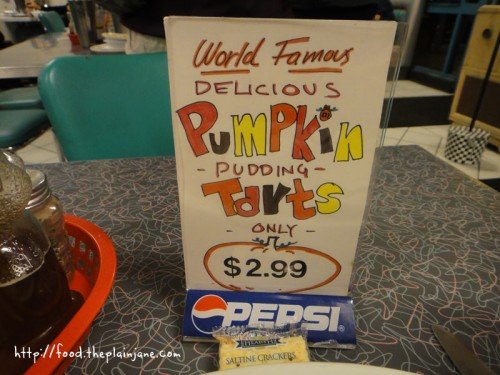 I saw this little sign on my table as well. You know I couldn't resist.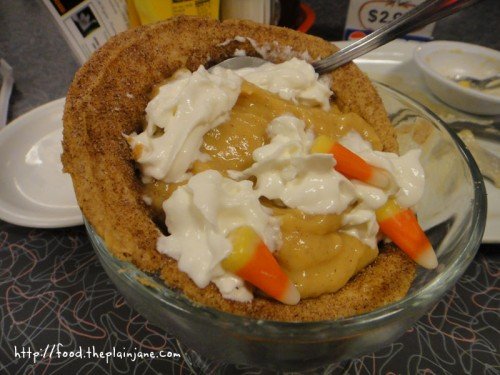 [Pumpkin Pudding Tart - $2.99]
I didn't finish all of my comfort food dinner and ended up taking about half of it home, but I have a dessert stomach and was able to fit about half of this into my tummy before calling it quits for the night.
This is a Pumpkin Pudding Tart! The tart shell had a good sprinkling of cinnamon and sugar on it, reminding me of the flavors of a snickerdoodle cookie, but as a crust instead. The pumpkin pudding was quite smooth and creamy, with the delicate addition of spices and flavors very similar to pumpkin pie. I really, really enjoyed this pumpkin dessert – so much so that I want to try and make something like it for Thanksgiving next week! Well, we'll see how that goes.
The Chicken Pie Diner is a 50′s style diner serving up a good variety of comfort food and old, classic dishes.
Chicken Pie Diner
14727 Pomerado Road
Poway, CA 92064
(858) 748-2445
(Located inside the Target Shopping Center)
about this site
My name is Mary and I live in San Diego. I've been blogging since 2006 as a hobby - it's my fun, creative outlet! Some random things about me: I'm a front end web developer, I love peanut butter, cookies, warm cupcakes, puppy noses, star gazing, new bags of sugar, sprinkles, cupcake wrappers, egg rolls, eating french fries with ice cream, driving with the windows down, snuggling, wes anderson movies, staying up too late reading a good book and Jake. These are my adventures in all things food. Hope you enjoy the ride.
|
Download Media Kit
recent comments
college area taste 2014 recap (10)

mary: Hi Cynthia! Haha, I totally don't mind being stopped to a chat, if you see me again say hi!! We had our tupperware stored in a backpack for Taste...
cynthia: I saw you guys at Taste of Hillcrest but… I don't know, just didn't want to seem like a weirdo talking to you! haha I didn't...
mary: Hi CC – If we hadn't done the take out box, I don't think we'd have been able to do this many places! The take out box let us...