post:
I went to San Diego High school back when it had open campus for lunch. There were times where we'd take off into Downtown to grab something to eat – usually at the Great Wall for $.99 cent Chinese items – and other times where we'd head to Horton Plaza.
Back then they had a place called Boardwalk Fries where you could get a cup of freshly made, skin-on french fries drenched in cheese. I remember thinking it was the bestest thing ever. I always wanted to get a Gyro sandwich and some of those Boardwalk Fries.
Fast forward to the present. If you've been to Horton Plaza lately you know Boardwalk Fries has been replaced with Super Fries. They have much of the same items such as the cheese fries and chili cheese fries. They also offer Jalapeno & Cheese, Bacon & Cheese or Ranch fries in addition to hot dogs, hot wings and onion rings.
Jake got us an order of large fries to share. With cheese, of course.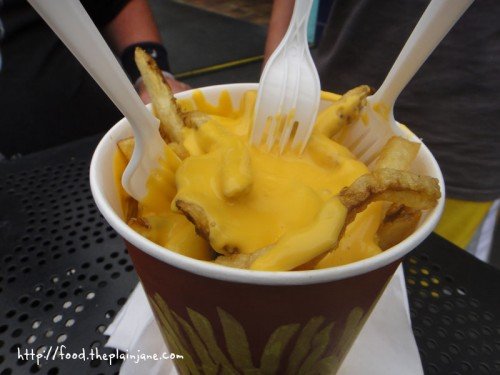 [Large Cheese Fries - $5.45]
The large is quite big. We got three forks since Jake and I shared with his oldest son, T.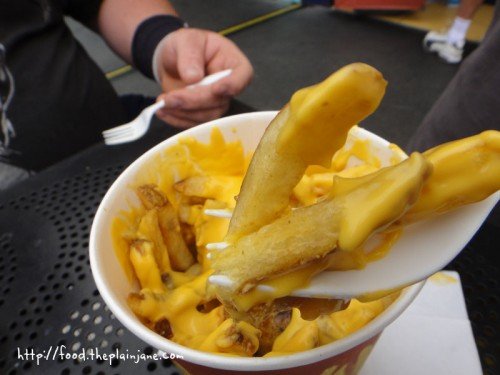 Here's a forkful before it went straight into my mouth.
The fries were sort of similar to what I remember of Boardwalk Fries – but not quite. These cheesy super fries were generously cheesy – the cheese was present in the whole cup, all the way down to the very bottom, so at least they don't skimp there! The fries could have been a bit crispier/creamier for my tastes, but they weren't bad. Just not the best I've ever had. The cheese got to be a bit too salty for me after awhile but since we were sharing I was able to get through it.
I wouldn't turn down these fries again in the future, but I wouldn't go out of my way to get them again either.
Horton Plaza continually changes as do most places. My memories are still with me though and I'll just have to get my tasty french fries fix at hopefully a closer and better tasting location.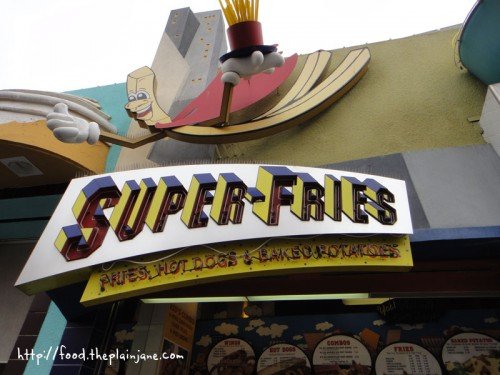 Super Fries
463 Horton Plaza
San Diego, CA 92101
(619) 232-1840
about this site
My name is Mary. I love: peanut butter, cookies, warm cupcakes, puppy noses, star gazing, new bags of sugar, sprinkles, cupcake wrappers, egg rolls, eating french fries with ice cream, driving with the windows down, snuggling, wes anderson movies, staying up too late reading a good book and Jake. These are my adventures in all things food. Hope you enjoy the ride.

recent comments
blogiversary week + giveaway to big bite bacon fest (11)

mary: Thanks, CC! OMG, my blog is growing up too fast!
mary: Thank you, Kirbie!
mary: Sadly I haven't since I have not been to Portland (yet). Someday!
Hannah v: Mmmmm asparagus wrapped in bacon. Enough said…unless you mention bacon dipped in milk chocolate.
caninecologne: Happy Blogaversary to you!!!! You blog is in 2nd grade now! As for bacon, i love baking it in the oven slathered with maple syrup and a...
Lauren: Homemade potato salad with bacon in it….I have dreams about it.
stacey: My family (Mom's side) makes a non-creamy bacon coleslaw that I could downright eat myself sick on!