post:
Paradise Grille and Bar in Del Mar, CA is a quaint, semi-fancy little joint in the Flower Hill Mall near the Del Mar Fairgrounds. I got a Groupon for this place when they were promoting various burger deals. The deal for this place was 2 burgers and drinks for one price (I think it was $15). I took Laura with me for a girl's night out and we spied the Happy Hour menu before going in. We were tempted to ditch the coupon and order off that menu instead (on Mondays, Happy Hour is all night – appetizers are about $5 less than regular price) but opted to go and use the coupon in the end.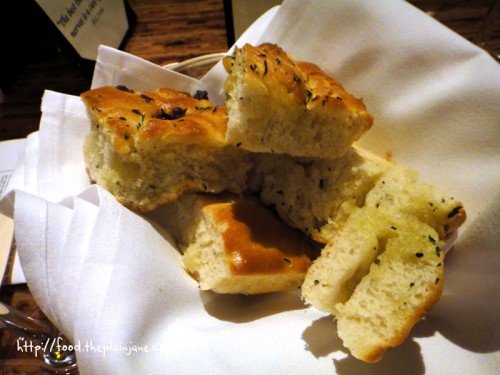 We were seated in a cozy booth near the bar area and were greeted with a warm basket of herbed focaccia bread. It had a lovely flavor – a little drizzle of olive oil and herbs made for a nice pre-meal snack.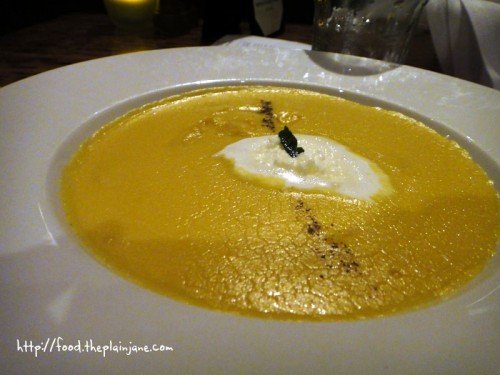 I also deviated from the coupon a little to order a bowl of this Summer Corn Soup ($7). I expected it to be like a corn chowder, with chunks of corn within the soup, but this was a completely smooth soup. It was velvety in texture, creamy and slightly sweet from the corn. It had a little sage crisp on top, a nice complimentary flavor that I really enjoyed as well as Moroccan Creme Fresh (that's what it says on the menu). I'm not sure what made it Moroccan, but it added a little extra creaminess to the soup. I ended up really loving this dish! Our waiter told us that the soups rotate with the seasons, such as in the fall they usually have a butternut squash soup. After having this one, I want to come back each season just to try the other soups!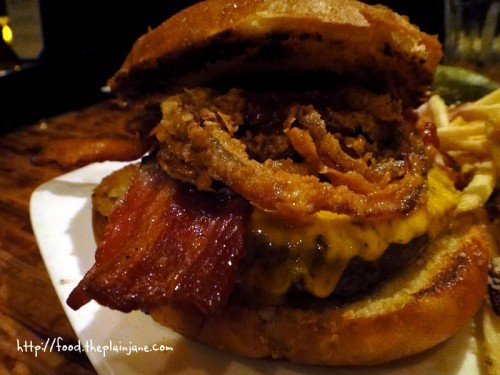 Onto the burgers! I wasn't adventurous and stuck to a tried and true mixture of toppings: this is the BBQ Bacon Cheddar burger ($15). Cooked medium with onion strings, bacon, and oozing melty cheese. The toppings were on the side, if I choose to put them on (I did).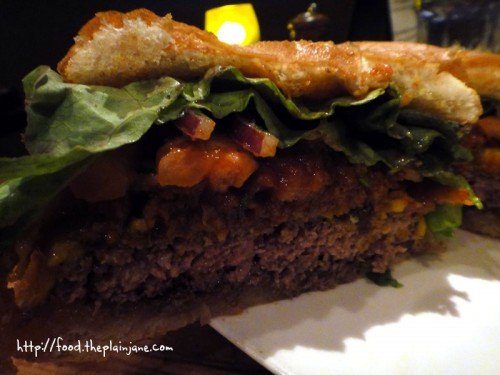 Here's a poorly lit cross-section of my burger, filled to the brim with toppings. I really liked the buns that they used here (I'm picky about my bread) – it was soft and pliable and was lightly toasted. The burger was cooked just the way I like it and the greens and other toppings were super fresh and made this quite a tasty burger. I only ate half because it was quite a large burger (and I was filled with delicious corn soup). I'd say though that if I came here sans coupon, I would have ordered something else. Not that I didn't like this burger, but usually if I go out to a new place like this one, I'd want to try their other selections. But since the coupon was for burgers-only, I was still happy with my choice. It's hard to mess up a burger.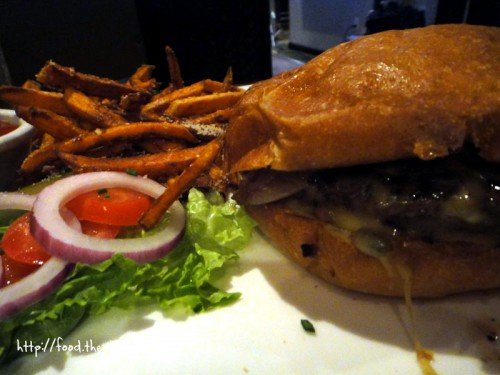 This is Laura's burger with sweet potato fries. Again, what terrible lighting! The lights were in front of us so it was hard to make pretty photos. Oh well. Also – I am a bad blogger and I forgot what she ordered (and sadly I can't tell from the photo). But I do remember she liked it! And she liked the soup just as much as I did!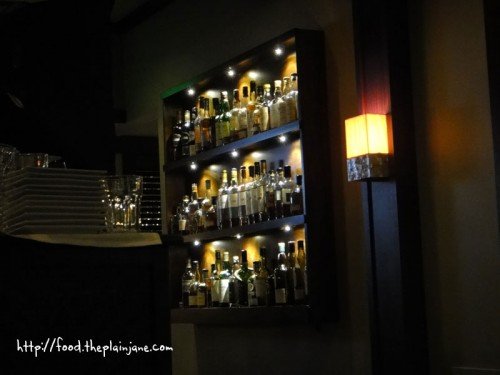 This is a photo of their "Wall of Scotch". They had a bunch of lighting equipment set up in the corner near the Wall O' Scotch. We asked our waiter what was going on (he was more than happy to chat with us) and told us they were doing some kind of photo session and taking pro photos of their special wall. Course, I don't remember why now. I can't remember if it was for marketing or some kind of feature piece. Also, I loved that wall sconce.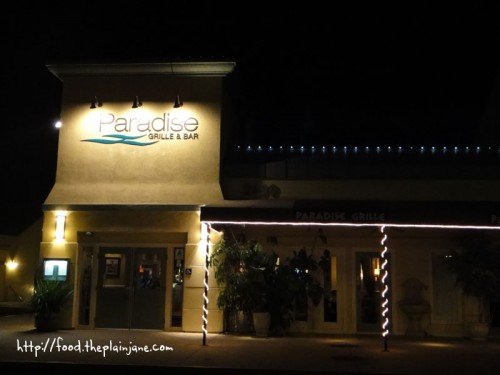 All in all we had a lovely time here. Laura and I want to go back and share a few items off their happy hour menu (as I mentioned before) since it is a bit on the pricier side here. I did find out though that they have a Reward E-Club in which you can get free birthday entree's and free anniversary dinners as well as the ability to earn points for gift certificates. Of course I already signed up – birthday month is on the horizon!
Paradise Grille & Bar
2690 Via De La Valle
Del Mar, CA 92014
(858) 350-0808
about this site
My name is Mary and I live in San Diego. I've been blogging since 2006 as a hobby - it's my fun, creative outlet! Some random things about me: I'm a front end web developer, I love peanut butter, cookies, warm cupcakes, puppy noses, star gazing, new bags of sugar, sprinkles, cupcake wrappers, egg rolls, eating french fries with ice cream, driving with the windows down, snuggling, wes anderson movies, staying up too late reading a good book and Jake. These are my adventures in all things food. Hope you enjoy the ride.
|
Download Media Kit
recent comments
college area taste 2014 recap (10)

mary: Hi Cynthia! Haha, I totally don't mind being stopped to a chat, if you see me again say hi!! We had our tupperware stored in a backpack for Taste...
cynthia: I saw you guys at Taste of Hillcrest but… I don't know, just didn't want to seem like a weirdo talking to you! haha I didn't...
mary: Hi CC – If we hadn't done the take out box, I don't think we'd have been able to do this many places! The take out box let us...