post:
I'm always interested in trying out a new cupcake place in the hopes of finding that "perfect cupcake". Maybe there is no such thing but it's fun to go on the journey and see how different shops do cupcakes!
Jake, the kids and I were in Hillcrest one evening and after dinner we walked over to Babycakes to get some dessert. Babycakes has a bakery area on one side and a bar on the other side of the shop with outdoor seating up front. It's kind of interesting to see a bar and a bakery together in one shop. They have regular food here, plus a cocktail menu and they serve brunch on the weekends in addition to their cupcake and dessert offerings. We were here just for dessert!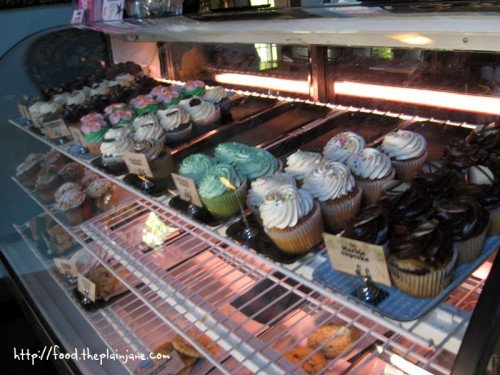 A little view of some of the cupcake offerings. They had a bunch of different flavors available.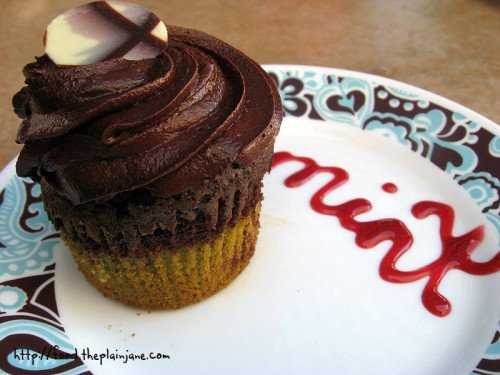 This is one of the kid's cupcakes – a Chocolate Mint cupcake. I thought it was so cute that they spelled out words on the plate. It made for a fun, quirky presentation.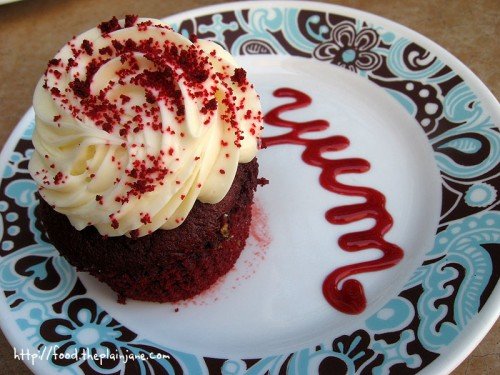 This is Jake's Red Velvet cupcake. It had red velvet crumbles sprinkled on top of the cream cheese frosting.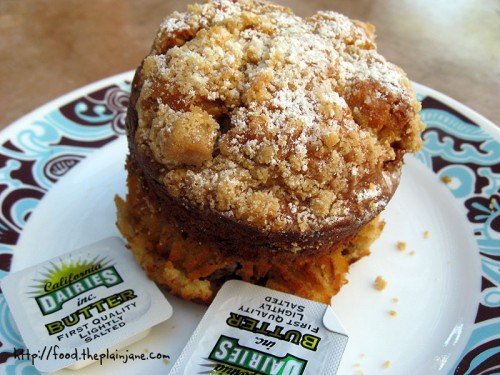 Jake's son broke away from the pack and decided to get a Banana Nut Muffin which was warmed up for him. It has a crumble on top with a little powdered sugar and a good flavor and good amount of nuts throughout the muffin.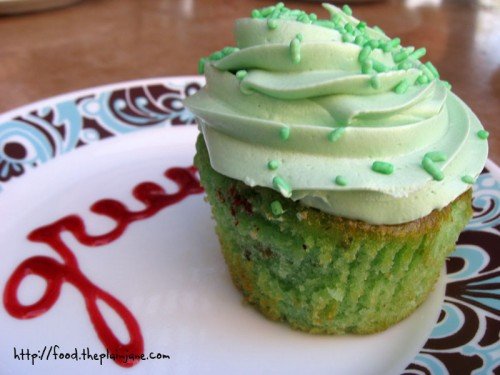 I decided to go with the Pistachio cupcake. I liked the flavor of the cupcake and thought this one was better than the other cupcakes. The flavor was a bit more prominent in this cupcake and I liked the flavor and nuts throughout. I thought the other cupcakes fell a bit flat and were a little bit dry.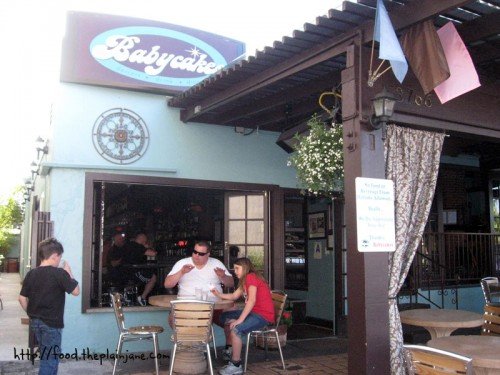 We all thought the muffin was the best item overall that day instead of the cupcakes. I still vouch for my pistachio cupcake though!
Babycakes
3766 Fifith Avenue
San Diego, CA 92103
619-296-4173
about this site
My name is Mary and I live in San Diego. I've been blogging since 2006 as a hobby - it's my fun, creative outlet! Some random things about me: I'm a front end web developer, I love peanut butter, cookies, warm cupcakes, puppy noses, star gazing, new bags of sugar, sprinkles, cupcake wrappers, egg rolls, eating french fries with ice cream, driving with the windows down, snuggling, wes anderson movies, staying up too late reading a good book and Jake. These are my adventures in all things food. Hope you enjoy the ride.
|
Download Media Kit