post:
I FINALLY made it to Urban Solace! I feel like it took me forever to visit, but I'm glad I finally did! I tried to go one evening on a Saturday, but that turned out to be a bad idea since the wait was 1 hour. No, thanks. I ended up going during the middle of the week with Jake in the early evening so it wasn't very crowded and we got to sit outside on their little patio. It was a little gray out, but the heat lamps outside provided some comfort and made it enjoyable to eat outdoors. What's the use of living in San Diego if you don't eat outside and enjoy our nice weather?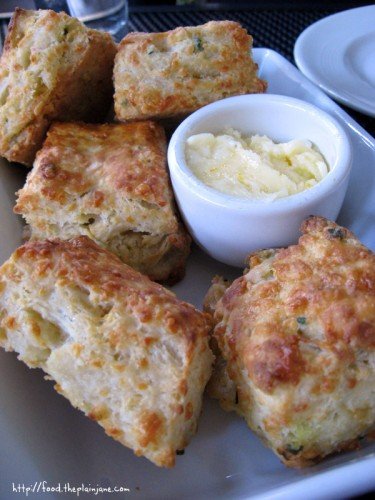 I've always read about the rave review for these Cheese Biscuits with Orange-Honey Butter ($5.50) and now I can finally see why. These are some of the best biscuits I've ever had, no joke. I even like them more than the infamous "Red Lobster Cheese Biscuits"! Though, those are still really, really tasty. I don't know what it was about these biscuits that made them over the top. Let's see if I can list it out: they're flaky, they're tender, they were PIPPING HOT (love, love, love), cheesy, and melt-in-your-mouth good. The orange-honey butter was also divine – I loved that you could see the orange rind in the butter and that it wasn't an overpowering flavor but rather a nice complement to rest of the biscuit. I'd totally go back to just eat biscuits. Yum, yum, yum!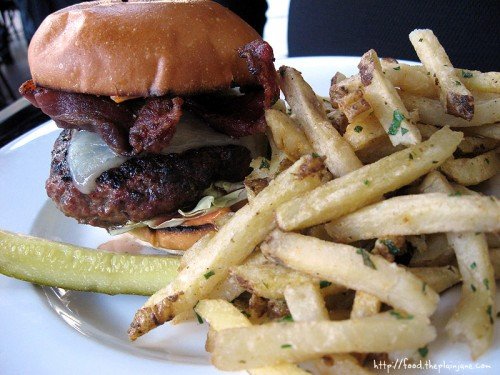 Jake decided to order the Niman Ranch Chuck Burger with Bacon ($9.75 + $2 for the bacon). He gave me a little bite before quickly polishing off this burger – it was nice and juicy, I remember that. Jake thought this was one of the best burgers he's had in town (maybe a close 2nd to the BBQ Bacon burger at Eddie's down the street). We also both really liked the fries. They reminded us both of the fries you could get at "Boardwalk Fries" that used to be in Horton Plaza – skin on fries cooked in peanut oil with your choice of topping – those things were the best! We liked these natural cut fries a lot, too, with their bit of herbs sprinkled on top.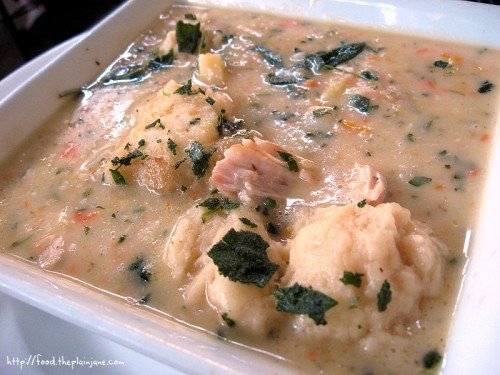 As for me, I ended up getting the Pulled Chicken and Buttermilk Dumplings ($15.75). This was like the ultimate chicken and dumplings dish – total comfort food! The broth was warm and flavorful with bits of carrots, herbs, and veggies strewn throughout the soup. The dumpling were fluffy and cooked just right with a nice consistency (not too doughy) and the chicken was spot on. There was fried sage on the dish as well which just gave it another level of flavor that I really enjoyed. Top notch!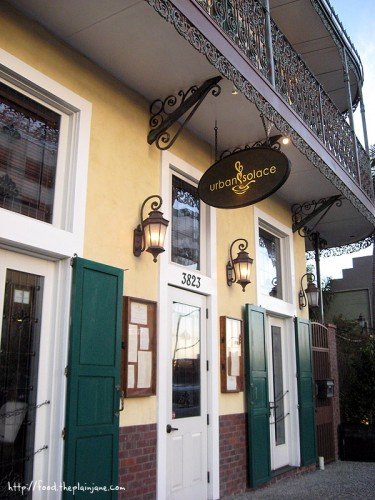 Jake and I were also told by some ladies we met at another restaurant that we should come back here for brunch to try their cinnamon rolls. Has anyone else had them? I almost went again this past weekend to check it out, but instead tried the Sunday Brunch at Eclipse Chocolate (post coming soon). I will definitely be back to Urban Solace – if only for the biscuits!
Urban Solace Restaurant
3823 30th Street
San Diego, CA 92104
Hours:
Mon – Thurs: 11:30am to 10:00pm
Friday: 11:30am to 11:00pm
Sat: 10:30am to 11:00pm
Sun: Brunch from 10:00am to 2:30pm & dinner from 5:00pm to 9:00pm
about this site
My name is Mary and I live in San Diego. I've been blogging since 2006 as a hobby - it's my fun, creative outlet! Some random things about me: I'm a front end web developer, I love peanut butter, cookies, warm cupcakes, puppy noses, star gazing, new bags of sugar, sprinkles, cupcake wrappers, egg rolls, eating french fries with ice cream, driving with the windows down, snuggling, wes anderson movies, staying up too late reading a good book and Jake. These are my adventures in all things food. Hope you enjoy the ride.
|
Download Media Kit