post:
It's October. My favorite month of the year and not just because it's my birth month! Fall is my favorite season and October is usually the start of it. Halloween, pumpkins, the starting of the chill in the air, and when I was living in Boston for college, the changing of the leaves.
While I love San Diego and our beautiful weather, I do from time to time miss those changing of the seasonings and Fall makes me miss it the most. I remember looking out of our dorm room window and noticing that the leaves turned color first on the Cambridge side of the river instead of the Boston side. Maybe it got colder in Cambridge first? Ah well, who knows.
The start of October also means the start of getting free birthday stuff in my inbox. This is a new item added to my list: the free Starbucks.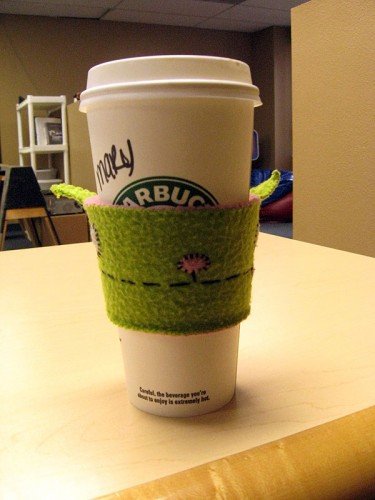 The don't give you the cute fuzzy cozy, either, you got to get your own.
If you get a Starbucks card (one of those little gift cards) – register it online and they'll send you (by mail) a postcard with a coupon for a free drink at Starbucks (any drink!). I got the Pumpkin Latte in a large Venti size. I honestly don't know how anyone drinks this much coffee – you must have a stomach of steel. I could only muster up enough to drink half and save the rest for later.
Thanks, Starbucks, for being the first to wish me a happy birthday. More "free birthday things" posts to come!
recent comments
la dumpling crawl (6)

Lynn @ Oh-So Yummy: What a fun mission! How did you come up with the list of where to go?...
Kirbie: This post is making me hungry. I've never been to Hui Tou Xiang. Interesting that...
leanne: Your food crawlers have the best comments and notes on the dumplings! I think my favorite...

hanna's gourmet / university heights (4)

caninecologne: Was Hannah there when you went? She is such a nice lady! That's cool you...
Lauren: Berry ricotta pancakes?! Sign me up! Anything with ricotta is a-okay in my book. Those...