post:
Canada Steak Burger is a place that Jake and I passed many times. He's had a few people tell him the food is good but we seemed to always forget about it. We tried stopping in before this visit but couldn't find any parking; the lot is very small and there's not always street parking around. The gods shone down on us on this day though as we grabbed a spot in the teeny parking lot and made our way inside.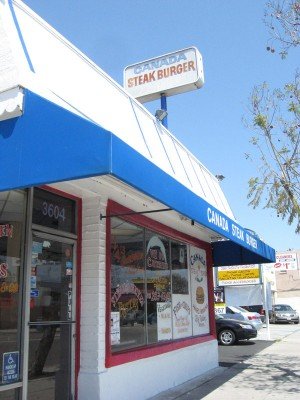 Since we had only passed by, we didn't know that this place sold Greek food – we thought it was just a burger joint! But they have a full menu with gyros, various sandwiches (philly cheesesteaks, blt's, chicken sandwiches), porterhouse steak (!), shrimp and other Greek items like Souvlaki, Falafel and Spanakopita. We took it easy and just ordered burgers – with gyros on top!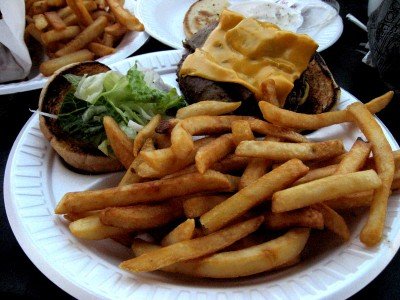 I'm sorry this picture kind of sucks – you can't really see the gyros under the cheese, but it's there! A good amount of gyros were placed on top of my burger (I got the 6oz – $3.49 – plus .99 cents for the gyro addition). It was a juicy burger and the gyros were a nice, additional flavor onto the meat. The gyro meat is also cooked well – who would have ever thought to add it to a burger (except for these guys)? Excellent idea!
If you're ever cruising up University Ave. and spot this little joint, it's highly recommended that you stop in for a bite. They've got a varied menu to try and the prices are pretty decent!
Canada Steak Burger
3604 University Ave
San Diego, CA 92104
(619) 283-4345
« Previous Post - ciao bella / la mesa | san diego, ca
|
Deal at Ciao Bella - Next Post »
subscribe to this tasty life
recent comments
desert road trip preview (4)

caninecologne: Wow, I thought that was a different dog because I usually think of Maya as having...
Faye: Is that Maya in the first photo?! Her fur looks like it got a tan

happy blogiversary! (14)

Jinxi: Happy blogiversary Mary!! I love that first photo hehe. So happy that we got to meet thru...
caninecologne: Happy Blogaversary Mary! Our blogs are both 9 now. Almost a decade! I love that...
Lynn @ Oh-So Yummy: I can't believe that 4-5 posts a week is slowing down. I can hardly...