post: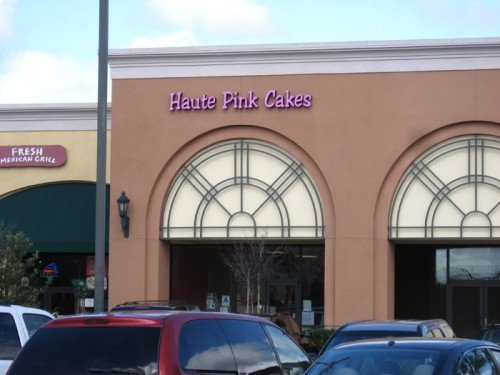 Update: This shop is now closed.
A few weeks ago I purchased a Groupon for Haute Pink Cakes. It was a stellar deal – $8 for half a dozen cupcakes. Being the baker that I am, I couldn't resist the lure of cupcakes. I traveled up to  Rancho Penasquitos to visit the shop and see what cupcakes they had available that day. The shop doesn't open until 12PM so I had to kill a little time before it opened.
The shop is just a small place – there's no seating inside even though it looks like it could be a little eatery/bakery. Just behind the counter you can see the array of ribbons and in-process cakes they have, plus a few of their cupcakes sitting out. They have mini cupcakes ($1.50 each), regular sized ($3 each) and jumbo sized cupcakes ($4.50 each). I had the option of getting mini or regular sized cupcakes and I went with regular sized.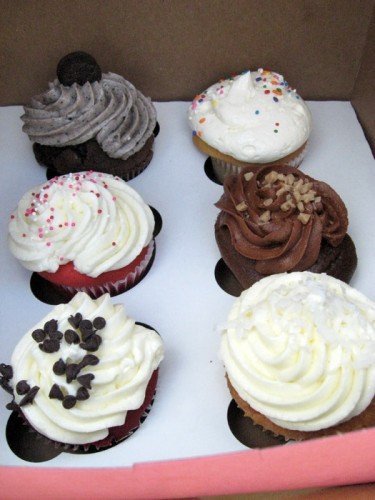 The flavors I got were (from top, left to right): Oreo, Vanilla with Whipped Cream Frosting, Chocolate with Nutella, Coconut, Red Velvet and Haute Pink Velvet (their signature flavor).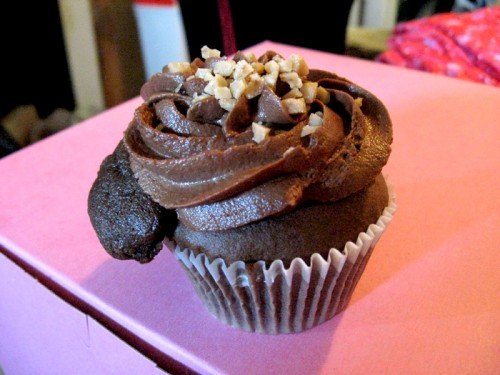 I shared the cupcakes with my boyfriend and his kids, so I did at least get to have a bite of every cupcake. One of the first ones I had was the above: the Chocolate with Nutella cupcake. It's got a Nutella buttercream and a small sprinkling of nuts on top. The cake was moist and almost creamy like and the frosting was really tasty. I like the extra little crunch from the nuts, too. So good!
My boyfriend, who doesn't really like chocolate, opted for the Vanilla with Vanilla Whipped Cream Frosting. I had a couple of bites of it, and it too was very good. Soft and moist and the frosting was creamy and not too heavy or too sugary.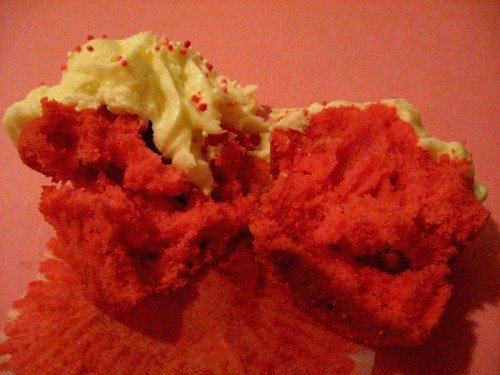 Their signature flavor is the Haute Pink Velvet cupcake – which is pretty similar to red velvet but it's – you guessed it – bright pink instead of deep red. This is topped off with a cream cream frosting which is pretty darn tasty as well.
The only thing I really noticed is that the cupcakes tasted a lot better in the morning then later that day, but you can say that for just about any baked good. The Oreo cupcake and the Coconut cupcakes were eaten later in the day and somehow didn't taste quite as good as the first ones I had. My favorites were the Nutella cupcakes and the Vanilla. Haute Pink Cakes has different daily cupcake offerings, so you can call ahead and ask or place an order for your own creations.
Haute Pink Cakes
7835 Highland Village Place
San Diego, CA 92129
858-538-PINK (7465)
about this site
My name is Mary and I live in San Diego. I've been blogging since 2006 as a hobby - it's my fun, creative outlet! Some random things about me: I'm a front end web developer, I love peanut butter, cookies, warm cupcakes, puppy noses, star gazing, new bags of sugar, sprinkles, cupcake wrappers, egg rolls, eating french fries with ice cream, driving with the windows down, snuggling, wes anderson movies, staying up too late reading a good book and Jake. These are my adventures in all things food. Hope you enjoy the ride.
|
Download Media Kit