post:
I love going to Mitsuwa (or any Asian market, really) to try crazy new things. I just love all of the packaging – crazy looking characters on the bag or box that are winking at you, enticing you to purchase the box and eat the lovely treats inside. And Mitsuwa has a variety of fun looking Japanese treats.
I was there the other day snooping around one of the snack aisles (I would akin this aisle to the potato chips aisle in an American supermarket) and spotted this gem: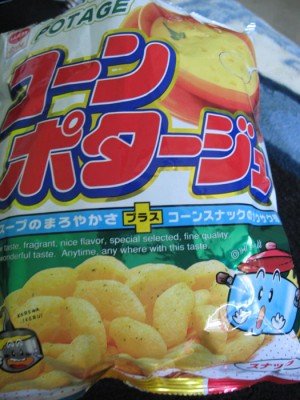 I can't read the actual name and the English label on the back simply calls them "Corn Snack". I will be referring to them as "Potage Puffs" because I think that's a more amusing name. There's a big bowl of corn chowder in the upper right corner plus two drawings of screaming pots saying something in Japanese. Yeah, I'm down.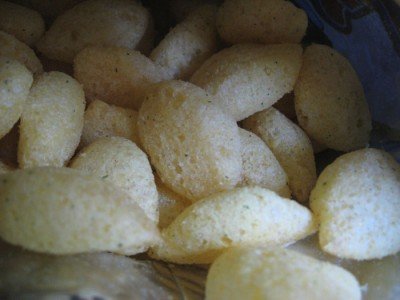 The potage puffs are light, airy and crispy little puffs of goodness. I popped a few of these into my mouth and crunched on them, figuring out the flavor. The taste is very much like creamed corn, sweet with a slight salty hint to it. At first they have a little aftertaste and you're not sure if you want to keep eating them because of the little aftertaste, but then you pop a few more into your mouth and pretty soon the bag is gone and you think, "hot damn. I think I like those."
My boyfriend also had a few and he couldn't stop eating them, either. I'll have to say that this fun Japanese snack gets an A in my book. The aftertaste is easy to get used to it and it's not bad per say, it's just something my palate isn't used to. If you're looking for fun, crazy, corn snacks, then you should pick these up and try them out yourself. They cost $1.99 a bag (3 oz) and are available at Mitsuwa Market.
about this site
My name is Mary. I love: peanut butter, cookies, warm cupcakes, puppy noses, star gazing, new bags of sugar, sprinkles, cupcake wrappers, egg rolls, eating french fries with ice cream, driving with the windows down, snuggling, wes anderson movies, staying up too late reading a good book and Jake. These are my adventures in all things food. Hope you enjoy the ride.