post:
A little scenic drive up into the mountains was what awaited us one recent Saturday…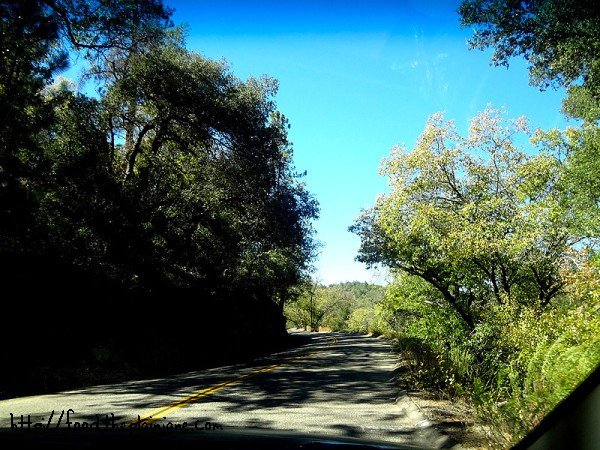 I always love the windy roads with trees covering both sides of the road.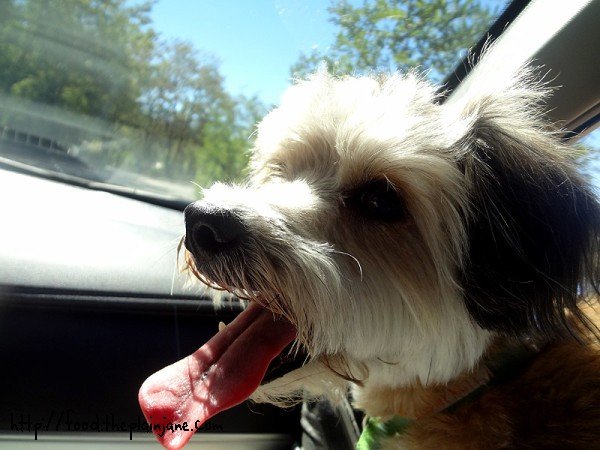 Maya was even part of the crew that day!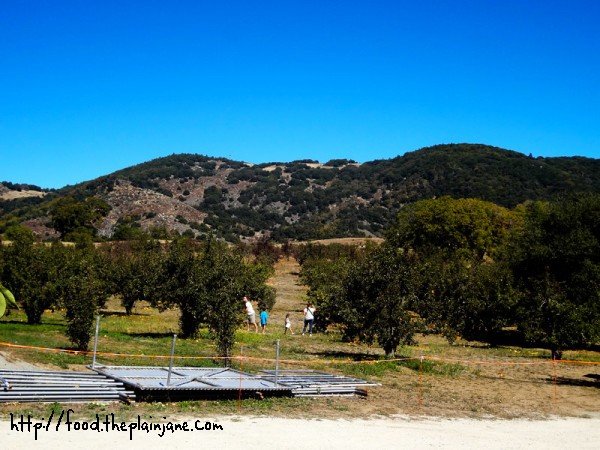 Eventually we made our way to our destination: O'Dell's Organic Orchard! To get to O'Dell's you have to pass through a packed road filled with people visiting a winery and an apple orchard. If you drive a bit down the road, the crowds thin out and you go up another winding path to the orchard. Someone directs you where to park and you get out to peek around.
O'Dell's Organic Orchard has approximately 400 pear trees with varieties such as Bartlett, Anjou, Bosc. O'Dell's is a certificated organic orchard so everything's safe to just eat off the trees. We were encouraged to sample and eat as many pears as we pleased!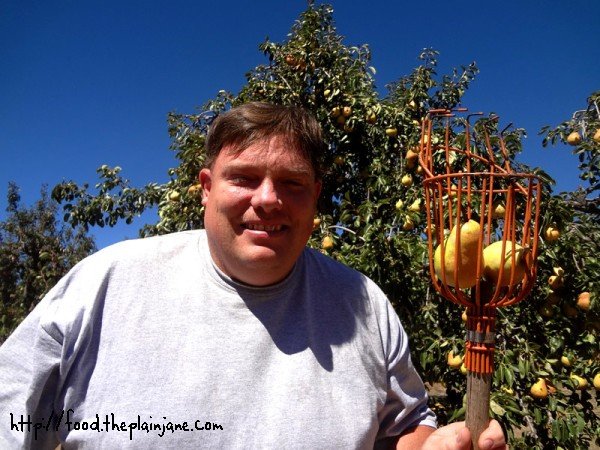 Not all the fruit is in easy picking distance, so Jake got this fruit picking tool (I'm sure it has some official name that I don't know) to help us out!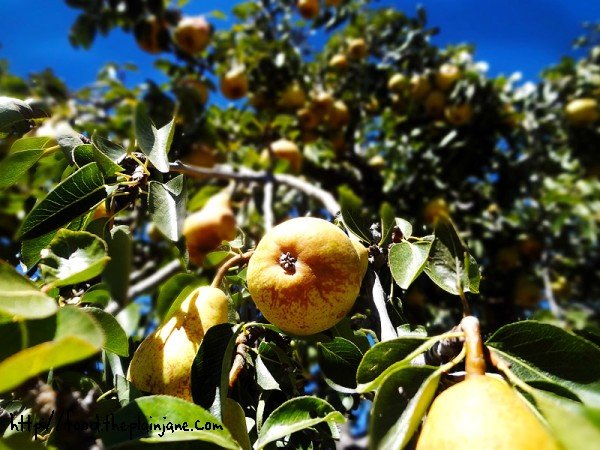 We wandered around the orchard, going from tree to tree and sampling the fruit.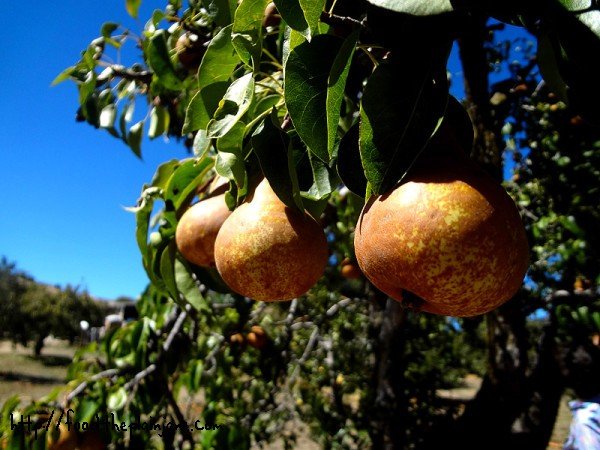 There were pears in different colors, shapes, and sizes. It was something hard to tell the varieties apart, but as long as you tasted it and liked it, then you were good to go!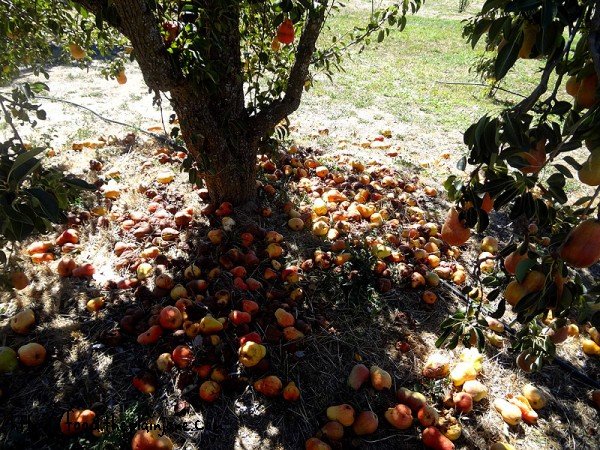 When we were done sampling the fruit, we were told to just toss it under the trees. There's quite the collection of fallen pears on the ground.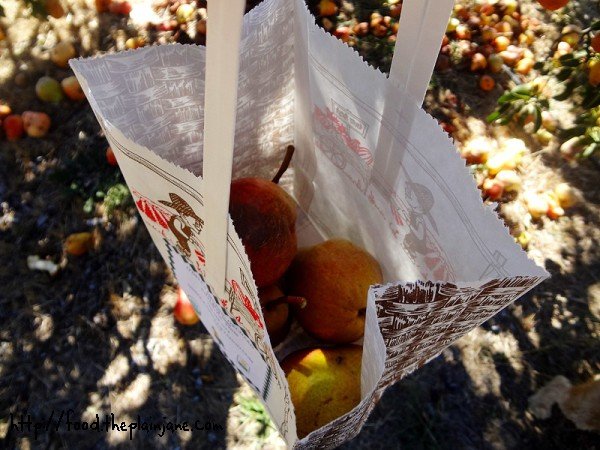 Here's our partially filled bag. You can bet this bag was overflowing with pears by the time we left! The cost is $10 a bag. They said a bag can hold about 6lbs of pears – I am certain we got that, if not more. Plus, you can OD on pear eating.
Laura and I, sampling a delicious pear.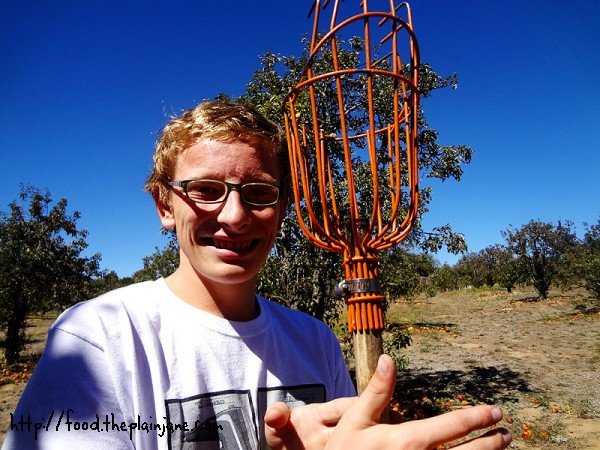 T in the midst of pear picking with the fruit picker thingamabob.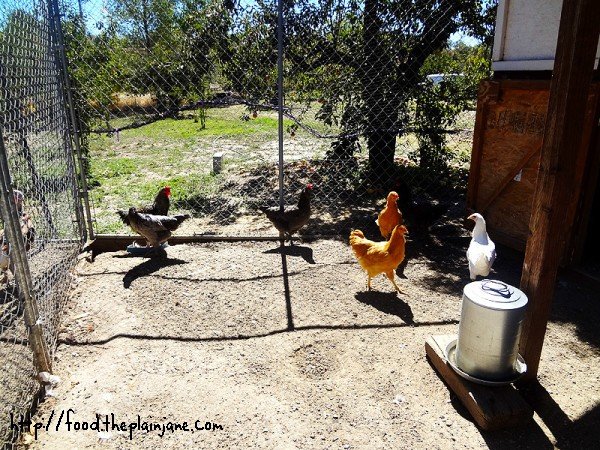 In addition to the pear trees, there's also animals here! They have chicken and turkey's (which Maya was very, very interested in).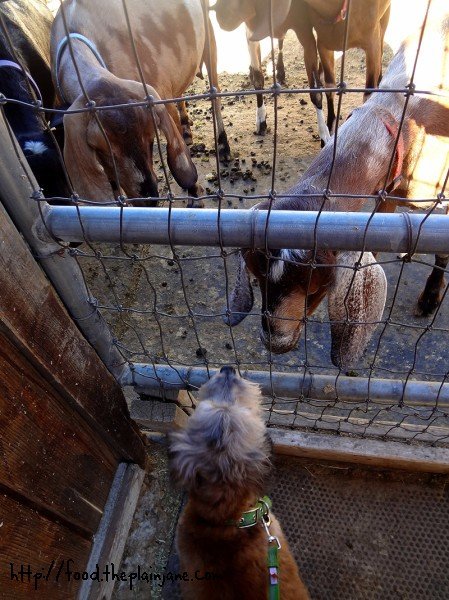 As well as horses and goats!
The goats were scared of Maya at first: They all backed far away from her when we approached the fence, but then one brave goat would come a few inches forward and then the rest of the herd would inch forward. This happened over and over again until one goat decided to investigate Maya up close!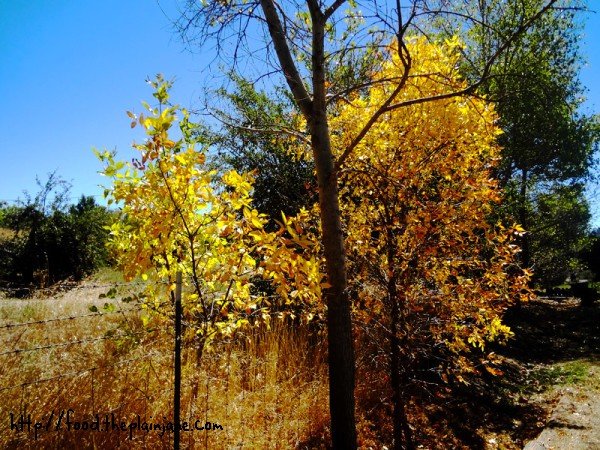 The orchard itself was very peaceful and very pretty, with spots of fall color!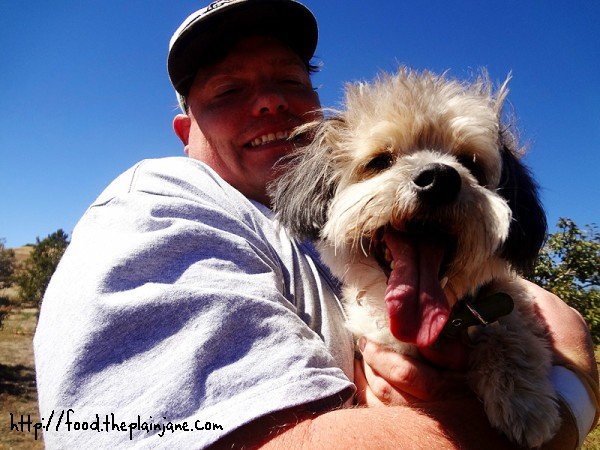 The best part is that the orchard is also dog friendly!
There's also a fire truck that the kids can climb on (after signing a waiver) and it's a very open, friendly atmosphere.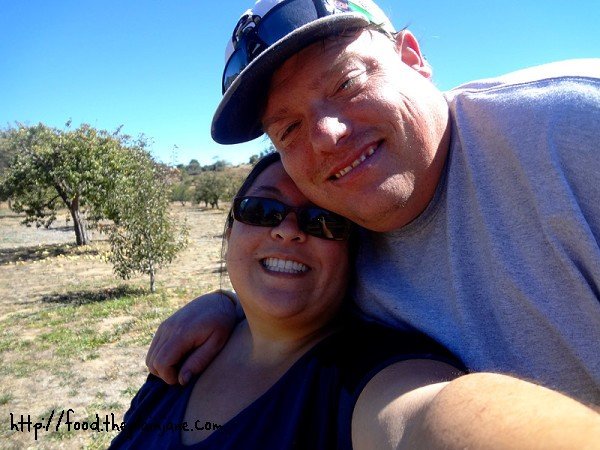 Pear picking was great fun and O'Dell's Organic Orchard was a great place to do it! There are a couple of other orchards nearby that do both pear and apples if you want to pick both. Check out this list of Julian Orchards to see which ones have apples/pears and their hours and open dates. Apple/pear picking season doesn't last long, so if you're interested in doing this I suggest going sooner rather than later!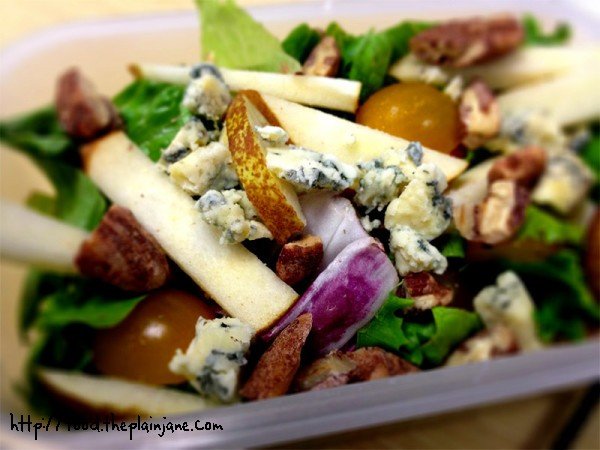 What did I do with my share of the pear bounty? Nothing too interesting, actually. I mostly just ate the fruit but I did use one pear to make a pear and blue stilton cheese salad with candied pecans and grape tomatoes. I love the combination of blue cheese and pears! Maybe next time I'll make a pear tart… or a pear crumble…
O'Dell's Organic Orchard
1095 Julian Orchards Dr.
Julian, CA 92036
(760) 765-1174
Hours: 11AM-4PM on the weekends
about this site
My name is Mary and I live in San Diego. I've been blogging since 2006 as a hobby - it's my fun, creative outlet! Some random things about me: I'm a front end web developer, I love peanut butter, cookies, warm cupcakes, puppy noses, star gazing, new bags of sugar, sprinkles, cupcake wrappers, egg rolls, eating french fries with ice cream, driving with the windows down, snuggling, wes anderson movies, staying up too late reading a good book and Jake. These are my adventures in all things food. Hope you enjoy the ride.
|
Download Media Kit