post:
Near the beginning of May I made a return visit to Cremolose on another invitation, this time to try out their restaurant and receive the full "dining experience". I took Heather with me this time around and it also doubled as a birthday dinner for Heather, who was celebrating another year older that weekend.
There wasn't anyone really in the restaurant, so the hostess pretty much ignored me when I told her we had reservations for dinner that evening… which led to an uncomfortable conversation at the end of our meal in which I'm pretty sure I freaked out our poor, shy, and somewhat awkward waiter.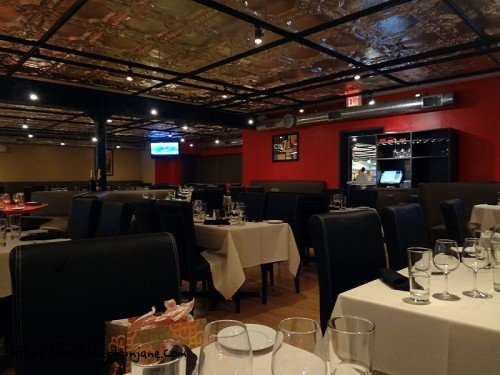 Cremolose is located where the old San Diego Hardware store used to be Downtown. The old sign is still there, with the new restaurant and storefront appearing the old signage. I think it's a nice homage to what it used to be. We were seated in the spacious upper level which looks out over the rest of the place.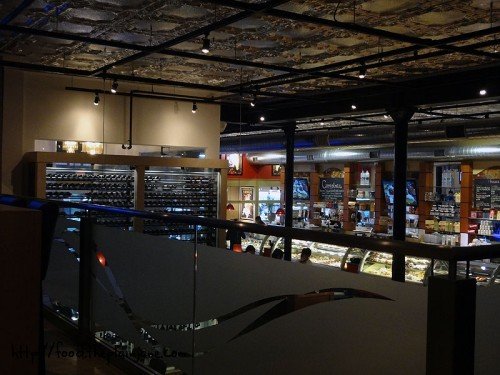 Here's the semi-lofty view, which looks down on the bar, their very large wine cabinet, and the dessert bar (which houses all of the gelato and desserts).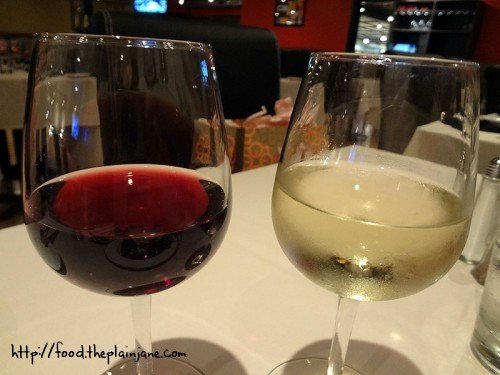 Since I was with Wine Girl (aka Heather), we both got glasses of wine. Hers, red; Mine, white. I cannot for the life of me remember what my wine was.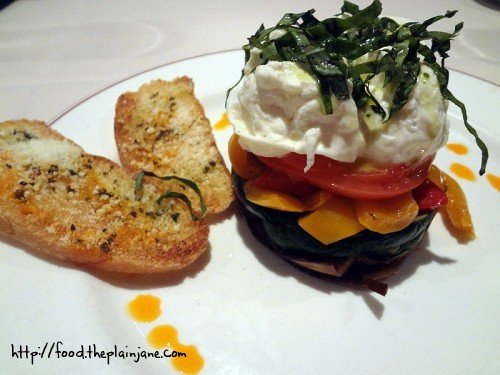 [Burrata - Fresh "butter milk" mozzarella served with grilled eggplant, zucchini, roasted pepper and heirloom tomato, drizzled basil olive oil and fresh herbs]
We started off with the Burrata since there's nothing I love more than cheese. And burrata is definitely one of my favorites.
The burrata here was plated very nicely, with grilled veggies underneath it. The burrata itself was wonderfully smooth, rich and creamy. Think mozzarella cheese, but much creamier and a softer consistency. Perfect on a bit of the bread or even just eating it alone. I wished for more bread actually and less of the cold, grilled veggies. The tomato was about the only veggie I ended up liking. Heather and I both thought we could do with the cold grilled veggies. Keep the burrata though. More of that with more bread, please.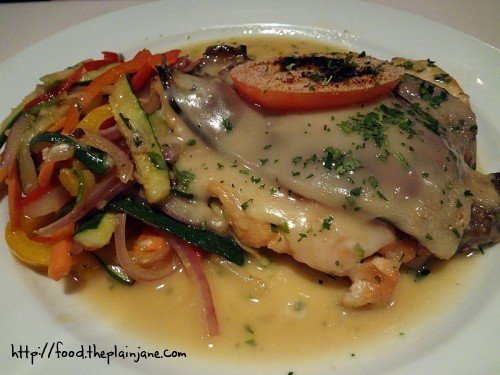 [Chicken - Sautéed chicken breast, topped with grilled eggplant, prosciutto, sliced tomatoes and mozzarella, in a white wine sauce]
Cremolose serves pastas, pizza, seafood and meat dishes in addition to their assorted array of desserts. Heather decided on the Chicken, which, literally, is just called "Chicken" on the menu. She seemed to like the dish. I had a small bite of the chicken and just thought it was fine, nothing really outstanding but not bad, either.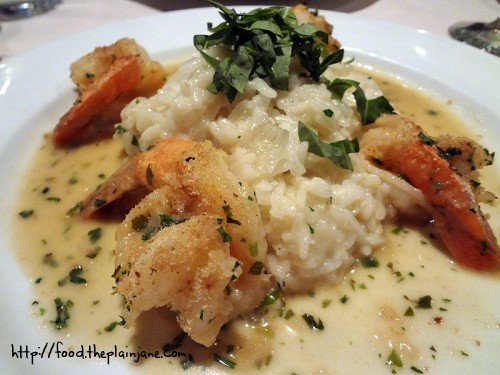 [Jumbo Shrimp - Sautéed garlic and olive oil, baked with bread crumbs, fresh herbs and cheese, over parmigiano risotto]
I went for some seafood with came with some parmigiano risotto.
I think their idea of jumbo shrimp and my idea don't quite match up since I didn't really think these were "jumbo" rather just "large butterflied shrimp". They were tasty though, don't get me wrong. Baked in garlic, olive oil and bread crumbs gave the shrimp a slight crunch and they remained tender and juicy on the inside. The fresh herbs gave a nice extra punch of flavor here.
I never understand why risotto is so pricey on a menu – I guess all of the extra stirring on the dish makes it more time consuming and more expensive? I'm used to making risotto myself and hardly ever order it when I'm out but I decided tonight was the night to finally have it out. The risotto was nice and creamy and I liked the addition of basil on top. It was a simple dish, but retained a lovely smooth texture.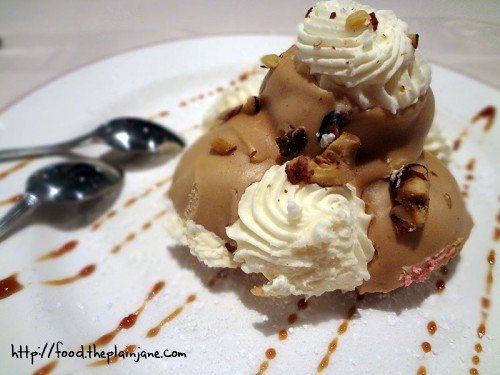 [Hazelnut Profiteroles]
They have a big list of Italian desserts in the back of their wine and drink menu. With virtually no descriptions available and by just getting our awkward waiter to finally speak up and talk to us, we decided on a couple of desserts, one being the profiteroles.
Profiteroles are basically cream puffs but these were not quite like other cream puffs I have encountered. This was a "large" multi serving profiterole, covered in a hazelnut shell with creamy and extra hazelnuts on it. It had a nice sweetness to it, but it wasn't quite what I was expecting it to be. I ended up much preferring the second dessert, even though I had no idea what it was…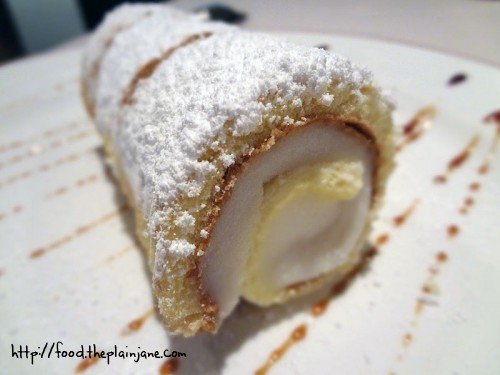 [Sfince]
Sfince were described to me like donuts. This doesn't look like a donut. Didn't taste like a donut, either. It looked like a rolled up cream roll with ricotta and powdered sugar. It wasn't very crisp, but the ricotta made it for me. It was sweet and delicious, soft and creamy. It had a bit of a spongy texture.
I have a feeling this was not sfince and I don't know enough about Italian desserts to know what it was exactly. But it was delicious. I'd have to point it out again to get it since I'm not convinced I'd get the same thing again if I ordered Sfince. But, maybe this is their version? Maybe call it a "rolled up creamy cake thing" though instead of a "donut". Just a suggestion.
All in all it wasn't a terrible night out, but it wasn't spectucular either. We had the bill given to us and I had to horrify our waiter by asking to speak to the manager, who in turn had no idea what I was talking about. Everything turned out okay though and Heather and I left happy campers.
I'd definitely come back here to try out any of their impressive looking desserts (or the delicious gelato and sorbet). Dinner is still kind of up in the air for me, but maybe we just didn't order the right things. Perhaps I should have stuck with a more traditional pasta?
Disclaimer: I was invited to dine at the restaurant by Olive PR and our meal was complimentary. I was not paid for this review and all opinions are my own.
Cremolose
840 5th Avenue, Suite 100
San Diego, CA 92101
Phone: (619) 233-9900
about this site
My name is Mary and I live in San Diego. I've been blogging since 2006 as a hobby - it's my fun, creative outlet! Some random things about me: I'm a front end web developer, I love peanut butter, cookies, warm cupcakes, puppy noses, star gazing, new bags of sugar, sprinkles, cupcake wrappers, egg rolls, eating french fries with ice cream, driving with the windows down, snuggling, wes anderson movies, staying up too late reading a good book and Jake. These are my adventures in all things food. Hope you enjoy the ride.
|
Download Media Kit