post:
Not too long ago I spotted this post on Indirect Heat about how to make your own bacon at home.
"Oh my god. We could make our own BACON!" I thought to myself. It didn't look to be that hard. And I knew that I could get my dad on board to do this. I emailed him the link and said, "We – or rather you – should make this."
He replied not too long later. "Get the ingredients. We'll do it." YES!
My dad did all of the work and we got the reap the benefits last weekend when he smoked the first slab of homemade bacon using apple wood from the tree he cut down in the backyard last year.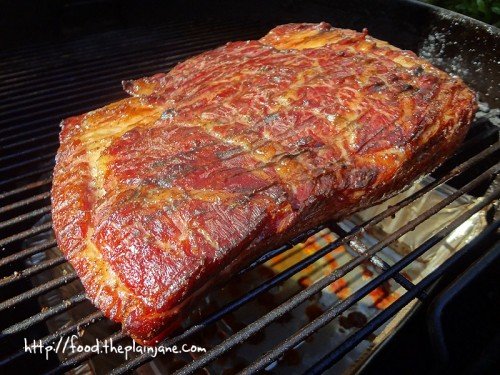 [Smoked Pork Belly]
Is there no finer usage for pork belly?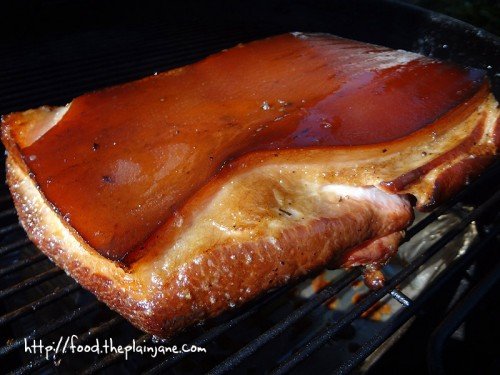 [Flipped over - skin still on]
After a 7 day sit in the fridge with the dry rub on, the pork belly gets smoked low and slow. This is the side with the skin still on (which you remove before you cut your slices of bacon).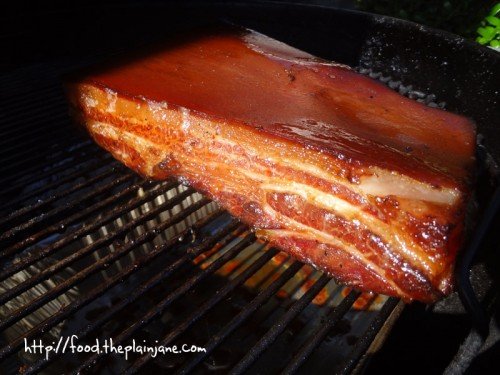 [Smoked bacon - side view]
It almost looks like it's done and ready to just eat from this angle, but it's not! You still have to slice it and cook it like regular bacon.
But it's so much better! More flavor! More meat! More everything!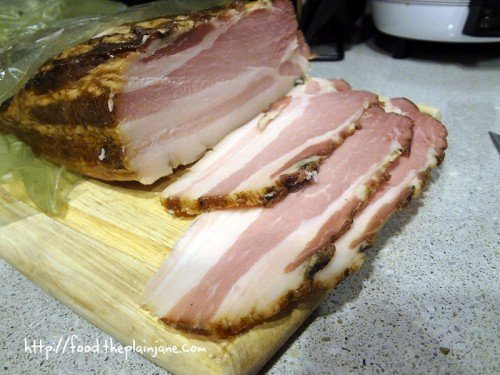 [It's hard to slice it thin]
On Monday I got up early to make a breakfast sandwich with the slab of homemade bacon.
I'm sure if I had time or patience I could slightly freeze the bacon to make it easier to slice, but who has that kind of time?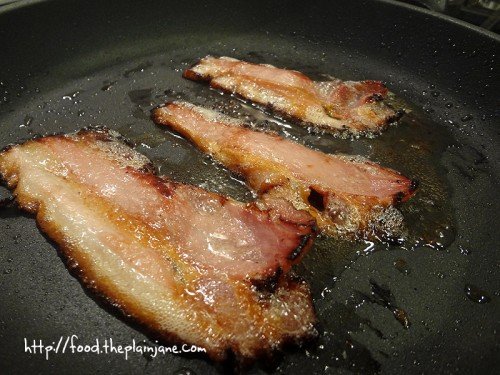 [sizzle]
Our bacon is much meatier than whatever you'd find in the grocery store. Dad also put a little bit of brown sugar when he smoked it so the little outer edge gets a bit browner than the rest.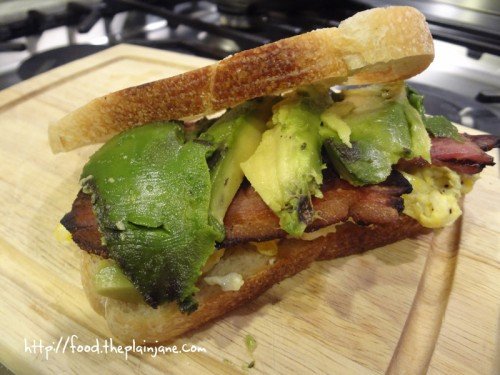 [breakfast is served]
And all of that tender loving care results in a beautiful sandwich, like this one.
Or BLTs. Or bacon with pasta. Or bacon on salad. Or just plain old pieces of wonderful bacon.
You can do so much with this beautiful stuff.
about this site
My name is Mary. I love: peanut butter, cookies, warm cupcakes, puppy noses, star gazing, new bags of sugar, sprinkles, cupcake wrappers, egg rolls, eating french fries with ice cream, driving with the windows down, snuggling, wes anderson movies, staying up too late reading a good book and Jake. These are my adventures in all things food. Hope you enjoy the ride.

recent comments
blogiversary week + giveaway to big bite bacon fest (11)

mary: Thanks, CC! OMG, my blog is growing up too fast!
mary: Thank you, Kirbie!
mary: Sadly I haven't since I have not been to Portland (yet). Someday!
Hannah v: Mmmmm asparagus wrapped in bacon. Enough said…unless you mention bacon dipped in milk chocolate.
caninecologne: Happy Blogaversary to you!!!! You blog is in 2nd grade now! As for bacon, i love baking it in the oven slathered with maple syrup and a...
Lauren: Homemade potato salad with bacon in it….I have dreams about it.
stacey: My family (Mom's side) makes a non-creamy bacon coleslaw that I could downright eat myself sick on!