post:
(Psst – if you didn't see it, be sure to check out the giveaway I've got going on! Enter, enter, enter! Today is the LAST DAY to enter to win dinner for 2 to Del Mar Rendezvous during SDRW next week!)
For her 12th birthday, Jake's daughter, A., asked for a Little Big Planet themed cake.
I immediately panicked a little. What on earth would I make for this? I've never played the game and I know very little about it. I looked at some other Little Big Planet cakes online and saw what others did, and did my best.
Also, I used fondant for the first time.
It was pretty weird.
Also: fondant doesn't taste very good. Luckily, I didn't need a ton of fondant for this Little Big Planet cake.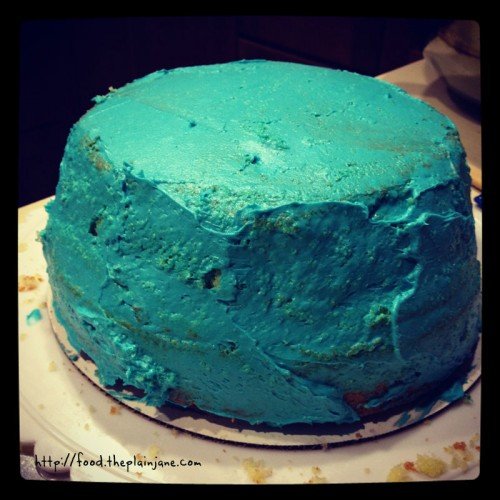 [Cake blob]
This is how it looked after the crumb coat. To me it looked like I was trying to build a volcano for science class. Luckily, extra frosting fixes all things.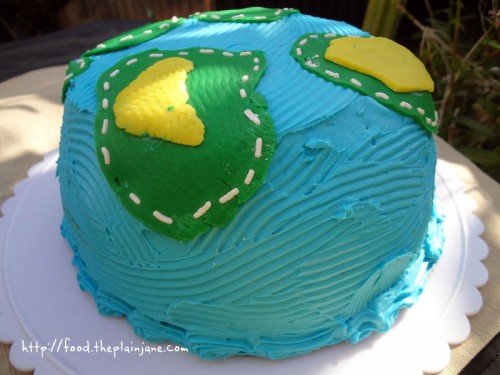 [One side, minus the doll]
The cake is a yellow cake with banana buttercream filling and vanilla buttercream on the outside. I got paranoid about carving the cake, so it's not really quite as round as I would have liked. But I thought it was fine.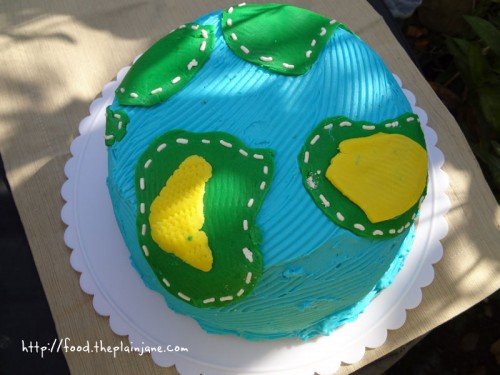 [Cake from the top]
Those green blobs are, um, "freehand/rustic" continents. The yellow is terrain, I guess. I'm not sure what I was thinking, just that I wanted some of the continents to have some "oomph".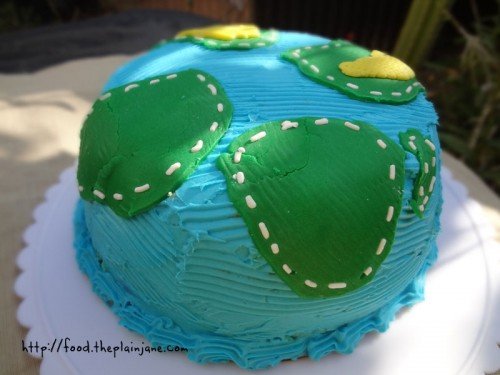 [Look, I made a little "island", too! It was supposed to be England, but uh, yeah. Wrong placement. Maybe it's New Zealand now...]
The white bits are white jimmies that I pressed into the fondant so it would look like they were stitched onto the planet.
I gave the oceans a wavy makeover so it would look more like fabric.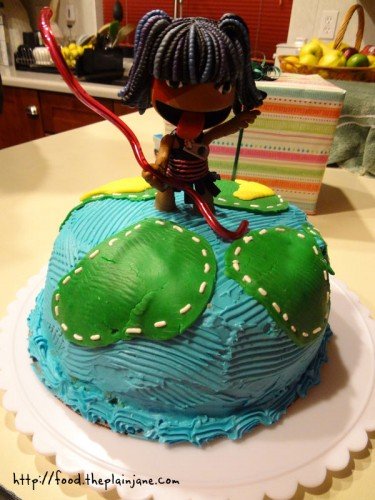 [With Sackboy, er Sackgirl doll - I forget the actual name of this character - Sky, I think?]
Jake got the doll to put onto the cake. We thought it would be better to buy something since it would also serve as a take home toy for A. to keep.
[Final shot]
I think it turned out pretty cute.
The birthday girl loved it, so it was a success!
I told her, "You must be confident in my baking skills to request something like this." She just smiled and agreed.
about this site
My name is Mary. I love: peanut butter, cookies, warm cupcakes, puppy noses, star gazing, new bags of sugar, sprinkles, cupcake wrappers, egg rolls, eating french fries with ice cream, driving with the windows down, snuggling, wes anderson movies, staying up too late reading a good book and Jake. These are my adventures in all things food. Hope you enjoy the ride.