post:
Last month Jake and I took the kids out for a little treat. We spend an afternoon at Nickle City and then used the "Hotel Tonight" application on my iPhone to get ourselves a cheap room for the evening. I had a discount for $50 off, which was just another reason to get a hotel for the night. We ended up staying at the Porto Vista hotel in Little Italy and I loved that all the restaurants were in walking distance of the hotel. The next morning we walked one block down to Influx Cafe and had ourselves a mighty fine breakfast before checkout.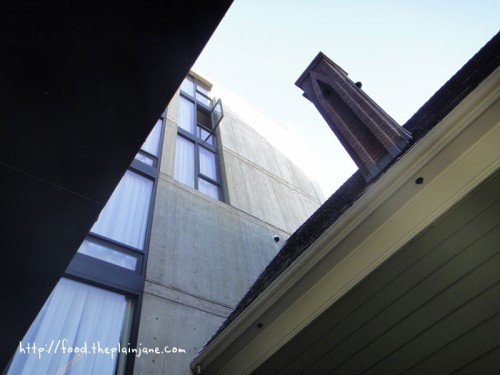 We sat outside in between the buildings and this was the view looking up. I just loved the angles.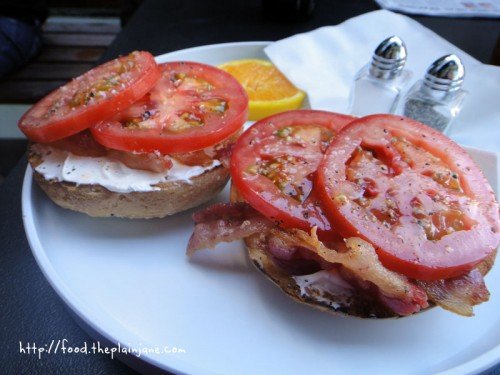 [the "bct" – toasted bagel topped with bacon, cream cheese and tomato – $4.50]
I got this at the Influx Cafe in Golden Hills, too. But I love bagels with cream cheese, bacon and tomato. This used to be a staple that I would get on my way to my old job from a little bagel place on the other side of Mira Mesa. It's too out of the way for me to go there now, but I have to say I prefer this version.
The tomatoes were super crisp and fresh. I hate mushy tomatoes. Refuse to eat them. They make my mouth so, so sad.
But crispy tomatoes make me happy! And so does crispy bacon. This open faced bagel sandwich was a marriage made in heaven.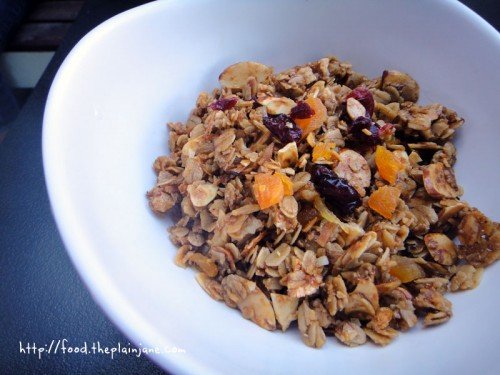 [house made granola with your choice of milk – $4.50]
A. decided she wanted some granola that morning. She sat and picked all of the dried cranberries out of the granola. I thought it was kind of funny.
She let us have the last couple of bites. It was very good granola. It stayed crunchy even after being in milk for awhile and had a nice, lightly sweet flavor.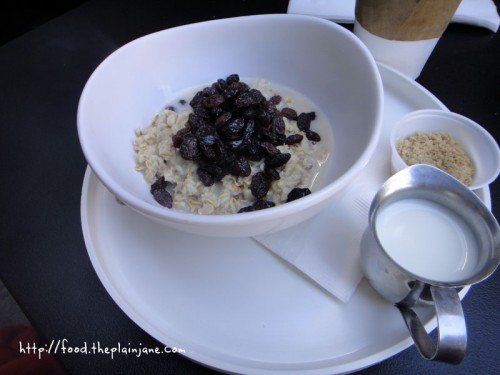 [house made oatmeal – $4.50 / raisins .50]
This is S.'s oatmeal. I didn't get to try any. Also, I hate a raisins. But since this wasn't my oatmeal, that was perfectly fine.
The other thing I loved about having breakfast in Little Italy was that we saw so many puppies down there! There were a ton of people out walking their dogs and I loved the sight of all of those happy little faces while we had breakfast. It put a smile on my face right at the start of the day!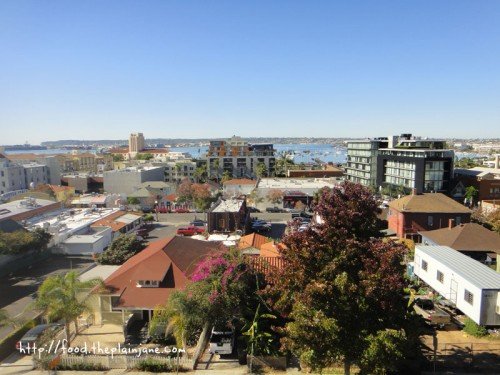 [View from the top of the Porto Vista hotel]
Pretty, pretty harbor view. I live in such a lovely city!
Influx Cafe
750 West Fir St
San Diego, CA 92101
619-255-0735
« Previous Post - holiday baking: pumpkin chocolate chip bread
|
happy new year! - Next Post »
subscribe to this tasty life
recent comments
birthday pizza crawl for jake (10)

caninecologne: Awwww, you're the best Girlfriend EVER! Lucky Jake! How fun this must...
Jinxi: Aww cute! Happy birthday to Jake! Also, I totally get weirded out by parallel parking on...
J.S. @ Sun Diego Eats: This was so cute. You get a million extra points for hand drawing the...
Lynn @ Oh-So Yummy: i agree with faye – you're the best date ever. one of these days,...
Faye: Oh man. I want to date you and have you do little surprises like this for me. That was the...