post:
Jake and I took a mini-vacation up to Long Beach, CA last week to see one of our favorite comedians, Gabriel Iglesias. We went last year and it was kind of an ordeal; we left after work on a Tuesday, stayed late to meet Gabriel, and ending up getting back home around 2AM in the morning (and having to work the next day). We didn't want to have to do that again, so we decided to get a hotel room for this trip.
Gabriel usually plays on the last Tuesday of the month. He had to reschedule it for the previous week though because he'll be filming a new movie. Jake also told me that he had an early meeting on Wednesday morning, meaning we'd have to huff it back to town quite early. This is about when I started to have a bad feeling about the trip. Perhaps we weren't meant to go for some reason? I felt irrational thinking that and brushed it aside and made our plans anyway. More on that later.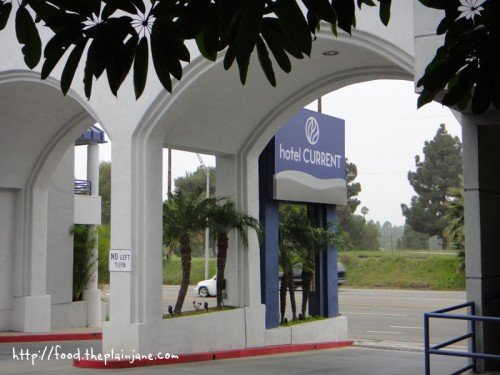 I ended up getting a sweet deal from LivingSocial for a 2 night stay at Hotel Current in Long Beach, CA, plus a free dinner at the local Brazilian Steakhouse – all for the price of one room! I was excited about the deal and the hotel and thought I would share my thoughts about the hotel stay.
The hotel is actually an outdoor hotel, more akin to a motel in a my mind. I didn't mind, but it wasn't what I was expecting! Hotel Current is a "lifestyle hotel", containing artwork from local artists in all aspects of the hotel. I was impressed by the number of artworks I saw throughout the hotel.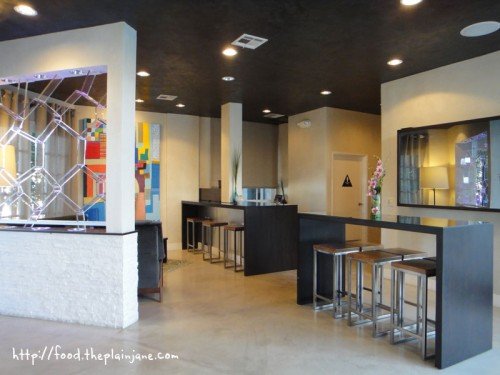 Walking into the lobby, you're greeted by a very chic and hip looking lobby.
I really dug all of the furniture and art placed in the lobby. Check out that coffee table! I love the domino effect going on underneath the glass. I also like that this looks like a really hip living room.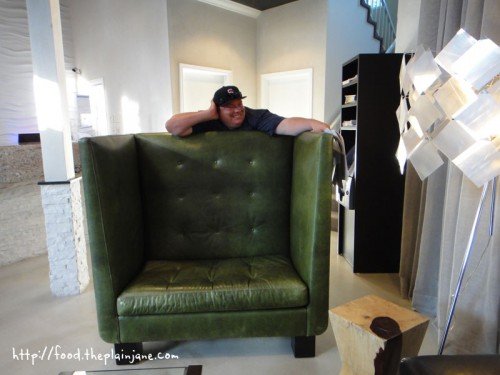 I also loved this over sized green chair in the lobby! Jake is standing behind it and he's 6'2″, so hopefully that gives you can idea of how tall this chair is.
Our check-in was smooth. It took slightly longer than usual because they had to do extra stuff since we had the LivingSocial deal. But we got checked in efficiently and were given a map to show us where our room would be, where breakfast would be held and given a code for internet access.
We parked the car and then trucked up to our room, not too far from the lobby and above the pool area.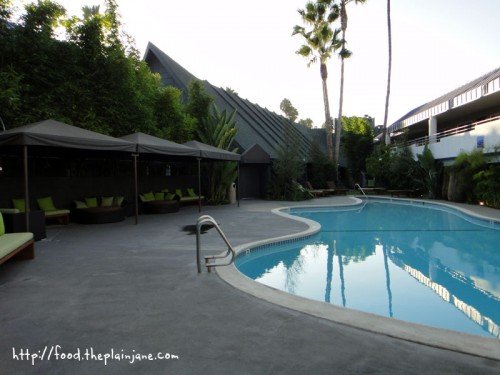 The pool area looked very inviting and relaxing, with their little cabanas off to the side. The pool is supposed to be heated year round, but we did not partake of the pool on this visit. But I loved how it looked! Off in the distance there's a grassy area with more lounge chairs for relaxing in.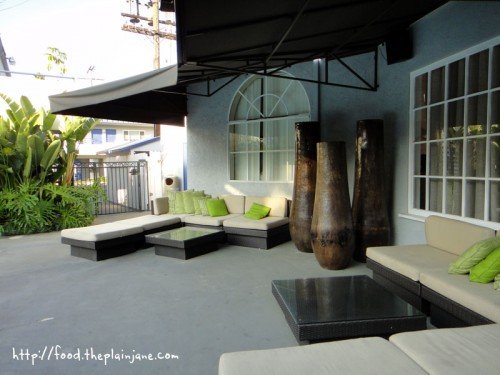 I also just loved the colors out here with the vibrant greens and the cushy looking outdoor seating areas.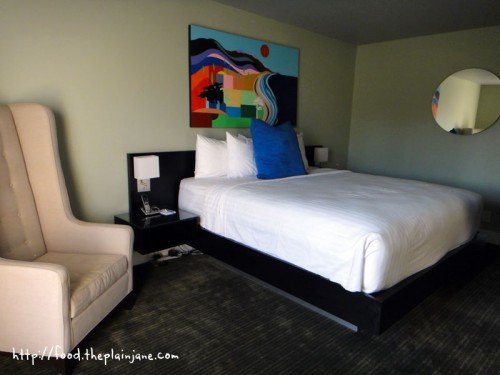 We got this big, cozy king size bed for our room for 2 nights. Check it out – another high backed chair in the corner! Not shown, but there's also a flat panel TV up against the wall and a bright orange office chair next to a long desk/dresser. The phones were cordless and we had nightstands on both sides of the bed.
The bed itself was very comfortable. I didn't feel any springs (yay) and the bedding and sheets were very soft and comfortable. We also had about 5 pillows to share between us and the pillows were of different types – soft and firm – so you had a choice in what kind of pillow to use.
As a part of our deal, we were upgraded to a room with a balcony!
I was pretty jazzed about that.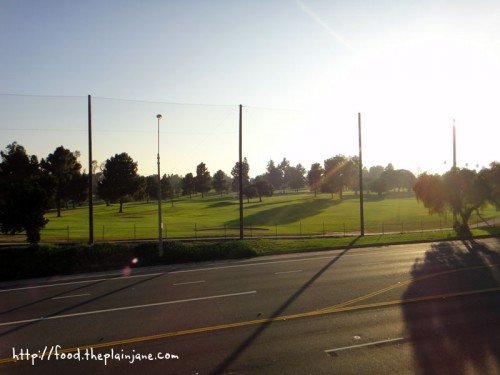 Our view was just of the golf course across the street, but I still dug it.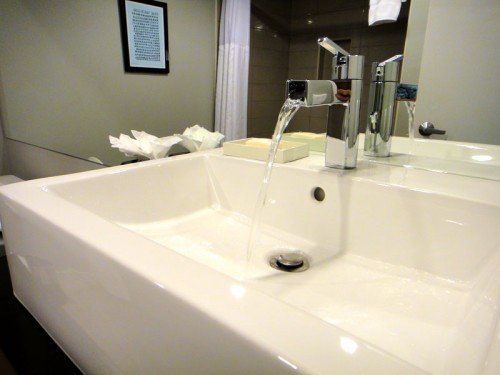 I also totally look photos of the bathroom. I was in love with this waterfall sink! The sink was very tall. There was a large piece of furniture and it looked like the sink was sitting on top of that, with another orange stool underneath. There was also a real hairdryer available (not one of those ones that are permanently plugged into the wall, either) that I made good use of.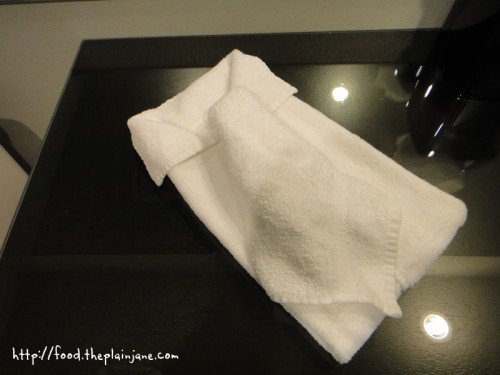 The towel looks like a shirt and a tie! I was so amused by this.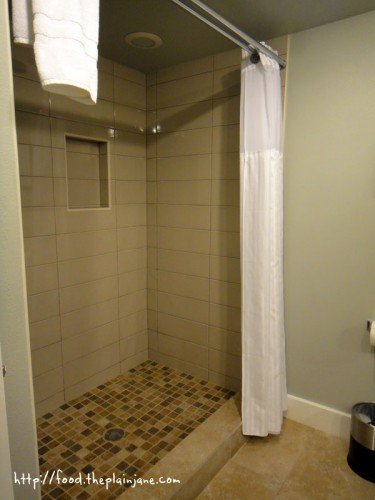 I loved the tile in the shower stall.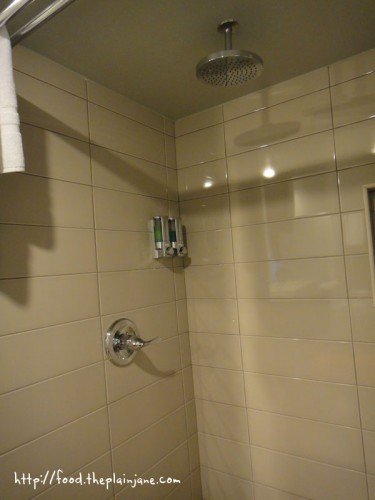 The shower head is directly above in the ceiling, with one of those "rainfall" shower heads. Jake thought it was pretty weird since he stood just a couple of inches away from the shower head. Instead of little bottles of shampoo, there's also a dispense for a 2-in-1 shampoo/conditioner and body wash.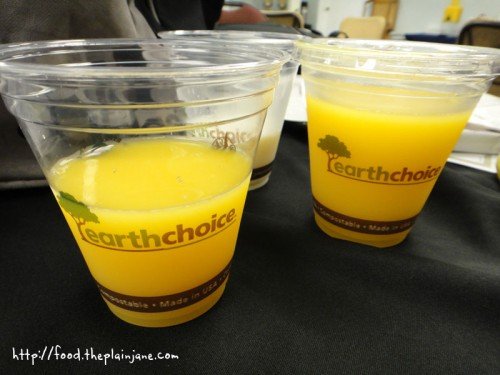 The breakfast at the hotel is pretty standard. There's DIY waffles, cereal, oatmeal, toast, fruit, coffee, tea, orange juice, and milk. Breakfast was pretty average but since it was included with the hotel, we made sure to take advantage of it instead of going out for another meal.
All of the disposable items (plastic cups, coffee cups, utensils, plates, etc) are all made from recyclable materials. There's a real emphasis on being eco-friendly at this hotel.
Some of their eco-friendly efforts are:
Curtains are made of either hemp or fabrics made from 100% recycled plastic bottles
Towels are made from Bamboo
Energy Efficient appliances purchased (fridges, coffee makers, hair dryers, air-conditioner's & alarm clock's)
Energy efficient program in place
Flooring is Bamboo or carpet fabric made from recycled plastic
Majority of landscaping and ground covering is drought resistant)
Aluminum and plastic recycled by employees and the funds go into Hotel Current Employee Appreciation budget
The only real downside I saw was that the internet access was hard to connect to and was unavailable to me for part of the first night. Each room is supposed to have up to 2 connections available for their room. At first the connection didn't work for me and then it was fixed by giving me another password and login information. The internet kept cutting out the first night and then I was unable to use it on my laptop for the rest of the trip (only my iTouch worked).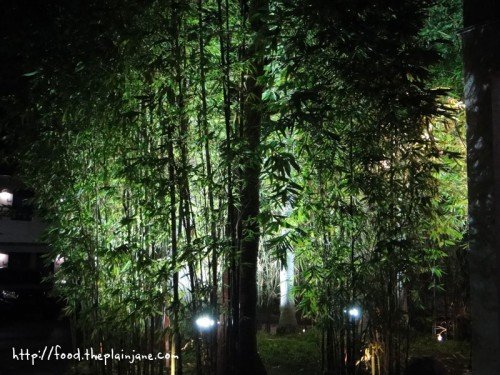 [Pretty bamboo outside of the front lobby]
We didn't stay at the hotel for much of our trip, mostly just for sleeping. Right after checking in, we used our dining coupons to go to the Brazilian Steakhouse right next door to the hotel. Luckily we didn't go too far, since we discovered that my car's battery had died. We left the car where it was (not far from the hotel) and walked back to spend the evening in our chic room. I'll tell a bit more of the story in the next few days when I post reviews of where we ate during our stay in Long Beach!
Hotel Current
5325 e. pacific coast highway
long beach, california 90804
800.990.9991
about this site
My name is Mary. I love: peanut butter, cookies, warm cupcakes, puppy noses, star gazing, new bags of sugar, sprinkles, cupcake wrappers, egg rolls, eating french fries with ice cream, driving with the windows down, snuggling, wes anderson movies, staying up too late reading a good book and Jake. These are my adventures in all things food. Hope you enjoy the ride.