post:
My college roommate introduced me to Tastykakes. She was from outside of Philadelphia and she would bring them back from vacations or her mom would send her care packages with these little goodies tucked inside.
Getting letters or mail of any kind was incredibly exciting back in college, but care packages were something special. And these Peanut Butter Kandy Kakes were my favorite (with the Butterscotch Krimpets in a close 2nd place).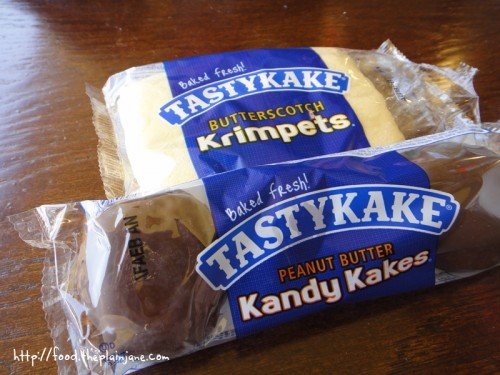 I didn't think I'd ever have these little gems again post-college. They're not sold in stores here on the West Coast – heck, back in college, they didn't even have them in stock in Boston! I had to get my peanut butter chocolate fix with Drake's Funny Bones (which I also love).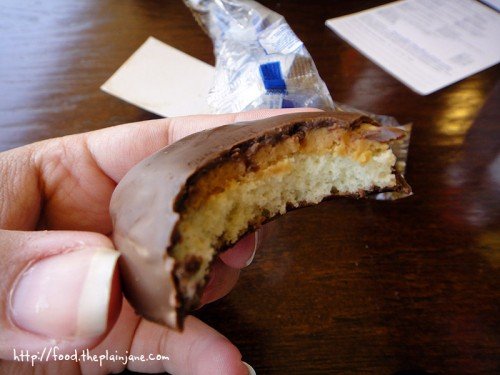 Luckily, a few of our area Philly Cheesesteak shops have taken up the reigns to provide these delicious treat in limited quantity to us San Diegans. If you're in such a shop (such as Eddie's, Gaglione Brothers, or Philly Frank's – I've also seen them at Jersey Mike's) that sells these little treats and you've never had one before, I highly recommend it.
Little round vanilla cake, peanut butter on top, all covered in chocolate.  A beautiful creation.
Do you have a favorite regional snack food?
about this site
My name is Mary. I love: peanut butter, cookies, warm cupcakes, puppy noses, star gazing, new bags of sugar, sprinkles, cupcake wrappers, egg rolls, eating french fries with ice cream, driving with the windows down, snuggling, wes anderson movies, staying up too late reading a good book and Jake. These are my adventures in all things food. Hope you enjoy the ride.

recent comments
blogiversary week + giveaway to big bite bacon fest (11)

mary: Thanks, CC! OMG, my blog is growing up too fast!
mary: Thank you, Kirbie!
mary: Sadly I haven't since I have not been to Portland (yet). Someday!
Hannah v: Mmmmm asparagus wrapped in bacon. Enough said…unless you mention bacon dipped in milk chocolate.
caninecologne: Happy Blogaversary to you!!!! You blog is in 2nd grade now! As for bacon, i love baking it in the oven slathered with maple syrup and a...
Lauren: Homemade potato salad with bacon in it….I have dreams about it.
stacey: My family (Mom's side) makes a non-creamy bacon coleslaw that I could downright eat myself sick on!