post:
Oh yes. Day 6!
Alyssa & J gave me the option of picking where I wanted to go for dinner. They suggested 3 different options and I chose Casa Bianca Pizza Pie which is not too far from their house. Alyssa called ahead for seating and they told us the wait would be 40 minutes. Imagine our surprise when we got there and were told it would be another 30 minutes until we could be seated. Unhappy.
We finally got a table and placed an order to share a few dishes between us. And then we waited. And waited. And waited some more. I have no idea why it would take that long to make some Italian dishes. I munched on a piece of bread to quiet my stomach until the food arrived. And sometime, a long time later, we finally got to eat.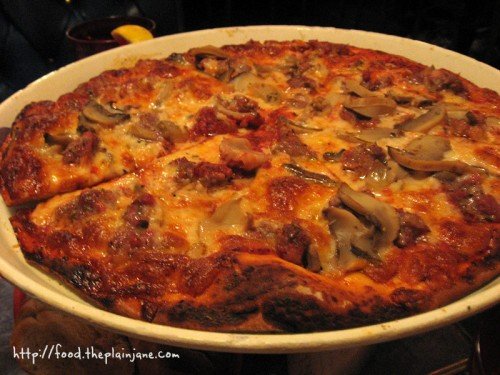 We got the sausage and mushroom pizza to share.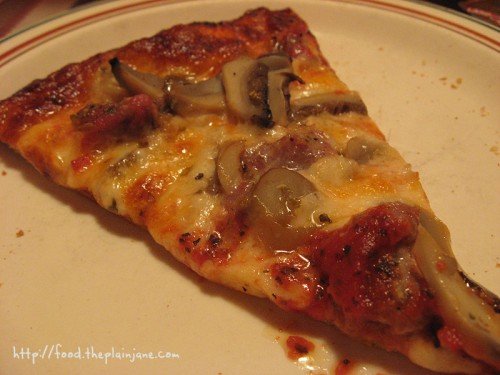 I did like the pieces of sausage (they were meaty and flavorful with a good amount of herbs) but I wasn't as into the crust. The crust was a bit chewy to me and the crust end was a bit tough to chew. I just thought it was an okay pizza. I liked the other dishes more myself. I got teased a little for not really liking the pizza by J. Oh well, my taste buds think what they think!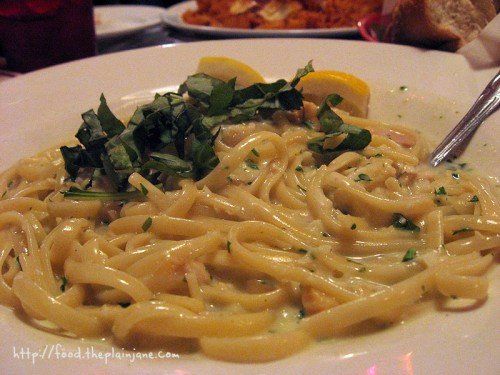 I picked this dish, the Linguine with White Clam Sauce. They have red sauce and garlic & olive oil also available but the white sauce is what I'm used to and what I enjoy the most. No exception here. The sauce was creamy and had a good amount of clams sprinkled throughout the whole dish. I also loved the fresh herbs (basil and parsley from what I could tell) infused in the dish. It was creamy, a little salty from the clams and really yummy.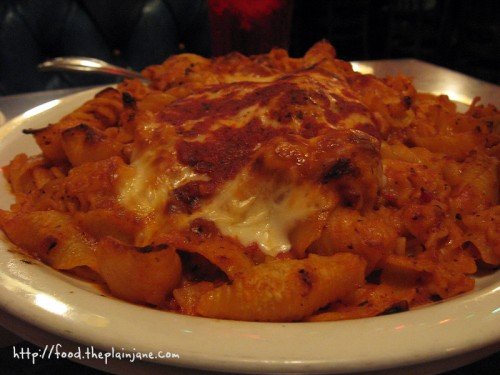 J said this is one thing they usually order to-go and it's the Pasta Al'Forno – a baked pasta filled with gooey cheese and meat and different shaped pastas. I really liked the sauce on here and the mix of meat and cheeses was just right. I also got a kick out of the many different shaped noodles in the dish – it gave it a fun look and texture with the variety of noodles.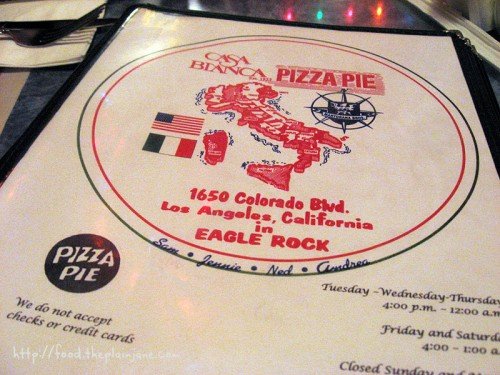 The morale of the story here is: the food is good, just be sure to order it to go, otherwise you will spend an immense amount of time waiting to eat (especially on a Saturday night).
Casa Bianca Pizza Pie
1650 Colorado Blvd.
Los Angeles, CA 90041
(323) 256-9617
Cash Only
about this site
My name is Mary and I live in San Diego. I've been blogging since 2006 as a hobby - it's my fun, creative outlet! Some random things about me: I'm a front end web developer, I love peanut butter, cookies, warm cupcakes, puppy noses, star gazing, new bags of sugar, sprinkles, cupcake wrappers, egg rolls, eating french fries with ice cream, driving with the windows down, snuggling, wes anderson movies, staying up too late reading a good book and Jake. These are my adventures in all things food. Hope you enjoy the ride.
|
Download Media Kit
recent comments
my favorite childhood treat: pocky! (3)

caninecologne: My favorite pocky flavor besides the original is the "Men's" pocky. it's covered in dark and slightly bitter...
mary: The Matcha Pocky was on sale at Mitsuwa yesterday for $1.49 a box. The prices there ranged from $1.49 to $2.39 a box, depending on which flavor you...
Faye: My sis and I grew up on Pocky too. We adored it (just the regular ones dipped in chocolate). I've wanted to try the Matcha Pocky but it's...

dressing rehersal at whole foods market encinitas + holiday ideas + a giveaway! (2)

mary: I bought the dried porcini so it was a little less expensive. I didn't need a ton of it either, so I just looked through them all until I found...
Faye: That mushroom salt is a killer idea! I love it. I've seen their dried mushroom section in the Del Mar location but it was soooo expensive. I...