post:
I was left to my own devices one recent Saturday afternoon and I thought, "You should treat yourself to some lunch." I agreed with myself and began a little internet search to figure out where to go for lunch that was somewhat nearby. I was on call for work so I needed to be able to get back to a computer if necessary. After some hunting, reading menus and blog posts, I decided to go somewhere I had never been before: Bully's East.
Since I was going to lunch and only treating myself, I figured it wouldn't cost quite as much. Plus, they had a menu item that made my mouth water as soon as I read about it. I took some reading material with me and drove over to Mission Valley to check out Bully's East.
The interior is quite dark – very typical of steakhouses as far as I'm concerned. I got a cozy booth all to myself next to the bar and proceeded to start reading since I already knew what I was going to order.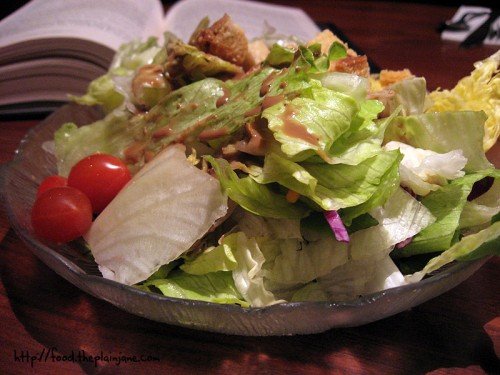 To my surprise my lunch item came with 2 sides. This is one of them, a simple Garden Salad. Dressed with a balsamic vinaigrette the salad was crisp and had a little veggie variety. I didn't really care for the dressing – it didn't really taste like balsamic – it tasted kind of watered down so I didn't finish my whole salad.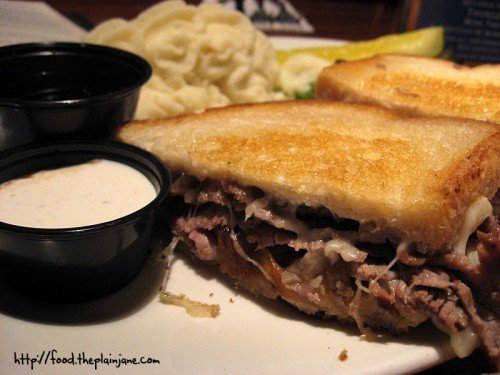 I got the Prime Rib Melt ($13.95) for my lunch along with a side of garlic mashed potatoes. The sandwich is on sourdough bread with grilled onions and provolone cheese. On the side you get a cup of au jus and some horseradish sauce. I carefully spooned some au jus onto my meat before digging in. The prime rib was thinly sliced and tender and had lots of melted, gooey cheese. Think souped up patty melt! I could have gone for my bread being slightly more crisp, but still this sandwich was super tasty.
The garlic mashed potatoes were pipped in a pretty way onto my plate and were very smooth and creamy. I ate half of my sandwich and half the potatoes so I could have leftovers. I had to reign myself in to not eat all of the mashed potatoes in one sitting, they were so creamy and good! I saved my leftovers and had them the next day for lunch. I reheated the sandwich and the potatoes in the oven for a little while and they held up quite well the next day, so I was able to spread out the cost of this meal as well. Score!
This really was quite an indulgent meal – I wouldn't normally want to spend this much on a lunch item, but I was feeling generous to myself. It was totally worth it.
Bully's East
2401 Camino Del Rio South
San Diego, CA 92108-3701
(619) 291-2665
Hours
Mon-Fri: 11AM – 2AM
Sat-Sun: 10AM – 2AM
about this site
My name is Mary and I live in San Diego. I've been blogging since 2006 as a hobby - it's my fun, creative outlet! Some random things about me: I'm a front end web developer, I love peanut butter, cookies, warm cupcakes, puppy noses, star gazing, new bags of sugar, sprinkles, cupcake wrappers, egg rolls, eating french fries with ice cream, driving with the windows down, snuggling, wes anderson movies, staying up too late reading a good book and Jake. These are my adventures in all things food. Hope you enjoy the ride.
|
Download Media Kit
recent comments
college area taste 2014 recap (10)

mary: Hi Cynthia! Haha, I totally don't mind being stopped to a chat, if you see me again say hi!! We had our tupperware stored in a backpack for Taste...
cynthia: I saw you guys at Taste of Hillcrest but… I don't know, just didn't want to seem like a weirdo talking to you! haha I didn't...
mary: Hi CC – If we hadn't done the take out box, I don't think we'd have been able to do this many places! The take out box let us...