post:
Just in time for Valentine's Day, Pinkberry has introduced the Pinkberry Swirly Gram, a cute little treat that can be delivered to your loved ones nationwide. We've also got a giveaway lined up for one lucky reader – $10 Gift Card to Pinkberry! See details below!

What is a "Swirly Gram"?
"Swirly Grams are Pinkberry frozen yogurt or Pinkberry gift cards wrapped in special Valentine's packaging with heart-shaped balloons and a hand-written note."
Customers can choose from the following packages:
"Cupid's Swirl" – One medium Pinkberry frozen yogurt with toppings for $10.
"Take Me Home" – 5 servings of Pinkberry packed in a 25 oz Take Home container with toppings on the side for $20.
"Swirly Spree" – One Pinkberry gift card for any dollar amount you choose (plus an additional $2 delivery and packaging fee).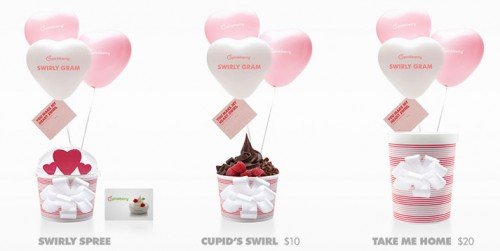 Pinkberry Swirly Gram frozen yogurt packages are offered in three flavors:
Blood Orange Pinkberry with Blood Orange Pieces and Waffle Cookie
Chocolate Pinkberry with Raspberries, Brownie Bites and Shaved Milk Chocolate
Original Pinkberry with Toasted Almonds, Dark Chocolate Pearls and Strawberry
Swirly Grams can be ordered in-store from now until Feb. 10, 2011. Delivery starts on Friday, Feb. 11, 2011 and will run through Valentine's Day.  Online Pinkberry Swirly Gram gift card packages can be ordered online from now to Feb. 9, 2011 in order to be shipped and delivered by Valentine's Day.
UPDATE: Online ordering has been extended to 12 p.m. PST, Friday Feb. 11. In store orders of Swirly Grams are available to be hand-delivered Friday, Feb. 11 through Monday Feb. 14. Customers can also pick up a Swirly Gram in stores through Monday, Feb. 14 to personally deliver to their sweetie (while supplies last).
I'll be getting a little love myself from Pinkberry, who's giving me a free sample of their swirly gram. They also threw in a $10 Gift Card to Pinkberry for me to host a giveaway for one lucky reader!
To enter the contest: Post a comment below stating which of the three featured Swirly Gram flavors you'd like to have!
For 1 additional entry, you can Tweet about the contest on your twitter feed, or send out the following message:
Pinkberry's got Swirly Grams for your sweetie! Enter to win a $10 gift card to Pinkberry! ~ http://bit.ly/swirlygrams #vdayswirlygrams
Be sure to make a separate comment with a link to your tweet! Winner will be chosen by random number generator and announced on Monday, February 7th. This contest ends on Sunday, February 6th at midnight. Good luck!
about this site
My name is Mary. I love: peanut butter, cookies, warm cupcakes, puppy noses, star gazing, new bags of sugar, sprinkles, cupcake wrappers, egg rolls, eating french fries with ice cream, driving with the windows down, snuggling, wes anderson movies, staying up too late reading a good book and Jake. These are my adventures in all things food. Hope you enjoy the ride.