post:
Rosaria Pizza in Misson Beach is a family run restaurant that has been around for quite awhile. I know it's been around since Jake's been going there since the mid-90's when he used to live down in Mission Beach. He frequented two pizza parlours a lot – Gabbiano Pizza and Rosaria Pizza. I've been to Rosaria Pizza a few times over our dating history so here's a little sample of what we usually get – plus one thing we tried for the first time this weekend!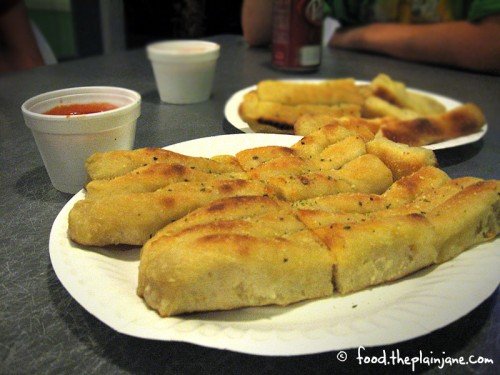 We always get an order of these bread sticks ($2.25 for 6), but I opt to go sans sauce. That's just how I roll. They're got a slight crunch on the bottom, but mostly soft and chewy.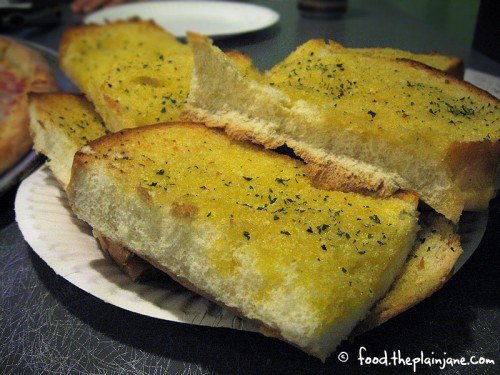 We started getting garlic bread ($2.75 – 16″ long) because I wanted to try it and I like it. It's simple garlic bread – just the sandwich bread cut in half with some garlic seasonings on it, but it hits the spot for me. This is far crunchier than the bread sticks if you're looking for a crunchy things.
On one of our visits, I tried out another side dish and got the meatballs ($3.50 for 6). They were juicy, hot, and good – but really tiny in size. I was expecting something a little different – bigger meatballs and a little more flavorful. While I liked them, I didn't think they were worth the price.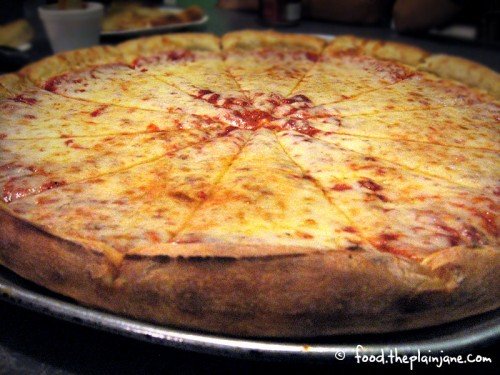 We usually just get a plain cheese pizza when we come here as well. Jake loves the sauce so he doesn't like to "muck it up" with other ingredients. It's got a softer crust and a slight crisp on the outer edges. I like my pizza with a little more crunch personally, but this is a pretty good softer crust pizza. The cheese is nice and oozy and gooey – they do it well here. The sauce is a bit sweet, which is what Jake and I both like.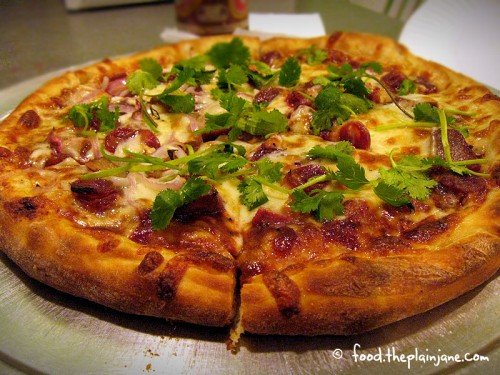 Here's the "new" pizza that we tried this weekend – it's called the "Nam Pizza" – it's a Vietnamese style pizza. It's got Vietnamese BBQ pork (like the Asian sausages you can get on banh mi's) with red onions and cilantro. It's got a spicy and sweet flavor going on – the mixture of spicy and sweet kind of plays around in your mouth after you've taken a bite. Mixed with the cilantro and cheese it's a really unique, flavorful, and tasty creation. Totally recommend it!
And here's for good timing – today on BuyWithMe they're offering a deal at Rosaria Pizza – you pay $10 and get $25 worth of food! And use the code hall10 to get 10% off – super good deal!
Rosaria Pizza
3741 Mission Beach Blvd.
San Diego, CA 92109
(858) 270-8493
« Previous Post - moo mini cards
|
new holiday flavor from pinkberry: pumpkin! - Next Post »
subscribe to this tasty life
recent comments
desert road trip preview (4)

caninecologne: Wow, I thought that was a different dog because I usually think of Maya as having...
Faye: Is that Maya in the first photo?! Her fur looks like it got a tan

happy blogiversary! (14)

Jinxi: Happy blogiversary Mary!! I love that first photo hehe. So happy that we got to meet thru...
caninecologne: Happy Blogaversary Mary! Our blogs are both 9 now. Almost a decade! I love that...
Lynn @ Oh-So Yummy: I can't believe that 4-5 posts a week is slowing down. I can hardly...