post:
I got another one of those stellar deals, this time for cupcakes from Batter Up! Cupcakes in Rancho Bernardo. I'd been sitting on the coupon for awhile since I usually drive south to Jake's and going up north first seemed like a hassle. I also really wanted to go on a day when they had Peanut Butter & Chocolate cupcakes, but alas, this was not to be.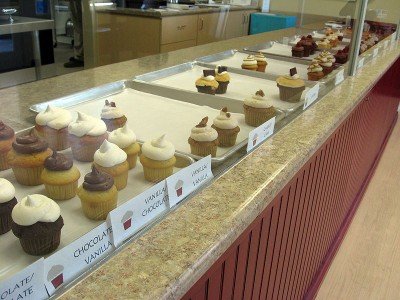 Look, ma! Cupcakes!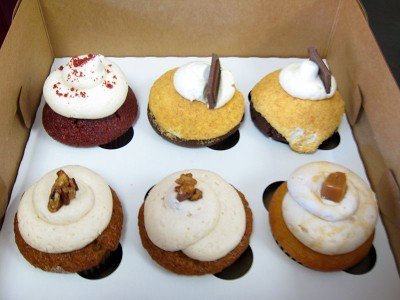 Jake and I took the kids up to the bakery for a cupcake afternoon. Two of the kids got the S'Mores cupcakes, one got a Caramel Apple Pie, Jake and I each got a Carrot Cake and then I got a Red Velvet to round it out for a half dozen cupcakes.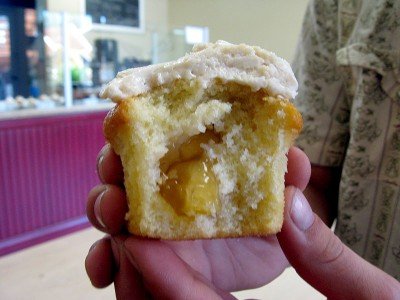 Here's the Caramel Apple Pie cupcake – oozing with apple pie filling! Totally different for a cupcake, sort of a combination of cake and pie in one little cupcake. I got to have a bite and it was pretty good – the flavors melded well together and the frosting was excellent.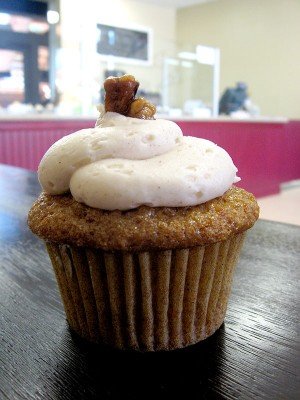 Here's my Carrot Cake cupcake. My favorite part of this cupcake is that little bit of nuts on top of the frosting. The cupcake was moist and had good flavor, the frosting was creamy and hinted at spices. Jake proclaimed this to be "the best cupcake I've ever had". I don't know if I agree with that statement, but it was pretty darn good.
Cupcake prices are: $2.95 for a single cupcake, $16.50 for a half dozen and $32 for a dozen. They have "Home Team" flavors available every day and the "Visiting Team" flavors rotate throughout the week.
Batter Up! Cupcakes
16769 Bernardo Center Drive, K1
San Diego, CA 92128
858-676-CAKE (2253)
about this site
My name is Mary and I live in San Diego. I've been blogging since 2006 as a hobby - it's my fun, creative outlet! Some random things about me: I'm a front end web developer, I love peanut butter, cookies, warm cupcakes, puppy noses, star gazing, new bags of sugar, sprinkles, cupcake wrappers, egg rolls, eating french fries with ice cream, driving with the windows down, snuggling, wes anderson movies, staying up too late reading a good book and Jake. These are my adventures in all things food. Hope you enjoy the ride.
|
Download Media Kit
recent comments
my favorite childhood treat: pocky! (2)

mary: The Matcha Pocky was on sale at Mitsuwa yesterday for $1.49 a box. The prices there ranged from $1.49 to $2.39 a box, depending on which flavor you...
Faye: My sis and I grew up on Pocky too. We adored it (just the regular ones dipped in chocolate). I've wanted to try the Matcha Pocky but it's...

dressing rehersal at whole foods market encinitas + holiday ideas + a giveaway! (2)

mary: I bought the dried porcini so it was a little less expensive. I didn't need a ton of it either, so I just looked through them all until I found...
Faye: That mushroom salt is a killer idea! I love it. I've seen their dried mushroom section in the Del Mar location but it was soooo expensive. I...

bella vista social club & caffé / la jolla – san diego, ca (6)

mary: Oh I forgot you went here too! It's not super close to my work but close enough! I'll have to ask about the desserts sometime.
caninecologne: Yay! I wish my work was close to this place! I'd be there like everyday! I like how open the restaurant it. Nice sparse decor too. We...
mary: Parking is a big worry for me, too! Hard to park = I don't want to go! Yeah, the HH prices aren't stellar, but maybe they are just extra...