post:
Chung Hing is a fast food Chinese place in Miramar. They're stuck in a little strip mall behind the McDonald's and just a few blocks from the Pyramid. Typical hole-in-the-wall Chinese food restaurant with a specialty in BBQ Pork (so say all the Yelpers and the giant tray of BBQ Pork I spied when I arrived).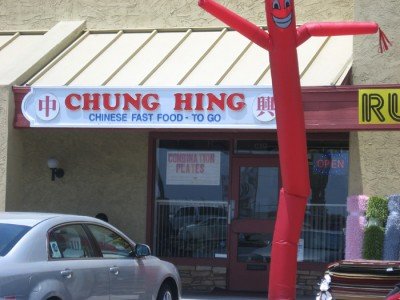 I found out about this place from the foodies on Yelp. Most of them seemed to rave quite loudly and highly for this place and since it wasn't too far away (and cheap) I decided to give it a go.
The combination plates are very cheap – $5.49 for 4 different items. I got the #1 combo which came with BBQ Pork, pork fried rice, fried wontons and chicken wings. I was having a little craving for chicken wings (still am, actually) and thought that would be the best bang for my buck. They pulled out the BBQ Pork from the tray and sliced it up there instead of pre-slicing it, which I though would maybe help it to keep moist. I also got an egg roll, as I think egg rolls should be an easy thing to make and get right and if you don't … well. Poo on you. I took my food to go to chomp upon at home.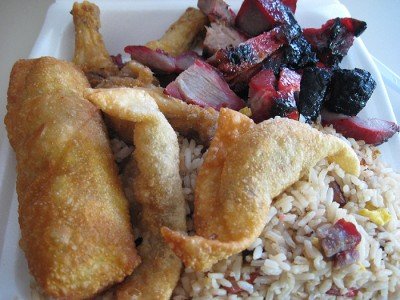 The BBQ Pork was good – but not the best I've ever had. It was a mixture of really good bites with some that were way too charred for my tastes (my dog got those pieces). The moist pieces were nice and flavorful in my mouth, but I also got a lot of dry pieces. Maybe I just got a bad slice? This wasn't what I was expecting after the "raves" I read on Yelp. The wontons were fried and stuffed with what looked like ground beef, but they were chewy and only a little crisp on the edges. They were not good. My egg roll was awful – soft, not crisp, and filled to the brim with veggies. I only ate a few bites of the egg roll before I threw it away. The chicken was good though, but again, not the best I've ever had, but decent enough. I started dipping these in the duck sauce I got for my egg roll, but my sauce container was so small that I could barely fit the chicken into it. The fried rice was good – I liked the little bits of BBQ Pork in it and I ate it the next day for lunch with the leftover BBQ Pork mixed in for extra porkyness.
All in all this was a disappointing trip. Maybe I just went at the wrong time – about 12:45PM after the lunch hour rush, but most of the food I had tasted like it had been sitting out under the heat lamps for a little too long. The price is right though and you can defintely work this out to be 2 meals for about $6 (my total, plus the egg roll, was $7.05).
Chung Hing
7160 Miramar Rd Ste 112
(at Carroll Rd)
San Diego, CA 92121
(858) 695-3354
about this site
My name is Mary. I love: peanut butter, cookies, warm cupcakes, puppy noses, star gazing, new bags of sugar, sprinkles, cupcake wrappers, egg rolls, eating french fries with ice cream, driving with the windows down, snuggling, wes anderson movies, staying up too late reading a good book and Jake. These are my adventures in all things food. Hope you enjoy the ride.