post:
yeah, it's a chain. but it's close to my house, they have free wi-fi, and if you stay and drink coffee there you can have as many refills as you want. i've been here a few times, to work or just to hang out and read, and its a nice place to go if you want to relax and drink a bunch of coffee and have a snack.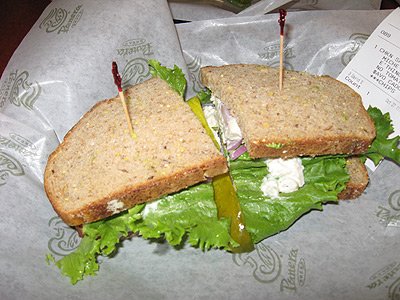 on this particular adventure, i hadn't eaten yet that day and decided to go for a chicken salad sandwich. it was just okay. i forgot to ask for my bread to be toasted, which is the way i usually like to have my sandwiches. i got it on their whole grain wheat bread which was the first thing to suggested to me and it sounded good. i can't ever remember all of their bread chocies, there are just too many and i don't see a handy list when i'm in there. the sandwich was just okay – they used a bit too much mayo for my liking. i've also tried a panini sandwich which i also thought was just okay. the bread hadn't been properly grilled. what they do excel in is their bagels. i totally love their french toast bagel – it has a good amount of cinnamon and flavoring. and their cream cheese seems to be extra good and i have no idea why. i think the rule of thumb here is to stick with breads and such. maybe i'll try their salads and soups sometime and will have a more rounded out view of all of their food.
Panera Bread
10751 Westview Parkway
San Diego, CA 92126
phone: (858) 530-4000
Multiple locations

about this site
My name is Mary. I love: peanut butter, cookies, warm cupcakes, puppy noses, star gazing, new bags of sugar, sprinkles, cupcake wrappers, egg rolls, eating french fries with ice cream, driving with the windows down, snuggling, wes anderson movies, staying up too late reading a good book and Jake. These are my adventures in all things food. Hope you enjoy the ride.