post:
This will be a semi-foodie post! But mostly a review of a super cute cabin we stayed in Julian a couple of weekends ago. I've been really hung up on the idea of getting out of dodge to view the yearly Perseids Meteor shower which happens every year in mid-August. You can see the shower with the naked eye, but living in such a light polluted city makes the viewing a little more difficult. I got the idea to go to the desert originally, but we ended up staying in Julian one night instead and it turned out to be the perfect little weekend getaway.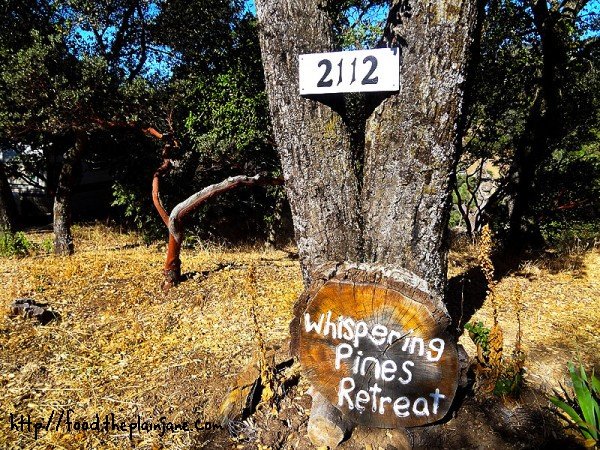 After a little research, I picked the Whispering Pines Retreat for our overnight stay in Julian. We were only staying one night and I found that when browsing through the lodgings available in Julian, many places required a two night stay. Whispering Pines Retreat was only of only two places I found that did not require that, but the photos on their website made me fall in love with the place! Happily, it did not disappoint.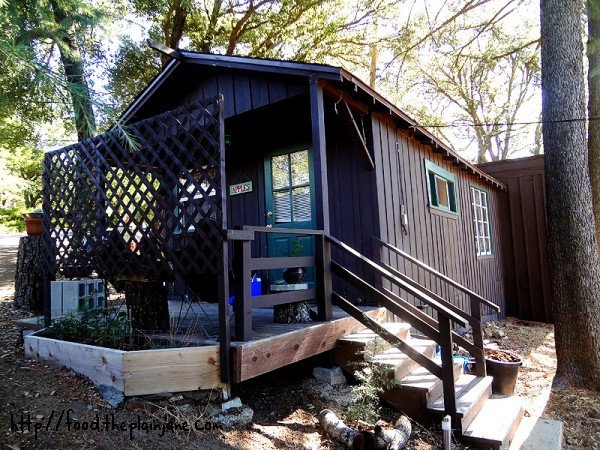 This is the outside view of the "Big Pine" cabin. There is also a "Little Pine" cabin that accommodates two guests only. We had the kids with us this weekend so the Big Pine cabin was perfect. The cabin sits on the owner's property. There's a long driveway down to the cabins and the owner's house in the middle. There's two parking spots, one for each cabin. The cabin also came with a bucket of firewood and you can pick up kindling around the property so you can start a fire yourself. Perfect for chilly evenings.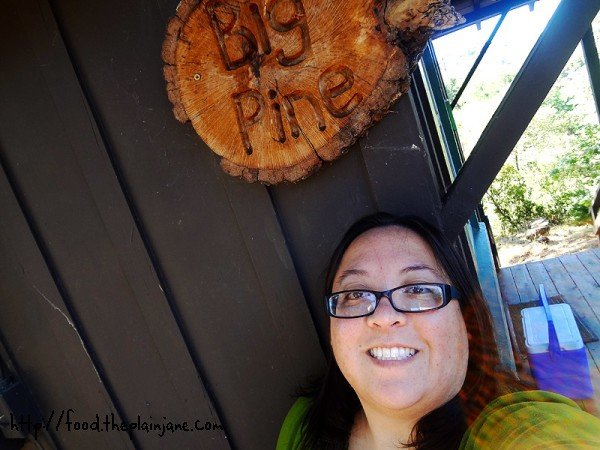 Here I am in front of the "Big Pine" sign.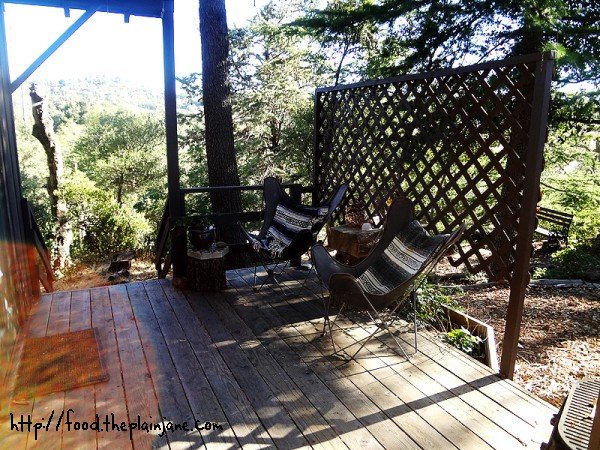 This is the front deck. There's a little BBQ so you can grill outside if you'd like.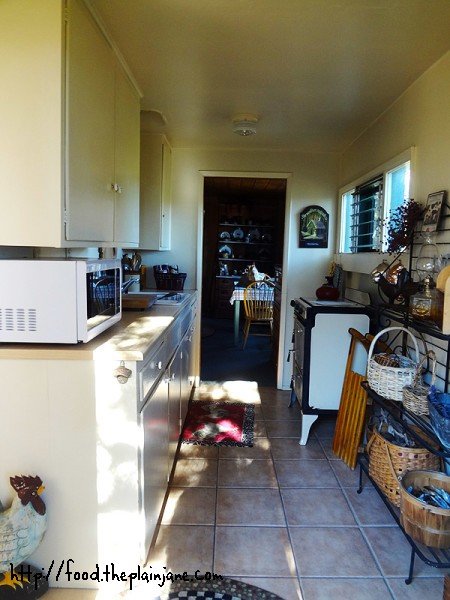 This is the view when you step into the cabin – the kitchen first! To the left out of the shot is a fridge for holding any food. The cabin comes equipped with the basics: forks, dishes, glasses, one pot, one frying pan, one cooking sheet, knives and various cooking utensils. Just enough for me to cook with, but luckily I brought a big mixing bowl with me just in case. It came in handy!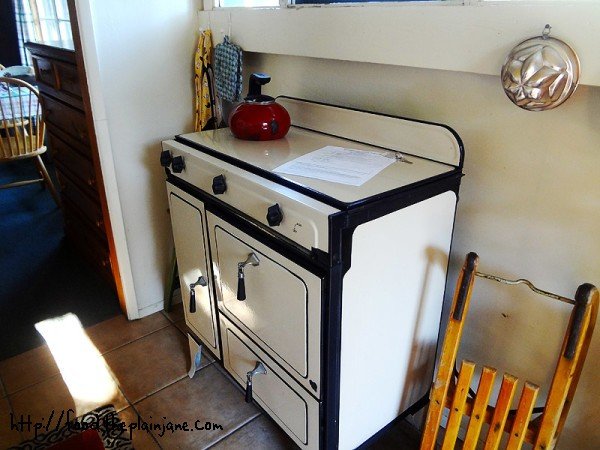 How cute is this little stove?! It uses propane, which you have to turn on in the back. The top lifts up to reveal the burners. There isn't really any dishes for baking with (except the one cookie sheet), but you could do it.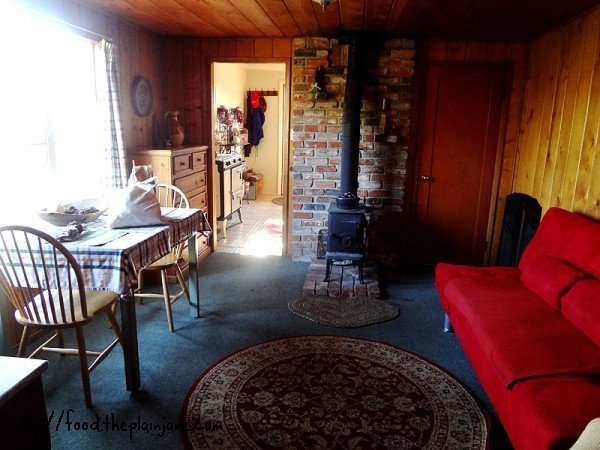 This is the living/dining room area. The couch also double as a fold out bed. Through the door is the bathroom. I loved the stove in the middle there.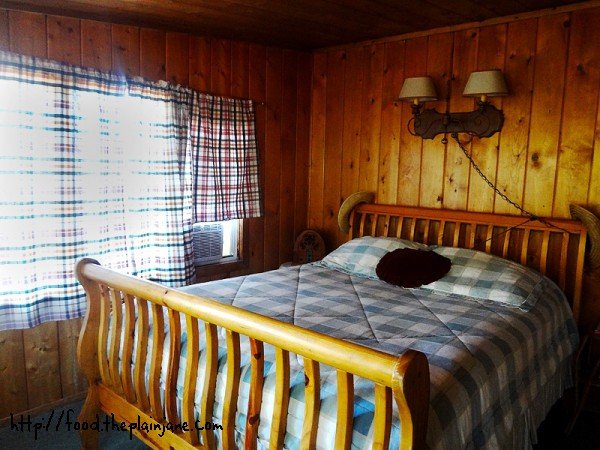 This is the bedroom with a fairly comfortable queen sized bed. There's an air conditioner in here for the warmer days. We didn't need to use it.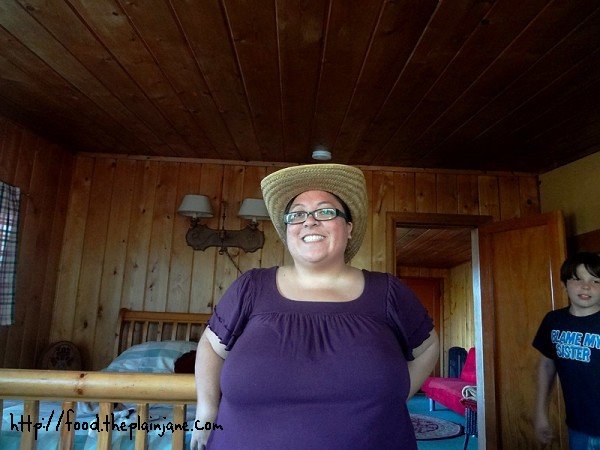 There were some cowboy hats on the bed, so I had to try one out.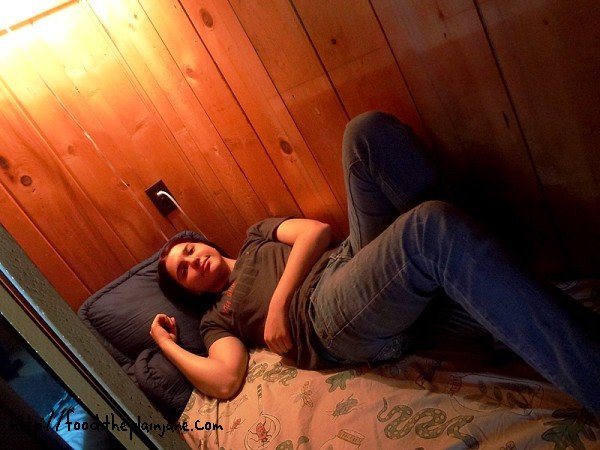 Also in the bedroom, the closets are converted as a sleeping area for the kids. It's a HUGE closet split in the middle, so it's good for two kids. Here A. is showing off one of the closet beds. I thought they were kind of creepy, but the kids liked the extra bit of privacy. A.'s had a light, but S.'s side did not. He didn't seem to mind.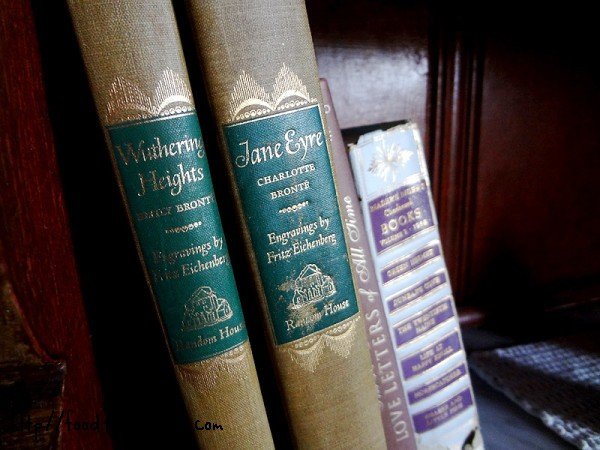 A couple of books in the living room for some "light" reading.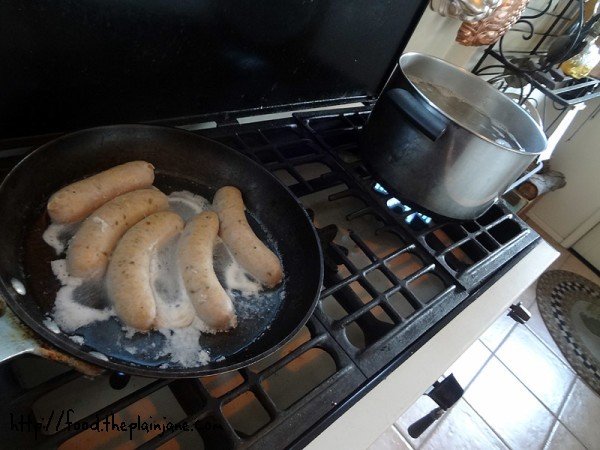 Here I am attempting to cook in the tiny kitchen on the propane stove. There were three match light burners and the middle burner did not work. The burner on the left was much lower that the one on the right. It felt like it took forever for my water to boil.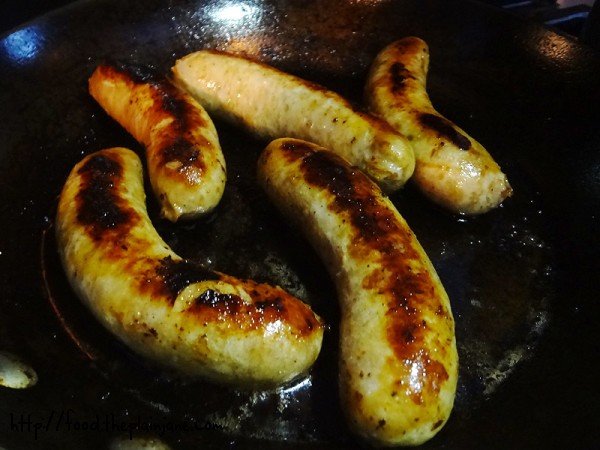 I made Italian sausages, cooked in water and then browned in a little bit of butter.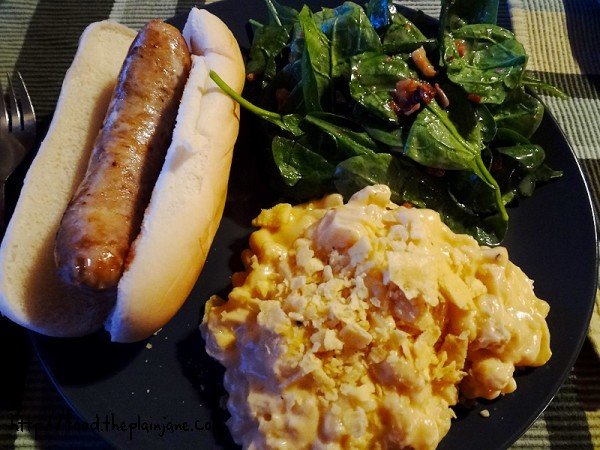 I also made homemade stove top macaroni and cheese. I didn't want to bake so luckily this came together, though it was a little too thick (I should have used all the liquid I had). It was super cheesy since I used two bags of shredded cheese. It had a nice flavor, too, since I flavored my flour roux mixture with garlic powder, paprika, salt and pepper beforehand (pre-mixed before we left). We also had a spinach salad on the side.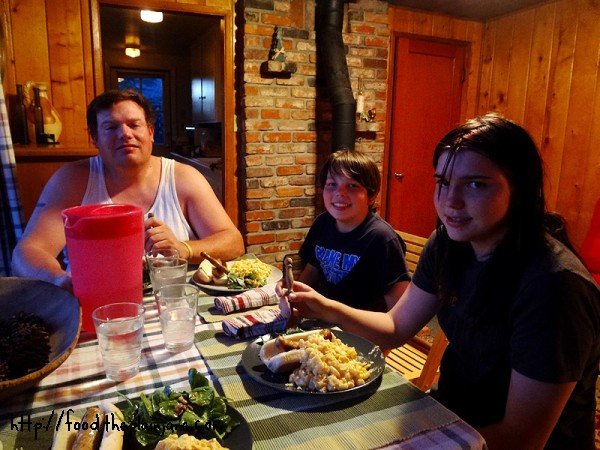 Our simple cabin dinner!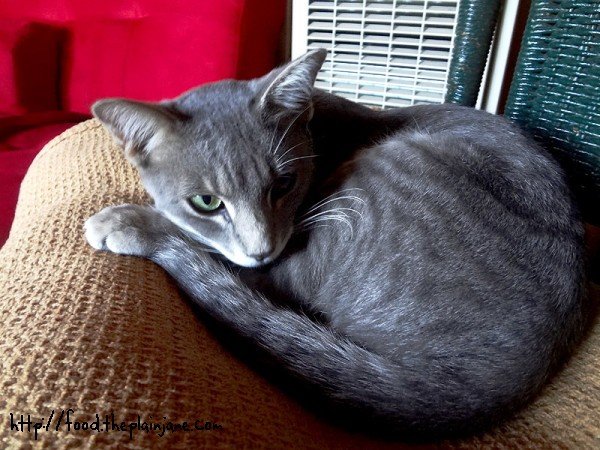 Also, we had a little kitty visitor who made herself right at home shortly after our arrival. The owners told us her name was Menace! She came right into the cabin and following us around, snoozing in the cabin and rubbing herself on everyone and purring. She even came outdoors with us when we went star gazing!
We managed to see about 11-13 meteors that night. We just walked up the driveway until we found a clearing and laid down on the asphalt. The asphalt was still slightly warm from the afternoon sun that day and we had a cool breeze wafting over us as we gazed up at the sky, waiting for the meteors to streak across and light up the sky. It was truly such a beautiful sight to behold. With minimal light pollution, you can see SO MANY stars in the sky – there is almost no black gaps in the sky. You could even see the different depths of the night sky, where parts of the sky were darker than other parts.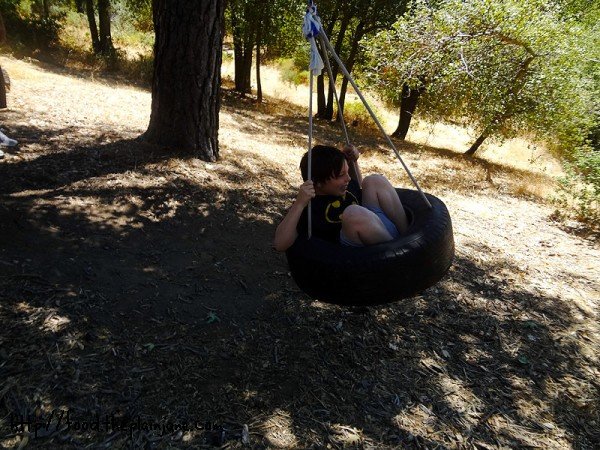 Before we left, S. and A. got to try out and test the tire swing in the back of the property.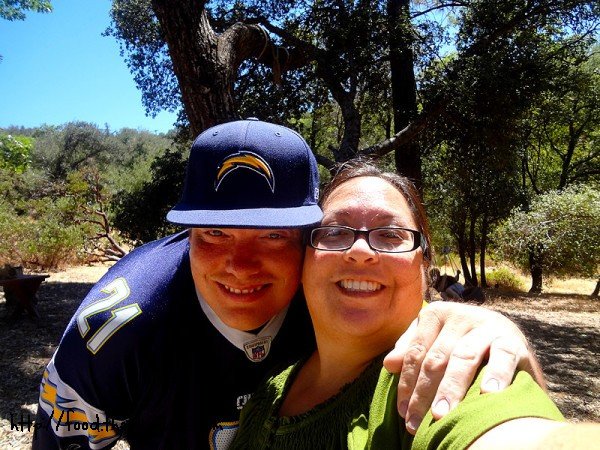 It really is a pretty spots with lots of trees. It felt so peaceful to be up there and the cozy cabin really felt like a second home, even if it was for one night. It almost made me want to move out of the city… but not quite. Not yet, anyway! Since we are still just visitors, you can bet we stopped by and got some Julian pie! YES! I ended up getting a pecan pie since Jake & kids don't like apple (?!@#!), but I got a slice of apple crumb for myself before we headed out of town.
Whispering Pines Retreat
Julian, CA
760-765-4623
Prices vary from $110-$130 per night at the Big Pine cabin, depending on the day of the week you go and how many nights you stay (we paid $130).
about this site
My name is Mary and I live in San Diego. I've been blogging since 2006 as a hobby - it's my fun, creative outlet! Some random things about me: I'm a front end web developer, I love peanut butter, cookies, warm cupcakes, puppy noses, star gazing, new bags of sugar, sprinkles, cupcake wrappers, egg rolls, eating french fries with ice cream, driving with the windows down, snuggling, wes anderson movies, staying up too late reading a good book and Jake. These are my adventures in all things food. Hope you enjoy the ride.
|
Download Media Kit