post:
Jake and I finally went to Urban Solace last night (post to come!) and then went to Heaven Sent Desserts after for a Red Velvet Cupcake. It's his new favorite dessert and I'm not complaining since we shared it.
While we were in the shop, I saw this really neat cake for St. Patrick's Day!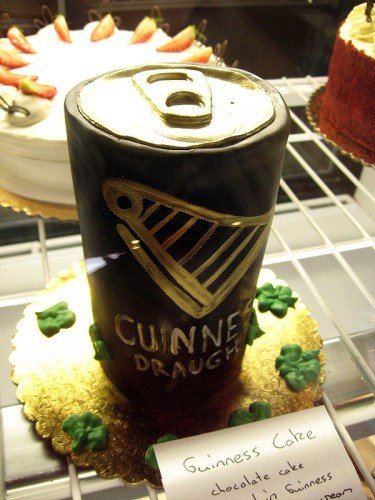 Love the bottle cap on top, too. Awesome! If you don't have $40 to drop on a Guinness cake though, they do have chocolate and Guinness cupcakes (with green frosting and a little shamrock on top) for $3.50. I can attest to it's tastiness as well since I had one on Sunday (sorry, no photo of that).
Hope everyone has a good (and safe) St. Patrick's Day!
recent comments
la dumpling crawl (6)

Lynn @ Oh-So Yummy: What a fun mission! How did you come up with the list of where to go?...
Kirbie: This post is making me hungry. I've never been to Hui Tou Xiang. Interesting that...
leanne: Your food crawlers have the best comments and notes on the dumplings! I think my favorite...

hanna's gourmet / university heights (4)

caninecologne: Was Hannah there when you went? She is such a nice lady! That's cool you...
Lauren: Berry ricotta pancakes?! Sign me up! Anything with ricotta is a-okay in my book. Those...