post:
Got some time off in the afternoon on Friday, March 4th? Then stop by Chick-fil-A for some FREE fries! Between 2 and 4 pm, ketchup lovers who ask for Heinz® Dip & Squeeze® Ketchup at all Chick-fil-A restaurants will receive a FREE medium order of Chick-fil-A Waffle Potato Fries (limit one per customer).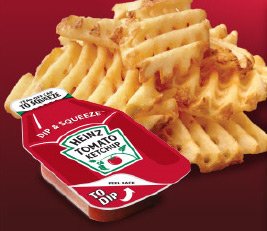 In celebration of the national availability of Heinz® Dip & Squeeze® Ketchup, March 4, 2011 is being declared FREE FryDay at Chick-fil-A® restaurants nationwide.
Heinz Dip & Squeeze Ketchup is an innovative new package that allows for both dipping and squeezing and holds three times as much Heinz® Ketchup as the traditional packet. Chick-fil-A is the first restaurant partner to carry it nationwide.
Ketchup lovers can join the fun by posting photos of FryDay dipping and squeezing action on the Heinz Ketchup and Chick-fil-A Facebook pages:  www.facebook.com/HeinzKetchup and www.facebook.com/ChickfilA. Twitter users can follow @DipAndSqueeze and @ChickfilA and use the hashtag #FreeFryDay on FryDay, March 4 for a chance to win prizes!
about this site
My name is Mary and I live in San Diego. I've been blogging since 2006 as a hobby - it's my fun, creative outlet! Some random things about me: I'm a front end web developer, I love peanut butter, cookies, warm cupcakes, puppy noses, star gazing, new bags of sugar, sprinkles, cupcake wrappers, egg rolls, eating french fries with ice cream, driving with the windows down, snuggling, wes anderson movies, staying up too late reading a good book and Jake. These are my adventures in all things food. Hope you enjoy the ride.
|
Download Media Kit