post:
Got some time off in the afternoon on Friday, March 4th? Then stop by Chick-fil-A for some FREE fries! Between 2 and 4 pm, ketchup lovers who ask for Heinz® Dip & Squeeze® Ketchup at all Chick-fil-A restaurants will receive a FREE medium order of Chick-fil-A Waffle Potato Fries (limit one per customer).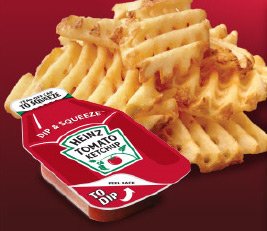 In celebration of the national availability of Heinz® Dip & Squeeze® Ketchup, March 4, 2011 is being declared FREE FryDay at Chick-fil-A® restaurants nationwide.
Heinz Dip & Squeeze Ketchup is an innovative new package that allows for both dipping and squeezing and holds three times as much Heinz® Ketchup as the traditional packet. Chick-fil-A is the first restaurant partner to carry it nationwide.
Ketchup lovers can join the fun by posting photos of FryDay dipping and squeezing action on the Heinz Ketchup and Chick-fil-A Facebook pages:  www.facebook.com/HeinzKetchup and www.facebook.com/ChickfilA. Twitter users can follow @DipAndSqueeze and @ChickfilA and use the hashtag #FreeFryDay on FryDay, March 4 for a chance to win prizes!
recent comments
la dumpling crawl (6)

Lynn @ Oh-So Yummy: What a fun mission! How did you come up with the list of where to go?...
Kirbie: This post is making me hungry. I've never been to Hui Tou Xiang. Interesting that...
leanne: Your food crawlers have the best comments and notes on the dumplings! I think my favorite...

hanna's gourmet / university heights (4)

caninecologne: Was Hannah there when you went? She is such a nice lady! That's cool you...
Lauren: Berry ricotta pancakes?! Sign me up! Anything with ricotta is a-okay in my book. Those...