post:
It was a Saturday night and I was spending the weekend at Jake's again. The kitchen was a mess, the sink was full of dirty dishes, and I was in no mood to cook or clean. I hopped online and started doing a search for pizza near his zip code and a name caught my eye, "Sicilian Thing Pizza". "Kind of a weird name for a pizza place," I thought to myself. I looked at the website and saw "sicilian square thick pizza" and I thought, "This I gotta try." It's not too far from where Jake lives so I called up and placed an order and off we flew to pick up the pizza. Parking in North Park is a pain so Jake waited in the alley next to the pizza shop while I ran in and got the pizza.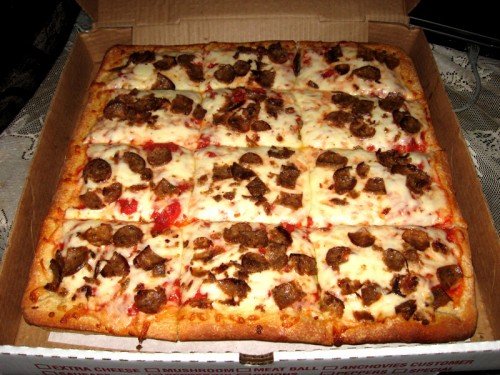 I kept it simple with just one topping of sausage ($15.50 – starts at $14.00, toppings are $1.50 a piece). The pizza is super thick and crusty, baked to a nice golden brown. The pizza had just popped out of the oven so the cheese was in that perfect melty stage.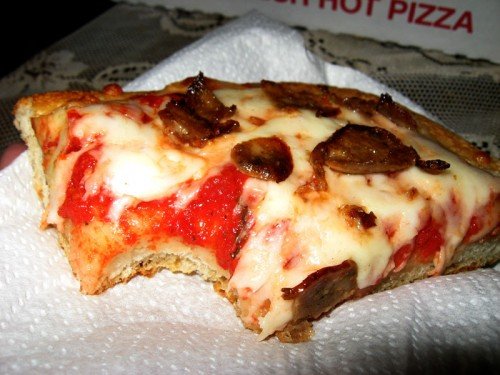 The crust is my favorite part of most pizza. If it's thin, I generally don't like it. This was perfect for me – it was almost like eating a saucy, thick bread. It sure beat ordering Little Ceasar's or getting some other cheap $5 pizza.
They also sell pizza by the slice in the shop, if you're not in the mood for ordering a whole pizza. We took it home and chomped happily on the pizza while watching a movie, perfectly content with delicious pizza inside of our tummies.
Sicilian Thing Pizza
4046 30th Street (in between Polk Ave and Lincoln Ave)
San Diego, CA
(619) 282-3000
about this site
My name is Mary and I live in San Diego. I've been blogging since 2006 as a hobby - it's my fun, creative outlet! Some random things about me: I'm a front end web developer, I love peanut butter, cookies, warm cupcakes, puppy noses, star gazing, new bags of sugar, sprinkles, cupcake wrappers, egg rolls, eating french fries with ice cream, driving with the windows down, snuggling, wes anderson movies, staying up too late reading a good book and Jake. These are my adventures in all things food. Hope you enjoy the ride.
|
Download Media Kit
recent comments
college area taste 2014 recap (10)

mary: Hi Cynthia! Haha, I totally don't mind being stopped to a chat, if you see me again say hi!! We had our tupperware stored in a backpack for Taste...
cynthia: I saw you guys at Taste of Hillcrest but… I don't know, just didn't want to seem like a weirdo talking to you! haha I didn't...
mary: Hi CC – If we hadn't done the take out box, I don't think we'd have been able to do this many places! The take out box let us...